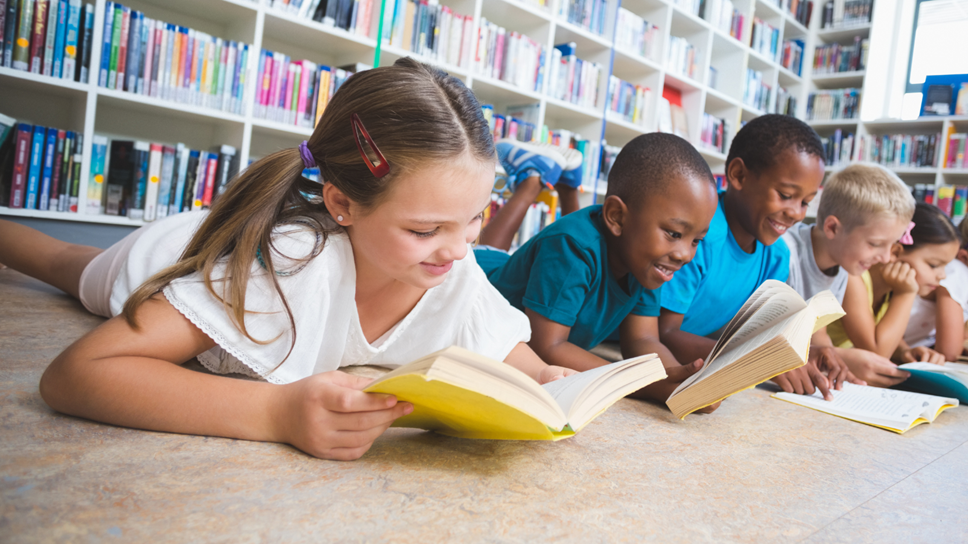 Young volunteers needed to support Summer Reading Challenge 2023
Summer Reading Challenge 2023 launches on 8 July
Volunteers sought aged 14-18 who are enthusiastic about reading
Opportunity to develop new skills and work experience
LIBRARIES in Reading are again looking for young people aged 14 to 18 who can encourage children to take part in and complete this year's Summer Reading Challenge, 'Ready, Set, Read!'
The library hopes to attract people 14 -18 years old, and enthusiastic about reading.
Tasks will include discussing the books younger children have been reading and suggesting more books they might like, assisting library staff with Reading Challenge events and craft activities, and handing out rewards to participants.
Training, supervision and support will be provided and it is a great opportunity to develop new skills and experience for the future and gain work experience for CVs. Volunteering can also help with accreditation for the Duke of Edinburgh, or Arts Awards
Last year, over 30 young people from Reading volunteered with the Library service to support the 2022 Challenge. Aarushi, age 16, who volunteered at Central Library, said:
"I really enjoyed interacting with different people, learning about their experiences, and also seeing the joy the children got when they finished their books. The progress they made and the enthusiasm they had about reading, was really what stuck out to me."
Meet the 2022 volunteers and see what they had to say about their experience:
The much-loved yearly Summer Reading Challenge will be available in all library branches across Reading from 8 July 2023. Children aged 4 to 11 are challenged to read at least six books over the summer as part of this year's 'Ready, Set, Read!' challenge, delivered in partnership with national children's charity the Youth Sport Trust.
Find out more on the official challenge website: https://summerreadingchallenge.org.uk and once it starts, locally at www.reading.gov.uk/libraries.
Adele Barnett-Ward, Reading Borough Council's Lead Councillor for Leisure and Culture, said:
"I am delighted that Reading Libraries are offering this brilliant opportunity again for younger residents. Reading Challenge Volunteers have the chance to learn new skills, gain valuable work experience, and have fun doing so. The only qualification required is a love of reading.
"We know children's reading can 'dip' during the long summer holidays if they don't have regular access to books and encouragement to read for pleasure, impacting their learning at the start of the next school year. Volunteers supporting the Reading Challenge this summer will play a valuable role in keeping children engaged with books by being positive role models and advocates for reading.
"The Reading Challenge is always popular, but after such a difficult and unsettling couple of years for children the programme is more important than ever, keeping minds and bodies active while school is out. In previous years the challenge has seen thousands of children in Reading take part and I'm eager to see as many youngsters as possible take their marks for the free 'Ready, Set, Read!' challenge and make the most of our wonderful local libraries this summer.
Volunteers are needed across all of its branches, including Battle Library, Caversham Library, Central Library, Palmer Park Library, Southcote Library, Tilehurst Library and Whitley Library.
The Summer Reading Challenge will run between Saturday 8 July and Saturday 2 September – volunteers will be asked to commit to a minimum of 6 sessions over the summer (days and times would be negotiable with the library branch managers). The library will provide a volunteering certificate and would be happy to supply a reference letter to any volunteers who successfully complete the minimum commitment over the summer.
The closing date for applications is Friday 21 July 2023. For more information and to apply visit: www.reading.gov.uk/leisure/libraries/volunteering-for-our-summer-reading-challenge
ENDS
Notes to editors
About The Reading Agency
The Reading Agency is a national charity that tackles life's big challenges through the proven power of reading. We work closely with partners to develop and deliver programmes for people of all ages and backgrounds. The Reading Agency is funded by Arts Council England.
About The Summer Reading Challenge

The Summer Reading Challenge is run by the Reading Agency for children across the UK and is delivered in partnership with public libraries. It aims to foster a lifelong love of reading and tackle the drop-off in reading that happens over the school summer holidays. Children are challenged to read as many books as they can over the summer and encouraged to enjoy reading for pleasure. Each year has a different theme – 2021 was 'Wild World Heroes', 2020 was 'Silly Squad' and 2019 was 'Space Chase'.