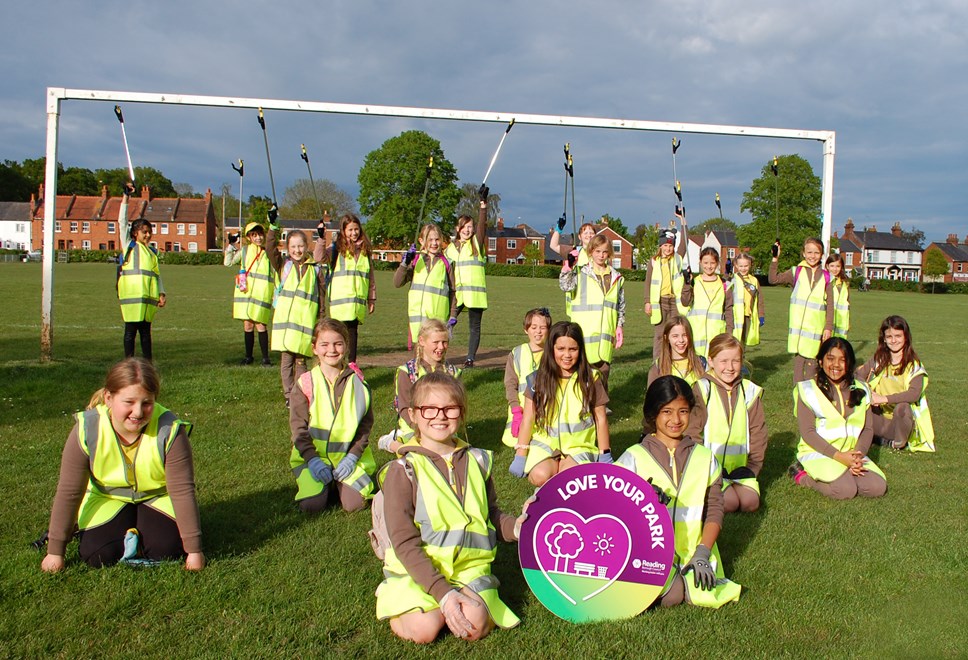 Sign up for the Great British Spring Clean for a cleaner, greener Reading
The Great British Spring Clean from 25 March to 10 April
People can sign up for litter picking equipment by joining the Council's RAYS scheme
THIS SPRING, we are encouraging everyone to join in with the nationwide 'Great British Spring Clean' to help clear litter from our streets, parks and open spaces.
People can pledge as an individual or as a group to take part in Keep Britain Tidy's Great British Spring Clean from 25 March to 10 April.
Our outdoor spaces have proved more important than ever before over the last two years, and that's why this year the national campaign is encouraging everyone to join the #BigBagChallenge and pledge to pick up as much litter as you can. People can pledge to pick at www.keepbritaintidy.org
People can get support to litter pick from the Council's popular Reading Adopt Your Street (RAYS) programme. RAYS volunteers are provided with litter pickers, 100% recycled plastic bags, gloves and hi-vis jackets. RAYS has options for individuals, community groups, businesses and schools.
This year the Council has enhanced its RAYS scheme, with a RAYS+ option, developed at residents' request, for any individuals or groups that want to take their litter picking one step further. RAYS+ volunteers are invited to commit to a group of a minimum of 6 volunteers and/or carry out at least 5 litter picks over a year to qualify. RAYS+ offers larger bags and support for rubbish collection after a pick, with access to a RAYS+ category on Love Clean Reading.
If you have a group of individuals that are committed to a cleaner space or neighbourhood, visit www.reading.gov.uk/RAYS or contact RAYS@reading.gov.uk to find out more.
Coinciding with the Great British Spring Clean, the Council has also re-launched its local anti-littering campaign to encourage residents to 'Love Your Park'. Over the last 12 months, the council has collected almost 500 tonnes from Reading's parks – which is the equivalent of 75 Bull elephants or 350 cars!
As part of the local campaign, which originally launched in March 2021, stickers have been added to park bins, alongside poster and banners promoting three easy ways to report full bins, including:
Although the Great British Spring Clean ends on 10 April, both RAYS runs all year round and 'Love Your Park' will extend into the summer months.
Cllr Adele Barnett-Ward, Reading's Lead Councillor for Neighbourhoods, added: "The quality of the environment around us – our streets, parks and open spaces - is so important to our wellbeing and pride in our town: that's why we want to encourage everyone to take part in the Great British Spring Clean – we'll be out ourselves getting stuck in!
"Interested residents and community groups can pledge on the Keep Britain Tidy website at www.keepbritaintidy.org and also email RAYS@reading.gov.uk for local support in organising a litter pick. If you are part of a larger group wanting to commit to bigger litter picks more regularly, ask about our new RAYS+ scheme, which was developed at residents' request.
"If you enjoy taking part in the Great British Spring Clean, you can keep it going by supporting our ongoing 'Love Your Park' campaign to ensure our parks and open spaces are safe, clean and green for everyone to enjoy."
Cllr Karen Rowland, Reading's Lead Councillor for Recreation, said: "Pop on your high vis, grab your bin bags and your litter pickers and join us on the Great British Spring Clean! What is good for our environment is good for our mental and physical health too. By joining in, you will not only be improving the environment for all of us – it can really give your own wellbeing a positive jolt by contributing yourself.
"We have a huge job to keep all our parks litter-free, and we really need your help to keep our open spaces clean, green and safe for everyone. Look out for the stickers on our park bins highlighting three easy ways to report full bins for collection. However, the message is about everyone's personal responsibility too. We cannot solve this problem on our own – we need everyone to take responsibility for their litter and to encourage others to do the same. The best way to keep our parks clean is for everyone to take their litter home!"
Find out more and sign up to the Big Spring Clean at www.keepbritaintidy.org
Ends