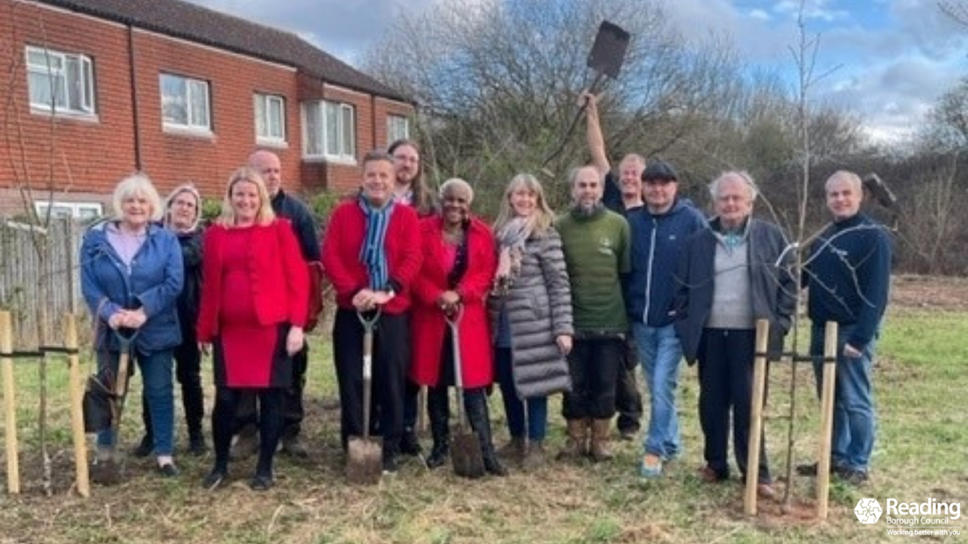 Roots of a new Community Orchard planted in Whitley
30 new fruit trees introduced to South Whitley Park
Follows Council securing £85k funding to enhance the area, including addition of toddler's play area
THE TREES of a community orchard have been planted in South Whitley Park, following a successful Council bid for £85k worth of grant funding.
The exciting proposals have seen more than 40 new trees introduced to the area, including 10 Dawn Redwood, three Cherry, three Sorbus, and a Weeping Willow.
In addition to the 17 trees already planted, the creation of a community orchard began this week (21 March), introducing a further 30 new fruit trees and shrubs to the park, including apple, plum, cherry, and pear.
The planting will provide shade, improve air quality, and help to create an aesthetically pleasing boundary where the park abuts the motorway.
The Council-led project follows a successful £85,000 bid to the Department for Levelling up, Housing & Communities for the significant refurbishment of the park in South Reading.
Further planned enhancements to the park include a toddler's play area alongside the existing concrete climbing animals.
The facility will cater for families who live in the area, where play provision has only been for older children to date. The budget for the proposed playground has been boosted by a further £20k of Council funding that has already been agreed.
Cllr Karen Rowland, Lead Councillor for Environmental Services and Community Safety, said:
"We are absolutely delighted that an orchard is coming to Whitley. This is a fantastic project that will give this much-loved local park a new lease of life. Importantly, it is also another positive step we are taking to increase biodiversity and respond to tackling the climate emergency.

"This project compliments our ambitious new Tree Strategy, which aims for 3,000 new trees on Council land by 2030, as well as increasing the proportion of land in Reading which is covered by tree canopy to 25% over the same timescale

"However, trees provide us with so many benefits. They have the ability to improve our environment, enhance the beauty of our town and provide peace calm and joy for our souls in our busy world. By carefully locating trees in areas most in need of green cover, these trees will make a real difference to the wellbeing of our communities in Whitley."
The £20k contribution to the toddler play area is from Community Infrastructure Levy (CIL) funding – which is the contributions paid by developers as part of conditions attached to the grant of new planning permissions.
ENDS