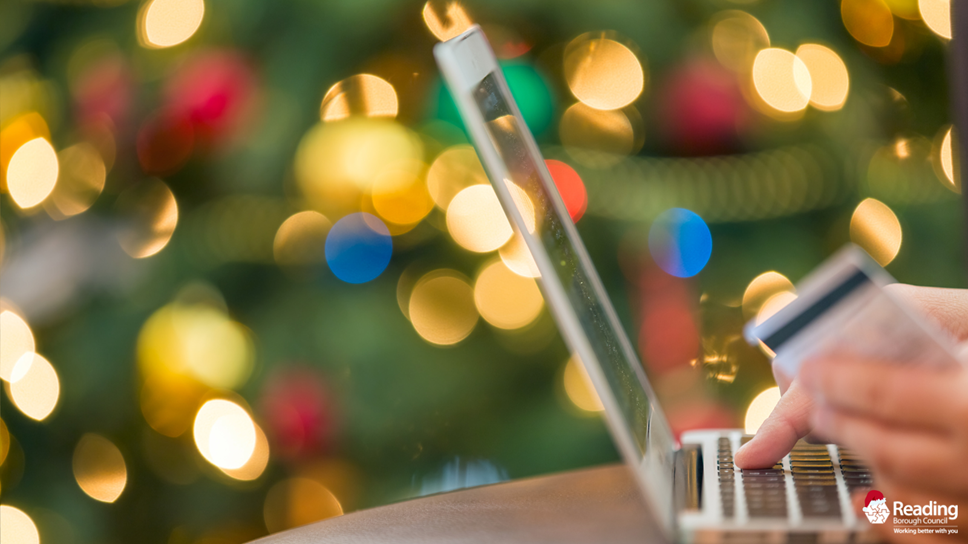 Residents urged to have a fraud-free Christmas
Avoid counterfeit goods this Christmas
Steer clear of dangerous toys online
Don't be tempted to borrow money from unscrupulous loan sharks
READING Council is urging residents to stay safe this Christmas and avoid buying fake or dangerous goods or falling prey to unscrupulous loan sharks.
Council Trading Standards officers are warning of several pitfalls to avoid this Christmas. The team has received reports of pedlars selling counterfeit goods such fake perfume, aftershave and watches out of vacant shop units or shopping bags in Reading town centre. The goods have been confirmed as fake – so the ingredients are unknown and could potentially be unsafe.
This time of year, many pop-up stalls and pedlars are circulating in the area, often selling counterfeit alcohol. If you see alcohol sold at a bargain price, make sure you look for any clues such as spelling mistakes or poorly attached labels on bottles.
Ahead of 'Black Friday' on 25 November, shoppers are also advised to avoid unsafe toys available online.
The latest study by the British Toy and Hobby Association (BTHA) of a group of 40 randomly selected toys available from third-party sellers via online marketplaces found that an alarming number of toys tested were unsafe for a child to play with, and were not up to standard to be sold in the UK. You can read the full report at: www.btha.co.uk/wp-content/uploads/2022/11/BTHA-Online-Marketplace-Report-2022-FINAL.pdf.
Online shoppers are advised to carefully research sellers and ask:
Are you buying directly from an online platform or is it a third-party seller?
Are goods marked with a CE mark? These prove that they were manufactured in line with European safety standards.
Is the toy marked with an age restriction?
What do you know about the seller's reputation for selling safe goods?
Is the seller based in the UK?
Does the seller provide a name and address for you to contact?
For consumer advice or to report unsafe products call the Citizens Advice Consumer Helpline on 0808 223 1133.
Councillor Karen Rowland, Lead Councillor for Environmental Services and Community Safety, said:
"We understand many people may be facing a difficult Christmas financially, but I'd like to encourage residents to remain mindful with their purchases. Spending your Christmas budget on illegal or faulty items may further strain finances and we are urging residents to remain vigilant against fraudsters.

"When money is tight, what may look like genuine bargain goods from sellers on the street and online can be tempting, but the clear message we want to send out is to be on guard – these products may be cheap – but you have no guarantee they're up to standard. Even though they appear to be sold by popular and reputable retailers, always do your research.

"At best you may be disappointed with the quality – at worst they could be dangerous to you and your family. It really isn't worth the risk."
The Council is also supporting the annual national anti-loan shark campaign #SleighNoToLoanSharks.
Loan sharks are targeting vulnerable people seeking credit and trapping them into a cycle of debt with exorbitant interest rates and threats of violence especially over the festive period and afterwards. Families are being warned not to turn to predatory loan sharks charging excessive amounts of interest if they are facing financial hardship over Christmas.
The advice comes come amid national warnings that the scale of household debt will continue to rise as financial pressures on households leave many struggling to afford their monthly bills.
Cllr Rowland added:
"These unscrupulous sharks prey on the most vulnerable in our society. No matter how much you are struggling financially, loan sharks are never the answer.

"I urge people in desperate situations to speak to the Citizen's Advice Bureau for advice, rather than getting themselves into deep water with a rogue lender, as well as visting: www.reading.gov.uk/housing/benefits-and-assistance/debt-advice. You should also check you are getting all the financial support you are entitled to. Find out more on the Council's website: www.reading.gov.uk/housing/money-matters.

"Remember that you can report these criminals in the strictest confidence to the Stop Loan Sharks helpline on 0300 555 2222 and action will be taken."
If you are concerned a friend or family member might be being taken advantage of by a loan shark, contact the Stop Loan Sharks 24/7 Helpline on 0300 555 2222 or fill in the secure online form at www.stoploansharks.co.uk to receive confidential support.
You can find out whether a money lender is authorised by checking the register on the FCA website at www.fca.org.uk.
ENDS