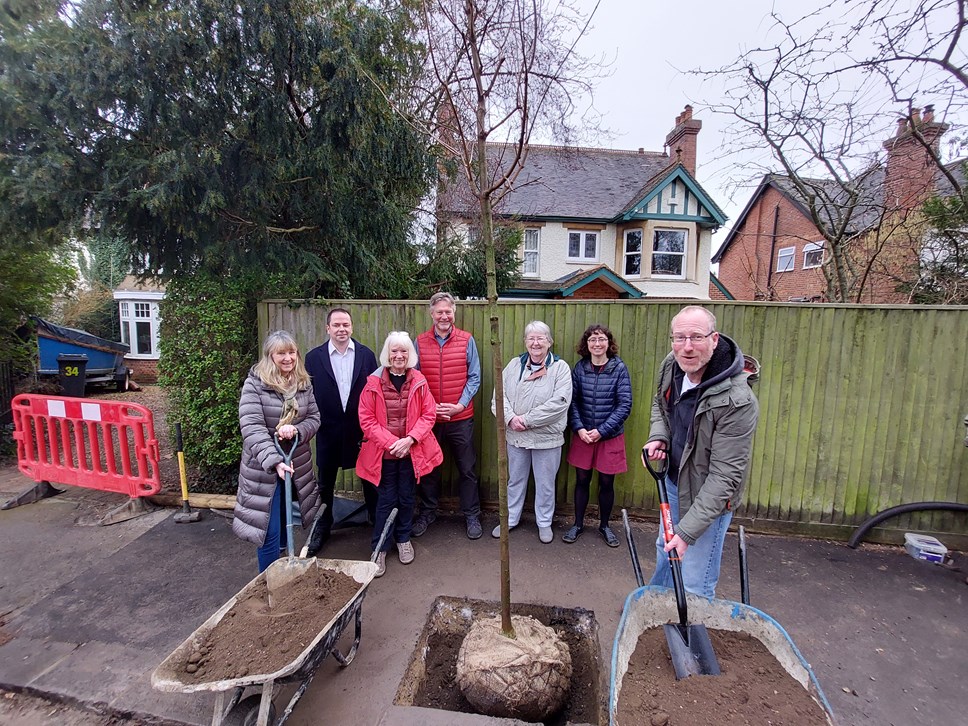 Residents and Councillors Plant Together as Reading's Tree Planting Efforts Set To Reach 387 Planted in Five Months
Collaborative effort saw residents choose the tree best suited to their road
By the end of March 387 trees will have been planted in Reading since November
Tree planting strategy will see 3,000 trees planted on Council land by 2030
THE COUNCIL teamed up with Caversham residents last week to plant Reading's 382nd new tree in just four months. With another five set to be planted before the season ends this month, the 387 will be a step closer to its target of 3,000 new trees on Council land by 2030.
The Acer Platanoides Cleveland - planted on Kidmore Road on Tuesday 21 February to replace a London Plane which died last year - was the result of dialogue between the Council and local residents who decided on the replacement type.
An interactive process saw regular dialogue between the Council and Kidmore Road residents, with residents being able to have their say via a vote on choosing a new type of tree. The beautiful plane trees planted originally by the Victorians have presented ongoing challenges for the street because of their size and girth. As one of the trees failed this year, the residents worked with officers to select a new type of tree that will be more compatible for any future replacements when any of the plane trees fail in the future. Residents included Dan Winchester, who helped to plant the new tree alongside Reading's Lead Member for Environmental Services & Community Safety, Karen Rowland.
It is one of 82 new trees specifically planted across the borough since November to replace those that have died or have had to be removed. This is alongside an additional 300 brand new trees planted since November, with five more to come later this month, as part of the Council's ongoing commitment to its tree strategy which aims increase canopy cover and make Reading greener.
Reading's tree strategy, adopted in 2021, sits alongside the Council's overall Climate Change Strategy and plays a role in responding to the climate emergency. Planting an increasing number of trees helps absorb carbon dioxide from the air as the Council works towards being carbon neutral by 2030, and also reduces flooding and noise, improves wildlife habitats, provides needed shade against rising summer temperatures as well as improving the character and colour of the town.
Nearly every ward has seen the benefit of the planting in the past four months, progress towards the Council's aim of creating at least 12% canopy cover in each of Reading's 16 wards and achieving overall canopy cover in the borough of at least 25%.
Cllr Karen Rowland said:
"Our tree planting strategy is hugely ambitious, and planting 387 trees in just five months demonstrates our commitment to that.

We're doing all we can to make smart decisions about putting in "the right tree in the right location" for the climate and the future of Reading, and doing so involves a good deal of thought and science in ensuring we plant trees that will enhance Reading for decades to come. All residents should expect to see the benefits of enhanced tree cover in their local area in the coming years.

"I'm really proud to see the collaborative efforts in Kidmore Road come to fruition. This interaction and interest from the community has been a fine example of how the Council and residents can work together to achieve results, and it was great to see them out earlier this week to help bring this project to a really positive conclusion".
Notes to editors
Image caption: From left Lead Member for Environmental Services and Community Safety Karen Rowland, Caversham ward councillors Matt Yeo and Jan Gavin, and residents (including Dan Winchester on far right) plant the tree in Kidmore Road.