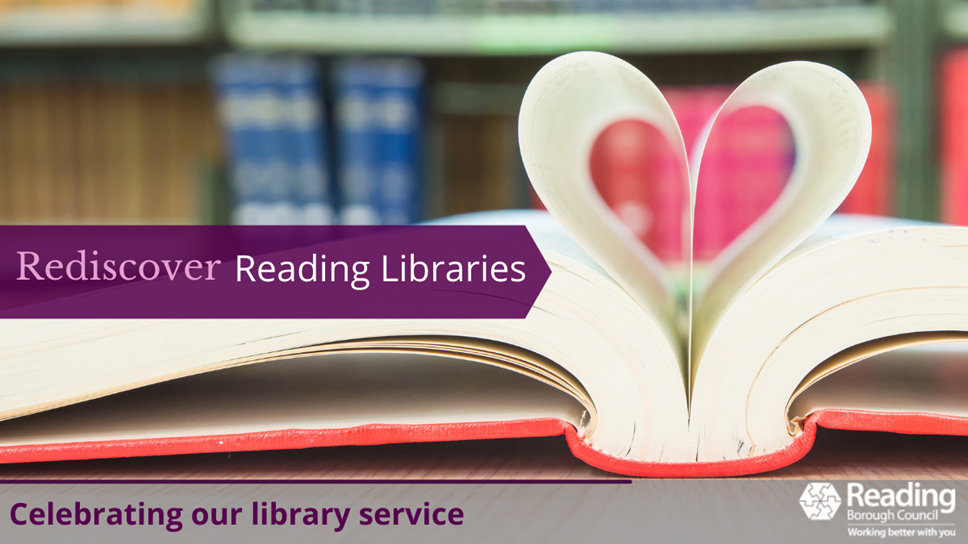 Rediscover Reading Libraries
All seven library branches in Reading open
Browsing and study within the library now available
REDISCOVER Reading Libraries this autumn.
Rediscover our libraries by browsing our latest books, using our computers for study or research, or order a specific book from our team of helpful librarians.
All seven Reading Library branches are open for people to drop in and browse.
Full hours are now restored at Caversham, Tilehurst, Battle and Whitley. From 20 September hours will be back to normal at Central and Palmer Park and from Monday 4 October, full hours will be restored at Southcote. Full details and opening times are available here: www.reading.gov.uk/libraryrestart
At all libraries people can now:
browse shelves
order specific items online
collect or return items
use computers and wiFi
use study tables or spaces
A series of pilot activities are planned towards the end of this month to allow events to phase back in as safely as possible. More information will be available on this soon. By running the pilot activities the service hopes to bring back popular activities such as Rhymetimes.
For people with limited mobility, the home library service continues to run and can be arranged by calling 0118 901 5118.
New library members can register instantly online at www.reading.gov.uk/libraries or by dropping by their local library. Membership provides not only access to physical loans but access to a huge range of free eBooks, eAudio and eMagazines, as well as free online learning resources at www.reading.gov.uk/elibrary
Since 19 July 2021 Reading's Libraries have seen:
6,000 visitors
32,000 issues of physical items, and a further 8,000 digital issues
a successful Summer Reading Challenge for kids
1,300 new members
The service's issues have recovered to around 70% of 2019 levels even before the increase in hours as of 20 September.
Cllr Karen Rowland, Reading's Lead Councillor for Culture, Heritage and Recreation, said: "Our libraries are a key community asset to our residents and I hope that the community will rediscover the amazing array of books and support we can offer in these spaces. With National Libraries week starting from 4 October we will be completely back to pre-Covid opening hours at every branch.
"We have had some changes over the last 18 months but we have had significant numbers through our doors since the summer and we want to remind residents that we are here and you are welcome as before to come in and browse, sit down, study, use the computers and take advantage of our free wiFi.
"Staff have been working incredibly hard behind the scenes to reintroduce hours and services as quickly and as safely as possible. I would like to thank everyone involved in getting us to this point and for the public's patience and understanding.
"We know many families are keen to see Rhymetimes return and we are equally eager to make that happen. As such, we are prioritising its return with several pilot events being run shortly. It is hard to understand how something so joyous and seemingly innocent can present safety challenges, but indeed they can in tight quarters. So, we must ask for the public's patience and understanding as we look to ensure that this popular event can be safely run. We will most definitely you posted on this!
"Please be guided by staff at each library with regard to any ongoing safety measures in place. We still need to be mindful of keeping ourselves and others as safe from the spread of Covid as possible.
"Over the last year, our service has seen around 23,000 visitors in total across the network, with 100,000 physical and digital books issued and around 2,000 home visits. We hope to continue to build on these numbers. And I'm delighted to report during July and August 2021 alone, we issued more library books than in the whole of 2020, which points well to our libraries coming back stronger than ever!
"If you haven't already, don't forget to check out our online offering at www.reading.gov.uk/elibrary – we are constantly curating and recommending new material and research pertinent to current issues. If you are not a member already, it is very easy to sign up online and access our online resources."
To keep everyone safe, the library service is still encouraging everyone to:
stay away if you have coronavirus symptoms
wear a face covering, unless exempt
use the hand sanitiser provided and wash hands before and after a visit
help support everyone by maintaining social distance
ensure children are accompanied by an adult
scan in for NHS Test and Trace on entry
Ends