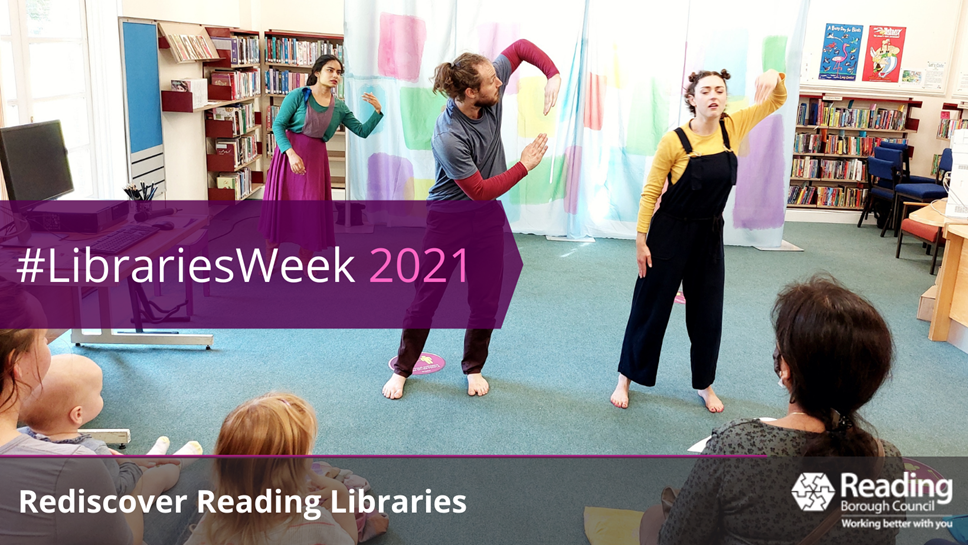 Rediscover events and activities at Reading Libraries this October
Rediscover free family events and activities at Reading Libraries this October.
A lively calendar includes performance, arts & crafts, treasure hunts, author readings and workshops.
READING is celebrating its much-loved Library Service during October, with a bumper lineup of free events, activities and services on offer.
The celebration launches with a live performance at Reading Central Library, with Bernadette Russell performing her 366 days of Kindness tour on Friday 1 October at 7 pm. Email info@readinglibraries.org.uk or phone 0118 937 5950 to book a free ticket.
During the first weekend in October, Reading Libraries will be bringing 'Fun Palaces' to Reading, with a range of great activities across library branches, including a fairy tale theme at Battle Library, with a giant pop-up book in the children's library, treasure hunt and craft sessions. There will also be themed art and craft sessions at Central Library, Southcote and Caversham Libraries.
During National Library Week (4 – 10 October), people are encouraged to 'Rediscover' Reading Libraries and everything the service is doing to support our local communities. Rediscover the great range of books, study material, free wiFi and computer access. Full details and opening times are available here: www.reading.gov.uk/libraryrestart
To celebrate Black History Month in October, there will be displays and book recommendations on offer at a number of library branches. Another great Black History Month event will be held during half term, on 30 October, where children and families are invited to an inspiring author reading of Kaya and Tuesday Holder's 'Tawny and Maya: Unique Me' at Central Library, followed by a Q&A session and a fun activity workshop. Although this half-term workshop for children is free, numbers are limited. Book early by calling 0118 937 5950 to avoid disappointment.
Rhymetime
Book a session of Rhymetime at Central and Battle Libraries from the end of September, with the aim of adding more at other branches during October and November.
All sessions last for 25 minutes and booking is essential:
Central Library sessions will start from Thursday 30 September at 10.15 am and 11.15 am.
Battle Library sessions will start from Friday 1 October at 10 am and 11.15 am.
To book a place call Battle Library on 0118 937 5100 or the Central Library on 0118 937 5950.
Cllr Karen Rowland, Reading's Lead Councillor for Culture, Heritage and Recreation, said: "I never get tired of saying how wonderful our library service is and this October, we want to shout this message from the rooftops!
"There are so many great things happening across our library branches this month – from a live comedy performance at Central Library and arts & craft sessions during 'Fun Palaces' weekend, to supporting Black History Month with a fabulous author reading session for children during the October half-term. The best thing is all of this is free!
"During National Libraries Week at the beginning of October, we have a great opportunity to showcase everything the service is doing to support our local communities. We have had some changes over the last 18 months but we have had significant numbers through our doors since the summer and we want to remind residents that we are here and you are as welcome as before to come in and browse, sit down, study, use the computers and take advantage of our free wiFi. We want you to 'rediscover' how wonderful our library service really is!
"Staff have been working hard to enable residents to enjoy these free activities, whilst keeping everyone as safe as possible. Please be guided by staff at each library with regard to any ongoing safety measures in place.
"At present, we need to limit numbers attending the Rhymetime sessions, so don't forget to book your place at Central and Battle Library to avoid disappointment. We hope to introduce further Rhymetime sessions at other locations over the coming months.
"And finally, if you haven't already, don't forget to check out our online library at www.reading.gov.uk/elibrary We are constantly curating and recommending new material and research pertinent to current issues. If you are not a member already, it is very easy to sign up online and access all our free online resources – which offers languages courses, driving theory test practice and UK citizenship study guides to name but a few."
To keep everyone safe, the library service is still encouraging everyone to:
stay away if you have coronavirus symptoms
wear a face covering, unless exempt
use the hand sanitiser provided and wash hands before and after a visit
help support everyone by maintaining social distance
ensure children are accompanied by an adult
scan in for NHS Test and Trace on entry
Ends
Notes to editors
About Fun Palaces (2-3 October)
Fun Palaces supports local people to co-create their own cultural and community events, across the UK and worldwide, sharing and celebrating the genius in everyone. https://funpalaces.co.uk
About National Library Week (4-10 October)
Libraries Week is an annual showcase and celebration of the best that libraries have to offer. National Libraries Week explores the innovative and surprising things that libraries are doing to support their communities.
In 2021, Libraries Week takes place between 4 and 10 October, celebrating the nation's much-loved libraries and the central role that libraries play in their community as a driver for inclusion, sustainability, social mobility and community cohesion.
About Black History Month 2021
The diverse programme taking place across the town during October recognises the important contribution our black community has made, and continues to make, in the town and across the country.
Find out about the event nationally here:
https://www.blackhistorymonth.org.uk/listings/region/south-east