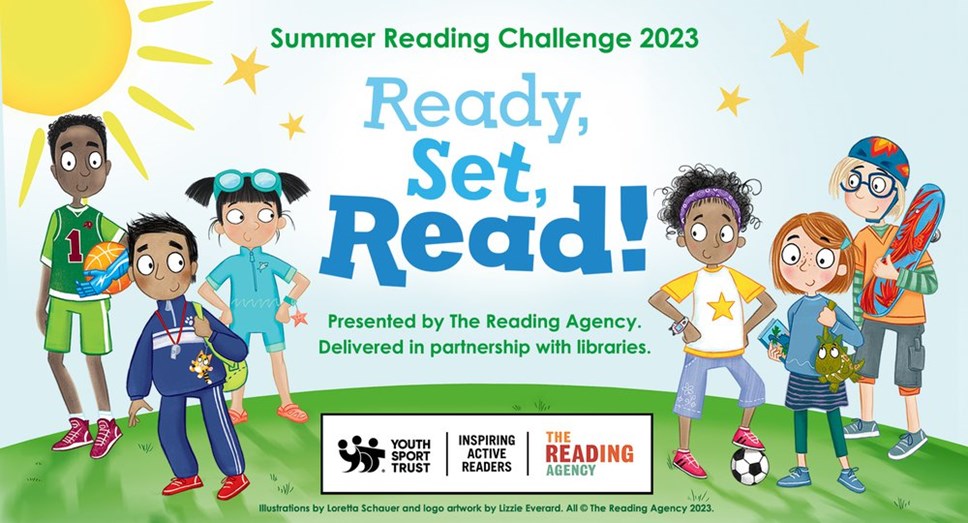 Ready, Set, Read! Children invited to join this year's sport-themed Summer Reading Challenge across Reading Libraries this summer
Summer Reading Challenge launching Saturday 8 July 2023
Children aged 4-11 encouraged to sign up to read at least 6 books over the summer
Free activities and events at a library near you
READING Library Service's much-loved yearly Summer Reading Challenge is available in all Reading Libraries from the end of this week (Saturday 8 July).
The library service is calling for children aged 4 to 11 to sign up to read six books this summer as part of the exciting sporty and games-themed 'Ready, Set, Read!' Summer Reading Challenge 2023, delivered in partnership with national children's charity the Youth Sport Trust.
The free reading challenge aims to get more children reading over the summer period – a time when children's literacy skills traditionally dip. The challenge offers a fun way for children to rediscover and re-engage with their local library and catch up on their reading skills.
Children are challenged to borrow and read at least six books over the holidays and are rewarded for each book read. This year every child receives a folder, stickers, bookmark, certificate, and medal. They also all receive a free book on their second visit.
Children will be able to join the fictional superstar team – Naveen, Naomi, Noah, Sophia, Ollie and Alesha – alongside their animal mascots, all ready to have fun and keep active.
To take part in the library challenge and receive a collector folder and stickers, families can drop in to pick up a free starter pack at their local library branch. Pick up a fun pack and follow Sophia's obstacle course with the team. Hidden along the obstacle course are six golden books. Each time the team complete an obstacle, they will collect a golden book – and to cross the finish line, you'll need to collect all six. There is also a 'mini' challenge available for children under four.
Anyone who is not a member can join the library instantly at www.reading.gov.uk/libraries or by popping inot their local library. The latest details and full opening times can be found at: www.reading.gov.uk/libraries
Children can also join in the fun online, here on the official challenge website: https://summerreadingchallenge.org.uk
Adele Barnett-Ward, Reading Borough Council's Lead Councillor for Leisure and Culture, said: "I'm delighted the Summer Reading Challenge is back from 8 July across all Reading Libraries. We know children's reading can 'dip' during the long summer holidays if they don't have regular access to books and encouragement to read for pleasure, impacting their learning at the start of the next school year, but this year's sporty theme is sure to encourage even reluctant readers to read for pleasure this summer. There are loads of goodies available for everyone taking part and best of all, it is completely free! Don't worry if you are not yet a library member - you can sign up quickly and easily online or at your local library.
"In previous years the challenge has seen thousands of children in Reading taking part and I'm eager to see as many youngsters as possible join in with this year's free, fun-packed 'Ready, Set, Read!' challenge and make the most of their local library this summer."
Young volunteers needed
Reading Library Service is also still looking for young people aged 14 to 18 who can encourage children to take part in and complete this year's Summer Reading Challenge.
Cllr Barnett-Ward added:
"Last year, over 30 young people from Reading volunteered with the library service to support the 2022 challenge. This is a great opportunity for young people between 14 and 18. Reading Challenge Volunteers will learn new skills, gain valuable work experience, and have fun doing so. The only qualification you need is a love of reading. Volunteers supporting the Reading Challenge this summer will play a valuable role in keeping children engaged with books by being positive role models and advocates for reading."
Volunteers are needed across all of its branches, including Battle Library, Caversham Library, Central Library, Palmer Park Library, Southcote Library, Tilehurst Library and Whitley Library.
Tasks will include talking with and listening to younger children about the books they have been reading and suggesting other things they may like to read. The aim would also be to help the children and their parents or carers to understand how the Summer Reading Challenge works, handing out rewards and supporting with events and craft activities.
The library will provide training, supervision and support and it is a great opportunity to develop new skills and experience for the future as well as gain work experience for CVs.
The Summer Reading Challenge will run between Saturday 8 July and Saturday 2 September – volunteers will be asked to commit to a minimum of 6 sessions over the summer (days and times would be negotiable with the library branch managers). The library will provide a volunteering certificate and would be happy to supply a reference letter to any volunteers who successfully complete the minimum commitment over the summer.
The closing date for applications is Friday 21 July 2023. For more information and to apply visit: www.reading.gov.uk/leisure/libraries/volunteering-for-our-summer-reading-challenge
Notes to editors
About The Reading Agency
The Reading Agency is a national charity that tackles life's big challenges through the proven power of reading. We work closely with partners to develop and deliver programmes for people of all ages and backgrounds. The Reading Agency is funded by Arts Council England.
About The Summer Reading Challenge
The Summer Reading Challenge is run by the Reading Agency for children across the UK and is delivered in partnership with public libraries. It has been running for the past 24 years and aims to foster a lifelong love of reading and tackle the drop off in reading that happens over the school summer holidays. Children are challenged to read as many books as they can over the summer and encouraged to enjoy reading for pleasure. Each year has a different theme.