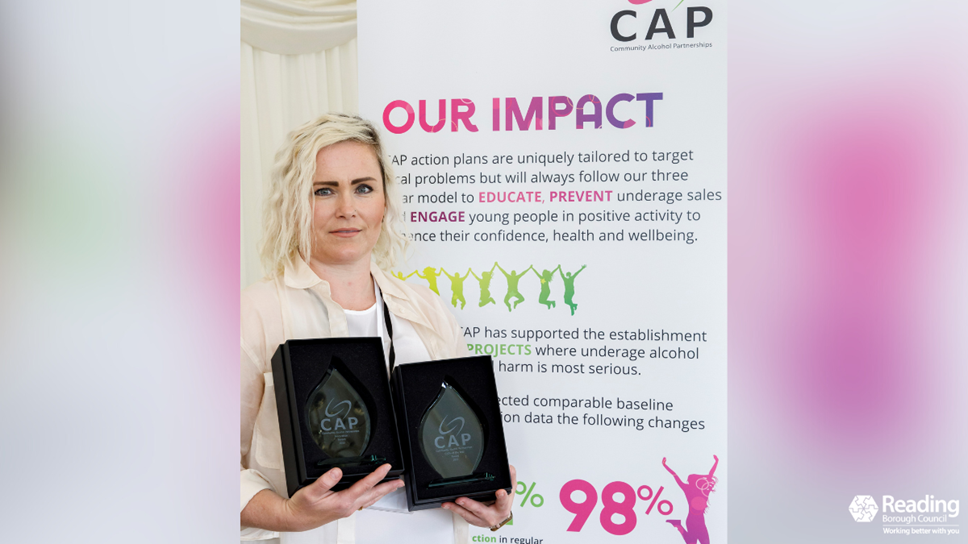 Reading's Community Alcohol Partnership wins two national awards for tackling underage drinking
Readings Community Alcohol Partnership co-ordinator, Tessa Brunsden, received the CAP+ of the Year Award, and the Award for Innovation
Reading's CAP was set up in January 2015 as a partnership between Reading Borough Council, local police, retailers, schools and neighbourhood groups and health providers
THE TIRELESS work of Reading's alcohol education champion in helping to protect young people in Reading from the dangers of underage drinking has been recognised nationally.
Reading Council's Community Alcohol Partnership (CAP) co-ordinator, Tessa Brunsden, received the CAP+ of the Year Award, and the Award for Innovation at the CAP Annual Awards event in Westminster this month, in recognition of her efforts to reduce alcohol harm in local young people and promote wellbeing in the community.
Reading's CAP was set up in January 2015 as a partnership between Reading Borough Council, local police, retailers, schools and neighbourhood groups and health providers. It aims to reduce the sale of alcohol to young people, advise them on the dangers of drinking and provide alcohol-free activities through youth services and local charities.
Drinking alcohol underage can result in short and long-term issues impacting health, education and young people's future prospects. It also increases the risk of becoming involved in anti-social behaviour and crime which also affects the wider community.
Tessa, who has been the Council's CAP co-ordinator since 2015, regularly gives engaging and informative talks in local schools and colleges promoting alcohol awareness to students. Her CAP efforts were also recognised in 2017 when she was highly commended for her Excellence in Education.
Tessa said:
"I am really honoured to be recognised with these two awards from CAP.

"I feel so lucky to love the job I do and to know what a difference it makes in the community to reduce alcohol-related harm in young people in Reading."
Recently, Tessa has offered work experience to young people giving them an inside look at how trading standards enforce laws around the sale of alcohol and tobacco products to underage consumers.
Presenting the CAP+ award, Matthew Golledge, Public Protection Manager at Reading Brough Council, and a CAP Director, said:
"Since its launch, Reading's CAP has continued to innovate and find new ways of working to ensure its projects continued and that it kept up its momentum and engagement.

"The CAP does an amazing job and its efforts are genuinely making a difference to people in the community."
Cllr Karen Rowland, Lead Councillor for Environmental Services and Community Safety, said:
"Congratulations to Tessa for these thoroughly well-deserved awards. Reading is very fortunate to have such a hard-working CAP partnership, actively working to make our town a better, safer and healthier place for all of our residents.

"A healthy respect for and relationship with alcohol in adulthood begins with educating our youth. Tessa's leadership through our CAP partnership is helping to reduce far worse problems in the future."
Chairman of CAP, Derek Lewis, said:
"Tessa wears many hats, combining her work for CAP with her role at Trading Standards and Public Health, and continually finds new ways of working that meet the objectives of all three organisations.  

"Tessa works tirelessly and with great dedication to improve the lives of young people in Reading. This award is richly deserved."
ENDS
Notes to editors
ENDS
Notes:
Since CAP was created 15 years ago, more than 250 schemes have been launched in England, Scotland and Wales. They bring together local stakeholders with a shared interest in preventing underage drinking and encouraging responsible drinking among young adults. CAP partnerships are made up of retailers, local authorities, police, schools, neighbourhood groups and health providers, working together to protect young people from alcohol harm.
CAP's annual report, launched at the event, shows how this innovative partnership approach has brought significant reductions in children's drinking, anti-social behaviour and underage sales in areas where it has created local partnerships:
Nationally, CAP evaluations show:
62% reduction in weekly drinking for 13–16-year-olds

After CAP training, 98% of retailers passed a Challenge 25 compliance test – from an average baseline of 50%

42% reduction in anti-social behaviour

68% reduction in residents reporting children and young people drinking in public places to be a very big or fairly big problem
CAP's 2021/2022 annual report can be viewed here.