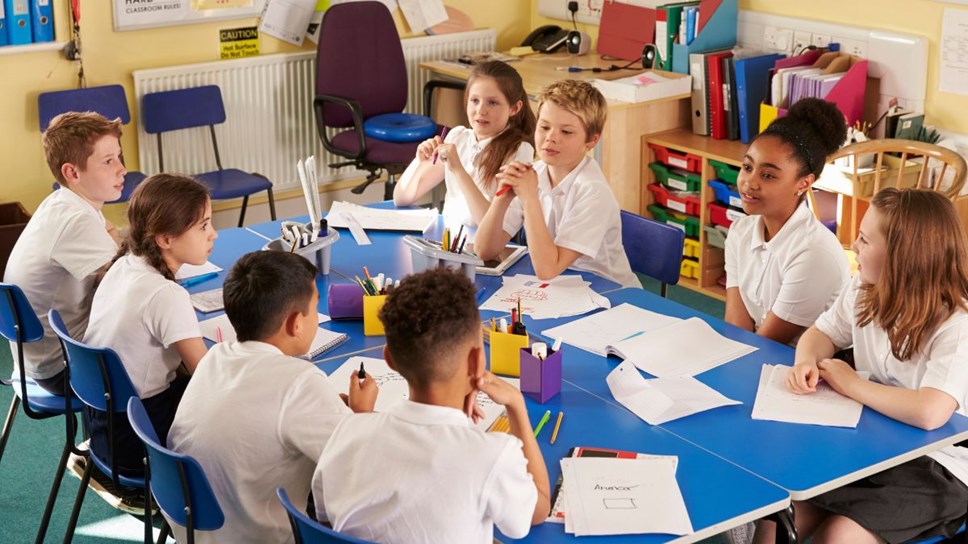 Reading secures £327,000 for educational air quality schools initiative
Reading is one of 44 local authorities across the country to successfully bid
Reading awarded £327k to create an interactive education programme in primary and secondary schools to raise awareness about air quality
READING COUNCIL has secured £327,000 in funding to create an interactive education programme in local primary and secondary schools to raise awareness about air quality.
Reading is one of 44 local authorities across the country to successfully bid for a share of £10.7 million in funding for local authorities to improve air quality. This is one of the larger per capita grants in the country. The money, from the Government's annual Air Quality Grant, aims to help councils develop and implement measures to benefit schools, businesses and communities and reduce the impact of air pollution on people's health.
Reading Council now plans to work in partnership with the University of Reading to deliver the project, to engage with children and parents from at least 33 schools across Reading. The programme will deliver focused activities to increase awareness and encourage behaviour change.
The project will build Key Stage (KS) lesson plans, assemblies and activity days and workshops; as part of term-length programmes to be delivered to schools. This could include involving the children in data gathering using sensors to determine 'What is the air quality like around your school, on the way to school, around your home?'
The main aim of the project will be to:
Increase knowledge of poor air quality, its causes, impacts and solutions, for primary and secondary school children with a range of age-suitable activities;
Increase awareness of air quality in the wider community including schools outside of the project, parents, and the communities around these schools.
Encourage behavioural change in activities that impact on poor air quality by parents and the wider community, and in terms of measures school children, and others, can take to reduce their exposure to poor air quality.
The Council and its partners will aim to commence the project with schools from September 2023.
Professor Hong Yang, project partner from the University of Reading, said:
"We've already utilized state-of-the-art sensors to assess air quality in four schools in Reading. This new DEFRA project presents a great opportunity to collaborate with Reading Council, schools, and other partners to work on air quality in schools.
"Our aim is to raise the public's awareness about the damaging effects of air pollution on children, parents and teachers' health and inspire communities to make more effective changes that will result in cleaner air and a reduced carbon footprint in schools and the surrounding areas."
Marta O'Brien, air quality researcher and project partner from the University of Reading, said:
"Finding ways of protecting children from exposure to air pollution is an important part of our research. This means additional work is needed to understand where and how we can apply measures to reduce spikes of dangerous pollutants, especially by school gates.
"Collaboration with Reading Borough Council and other project partners means that our existing work can expand and reach more schools, children, and families."
Councillor Tony Page, Reading's Lead Councillor for Climate Strategy and Transport, said:
"Securing this funding is great news for our schools and for helping to improve Reading's environment. This will enable us to reach our younger generation and encourage them to be active and passionate ambassadors for the ways we can all help improve air quality.

"Air quality in Reading is generally good and our monitoring shows we meet all current UK air quality objectives for particulate matter. However, and in common with many busy towns and cities, there are some areas close to congested roads where levels of nitrogen dioxide exceed air quality objectives and where levels of particulates are elevated. In these specific areas Reading faces serious challenges in terms of poor air quality which is having a real impact on the health of residents.

We need to remember that all road vehicles, including electric vehicles, cause serious air pollution from wear and tear on tyres, brakes and road surfaces. As a result, around 85% of fine particulate pollution from all vehicles does not come from exhausts.

"We are fully committed to maintaining and improving air quality across the town as we work towards our ambition of a net-zero carbon Reading by 2030. This educational initiative forms part of our wider work to encourage behaviour change. We are already supporting four schools to run School Streets – this is another excellent example of an initiative helping promote safer walking and cycling – and we already work closely with our partners Sustrans to deliver workshops in schools promoting walking and cycling.

"Our recent public consultation on improving Reading's Public Rights of Way has just closed, and we will be carefully considering resident's feedback to draw up an improvement plan to further improve our sustainable travel opportunities, in order to meet everyone's current and future needs.

"We continue to build on the progress made to date by consulting on and introducing measures to reduce transport emissions and encourage realistic alternatives to the private car in Reading, particularly for shorter journeys. These include creating more pedestrian and segregated cycle routes such as the scheme along the full length of Shinfield Rd and the proposed improvements to the Bath Road/Castle Hill area, and new cycle parking including a new bike parking and advice hub in the centre of Reading. Good progress is being made with major sustainable travel investments like the new Green Park Station and the refurbished Reading West Station, for example, both due for completion this year."
ENDS