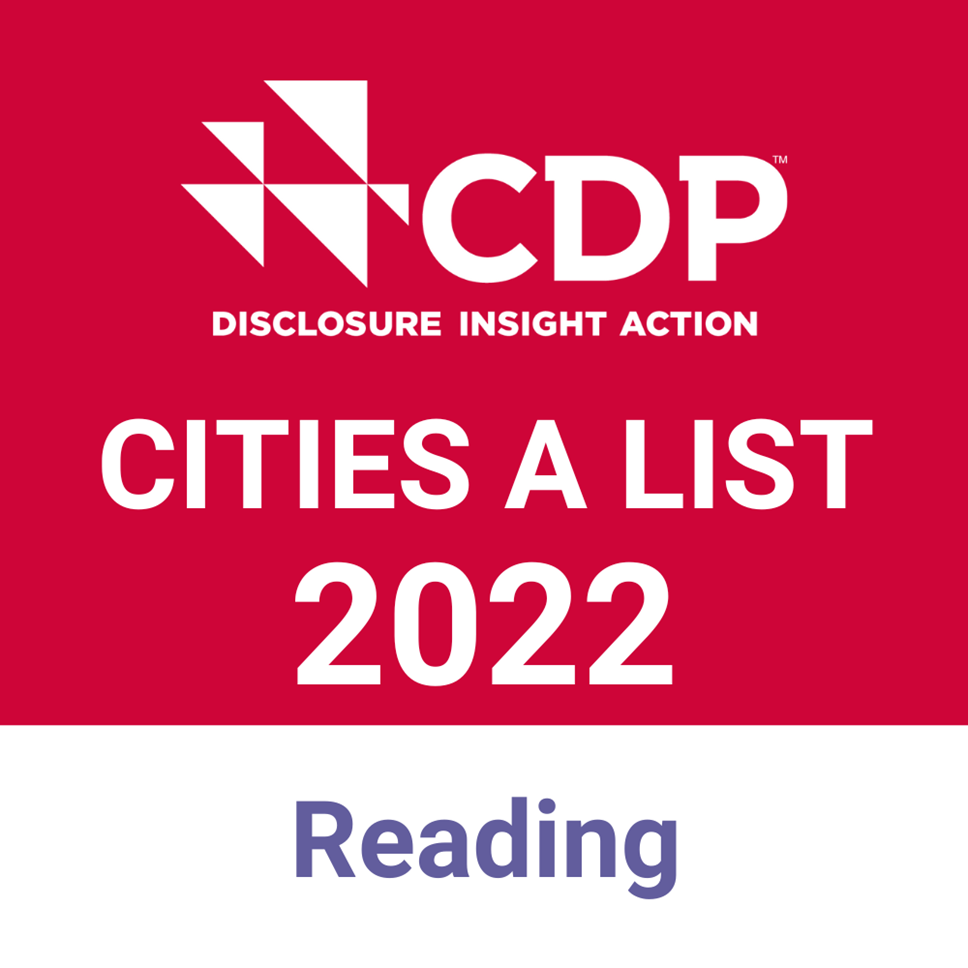 Reading One of Only 19 UK Councils and 122 Worldwide named as Climate Action Leaders
Reading again achieves CDP 'A' List accolade for bold leadership on climate change
Just 122 towns/cities worldwide and 19 in the UK receive top score on climate action in the Carbon Disclosure Project's (CDP) 'gold standard' of environmental reporting
Out of more than 1,002 entries worldwide, only 12% received an A score
Reading Borough Council has again been named as one of only 19 UK councils, and one of just 122 across the world, to make a coveted 'A' list on environmental action. It is the second year in a row it has received the accolade.
The accolade, announced today, is awarded for bold leadership on environmental action and transparency. Reading and the other towns and cities on this year's 'A' List are celebrated for showing that urgent and impactful climate action - from ambitious emissions reduction targets, to building resilience against climate change - is achievable at a local level despite the pressures of a challenging global economic situation.
The annual assessment, designed to encourage cities to ramp up climate action, is run by the Carbon Disclosure Project (CDP), a global non-profit which holds the world's richest and most comprehensive dataset on how companies, cities, states and regions measure, understand and address their environmental impacts. It is widely recognised as the 'gold standard' of environmental reporting.
Out of more than 1,000 entries from cities worldwide, just 12% made CDP's 'A List' and Reading joins 19 UK local authorities to make the grade.
To score an 'A', a local authority must disclose publicly and have a city-wide emissions inventory and have published a climate action plan. It must also complete a climate risk and vulnerability assessment and have a climate adaptation plan to demonstrate how it intends to tackle climate hazards.
According to CDP, 'A' list cities demonstrate their climate leadership through concerted and effective action and are taking twice as many mitigation and adaptation measures as non-'A' List cities, and also identify more than twice as many opportunities, such as the development of sustainable transport sectors and clean technology businesses.
The CDP 'A' List rating comes during the Council's November Climate Awareness campaign to remind everyone what they can do to tackle climate change. It also comes as Reading is making good progress towards net zero. Latest figures show Reading Borough Council made significant cuts in its carbon footprint last year, bringing the total reduction to an impressive 71.3% in just 13 years. Reading borough is also responding well with a 55% cut in the borough's carbon emissions since 2005, the 4th highest reduction out of all 374 local authority areas in the UK.
Councillor Tony Page, Reading Borough Council's Lead Member for Climate Strategy and Transport said:

"To retain and be recognised again as one of only 19 local authority areas in the UK and one of only 122 worldwide is a tremendous accolade in what is considered to be the gold standard in environmental reporting."
"It is now almost four years since the Council declared a Climate Emergency on behalf of the Reading community. We have seen some real progress locally in that time and the CDP 'A' List status is well deserved recognition for the huge efforts in Reading to strive towards a net zero carbon target by 2030. Recent figures demonstrate the significant progress being made; the Council achieving over 70% reduction in its carbon footprint in just 13 years and the borough of Reading achieving the 4th highest reduction (55%) in carbon emissions since 2005 out of 374 local authorities in the UK. But it also shows just how far Reading, and indeed the whole of the UK has to go, if it wants to reach that hugely ambitious target.
"There remains much work to do. Climate action needs to go further and faster. Our challenge, and indeed the challenge for every local authority, is to mobilise individual residents, communities, private businesses and other organisations to act and take decisions which make a difference. It is quite obvious that net zero is not something any council can achieve on its own. It means always trying to find new and innovative ways of raising the profile of climate action, and keeping it at the forefront of people's minds so that it shapes and influences the choices people make every single day."
Notes to editors
Reading 4th Largest Reduction In UK For Cutting Carbon Footprint
Council School Decarbonisation Project Saves Thousands in Cash and Carbon
Climate Awareness Month November 2022. Stay Onside With Climate Change
About CDP. CDP is a global non-profit that runs the world's environmental disclosure system for companies, cities, states and regions. Founded in 2000 and working with more than 680 investors with over $130 trillion in assets, CDP pioneered using capital markets and corporate procurement to motivate companies to disclose their environmental impacts, and to reduce greenhouse gas emissions, safeguard water resources and protect forests.
Nearly 20,000 organizations around the world disclosed data through CDP in 2022, including more than 18,700 companies worth 50% of global market capitalization, and over 1,100 cities, states and regions. CDP is a founding member of the Science Based Targets initiative, We Mean Business Coalition, The Investor Agenda and the Net Zero Asset Managers initiative. cdp.net