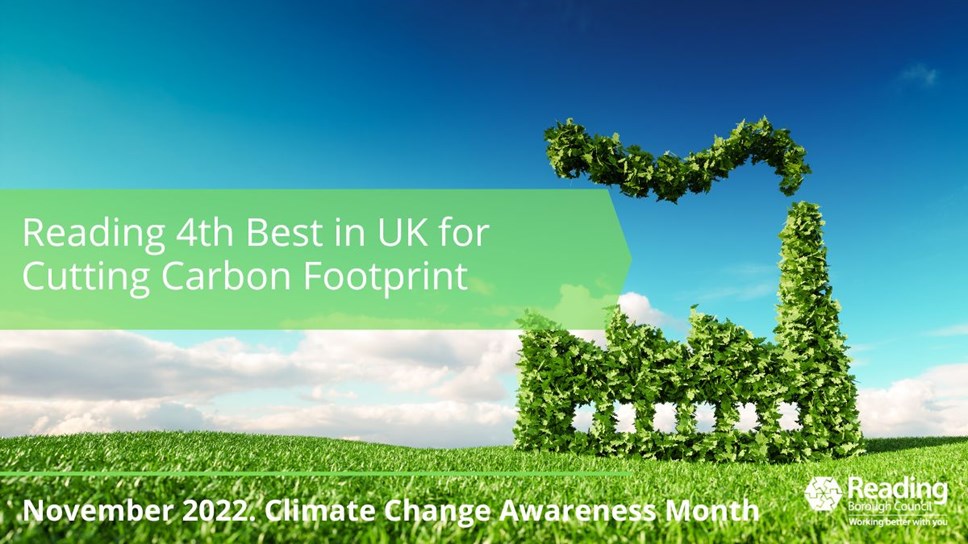 Reading 4th Largest reduction in UK for Cutting Carbon Footprint
Reading's overall carbon footprint cut is the 4th largest reduction of 374 UK local authority areas.
Reading Borough Council has now cut its own carbon footprint by 71.3% in just 13 years.
Much more to do; residents, communities, businesses, organisations and council will need to re-double efforts to reach net zero by 2030.
READING'S carbon footprint has been cut by 55% since 2005 – the 4th largest reduction for the whole of the UK.
November is Climate Change Awareness Month in Reading and the town's latest carbon footprint data for 2021-22 is outlined in a report to the Council's Strategic Environment, Planning and Transport Committee on Wednesday (16th).
The report also shows that Reading Borough Council has cut its own carbon footprint by 71% in just 13 years, building on significant progress to date.
While both sets of figures are impressive, the Council is again emphasising that there is much more to do to meet the 'net zero by 2030' target. The Council's direct emissions make up just 1.5% of Reading's overall carbon footprint. That means the Council cannot achieve Reading's net zero carbon by 2030 target on its own and residents, communities, businesses and organisations all having a huge role to play in the years to come if the town is to be successful.
Key factors contributing to the reduction in the borough's carbon footprint by partners include:
The University of Reading completed a £3.8 million programme of decarbonisation measures in 2021/22, supported by a £3.2 million grant from the Government's Public Sector Decarbonisation Scheme, administered by Salix.
Royal Berkshire NHS Foundation Trust made a commitment to achieve net zero by 2030, ten years ahead of the NHS national targets.
Plastic Free Caversham secured prestigious 'Plastic Free' accreditation in June 2022 from the marine conservation charity, Surfers Against Sewage (SAS).
In June 2021 Reading Football Club launched a new partnership with the University of Reading, Hoops for the Future, to guide the club into more environmentally aware and sustainable. And for the 2022/23 season incorporated the climate stripes on the sleeves on the home shirt to help visually demonstrate to Royals supporters how global temperatures have risen over many decades.
The third Reading Climate Action Network (RCAN) Climate Festival took place during September 2022, inspiring and encouraging positive action on climate change.
In terms of the Council's own carbon footprint, key factors driving the reduction in the Council's carbon footprint in recent years include:
Fleet Electrification: In September 2021 the Council took delivery of its first all-electric refuse collection vehicle, with a second tranche arriving within the last month. Under a new fleet replacement plan, over 200 Council vehicles should be replaced with EVs by 2028.
Charging Infrastructure: Major EV charging infrastructure is being installed at the Bennet Road depot, along with solar canopies, to power the Council's growing fleet. Heat pumps are already in place at Bennet Road to replace gas heating as part of a recent refurbishment programme.
Salix: Since 2008 the Council has implemented a Government-backed scheme called Salix, which provides a revolving fund to invest-to-save in low carbon technologies. By the end of 2020/21 the Council had invested nearly £1.8m in over 100 projects in corporate buildings and schools.
Street Lighting: Street lighting upgrades to LED technology started in 2016 and were completed in 2019, delivering significant reductions in electricity consumption.
Civic Offices: 2021/22 was the seventh full year in the refurbished Civic Offices building, equipped to high energy efficiency standards and hosting extensive solar PV roof arrays.
Other Buildings: The Council continues to dispose of older and less efficient buildings where it makes sense to concentrate activity in a more modern, greener Civic Centre, and is exploring the potential to replace gas boilers with heat pumps.
Town Hall: A major building retrofit of the Town Hall was completed in 2019/20 with further heating upgrades following on from energy efficiency works.
Green Tariffs: The Council purchases a 'green' electricity tariff, backed up by supplier traceable Renewable Energy Guarantee of Origin certificates or REGOs which give a higher level of assurance than the standard tariff.
The Council remains on track to hit its Carbon Plan target of an 85% cut in emissions by 2025 en route to net zero by 2030, but is warning it remains an ambitious target requiring sustained commitment and investment at a time when Council budgets remain under extreme pressure.
Councillor Tony Page, Reading Borough Council's Lead Member for Climate Strategy and Transport said:

"Our ongoing commitment to net zero is once again reflected in these latest figures, with the Council's cut in carbon emissions now over 70%.

"Overall, Reading's carbon footprint cut stands at 55%, which is the 4th largest reduction in the UK, but it shows just how far Reading, and indeed the whole of the UK has to go, if it wants to reach that hugely ambitious target.
"It is now almost four years since the Council declared a Climate Emergency on behalf of the Reading community. We have seen some real progress locally in that time. We have also seen Reading experience its hottest day on record this summer on 19 July 2022 when the thermometer hit 37.6 oC in the town. It serves as a good reminder of the impact of climate change on our communities and our local environment and the need to accelerate progress made so far. Reading's own climate stripes clearly illustrate the warming which, if it continues, will create enormous challenges in terms of the infrastructure we all take for granted.
"Our challenge, and indeed the challenge for every local authority, is to mobilise individual residents, communities, private businesses and other organisations to act and take decisions which make a difference. It is quite obvious that net zero is not something any council can achieve on its own. It means always trying to find new and innovative ways of raising the profile of climate action, and keeping it at the forefront of people's minds so that it shapes and influences the choices people make every single day."
Tracey Rawling Church and Professor Tim Dixon co-chairs of the Reading Climate Change Partnership said:

"The energy price crisis has brought into focus the importance of energy efficiency as a means of reducing both carbon emissions and fuel bills; it's just one example of the way action on climate change can also bring co-benefits for individuals and organisations through improved wellbeing or reduced costs.
We remain committed to providing reliable information on practical steps to cut carbon through our website, our events and our annual Climate Festival. These activities benefit from the strong relationships we're building with like-minded organisations in the town such as the University, Royal Berkshire NHS Trust, NGOs and businesses, enabling us to work together to deliver collaborative solutions that will contribute to our goal of a net zero, resilient place where everyone can thrive."