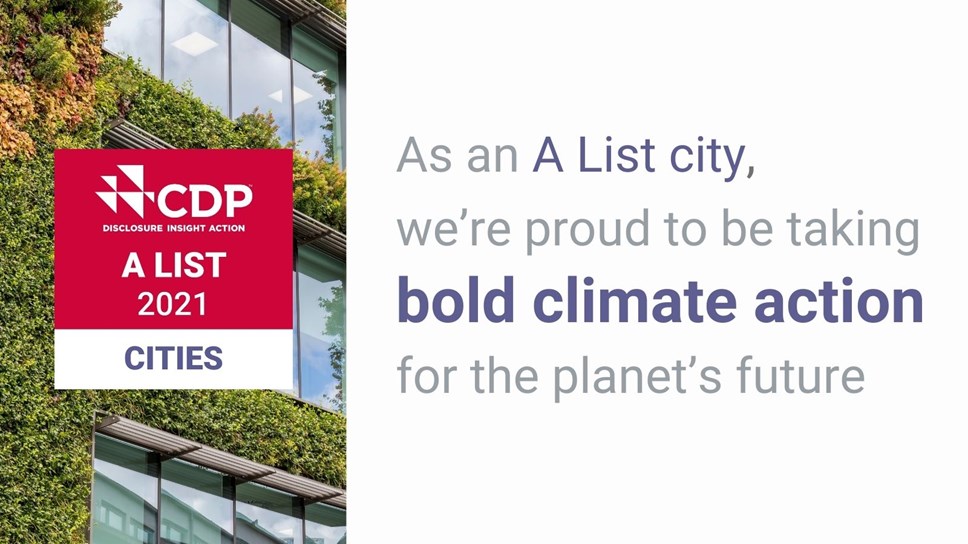 Reading One of Only 10 Local Authority Areas in the UK and 95 Worldwide to Make CDP 'A' List on Climate Action
Reading is one of just 95 towns or cities worldwide and 10 in the UK to receive top score on climate action in the Carbon Disclosure Project's 'gold standard' of environmental reporting
Out of more than 1,000 entries worldwide, only 9.8% received an A score
Reading Borough Council was today named as one of only 10 UK local authorities, and one of just 95 across the world, to make a coveted 'A' list on environmental action. The accolade is awarded for bold leadership on environmental action and transparency.
The annual assessment, which is designed to encourage cities to ramp up climate action, is run by the Carbon Disclosure Project (CDP), a global non-profit which holds the world's richest and most comprehensive dataset on how companies, cities, states and regions measure, understand and address their environmental impacts. It is widely recognised as the 'gold standard' of environmental reporting.
Out of more than 1,000 entries worldwide, just 9.8% made CDP's 'A List'. Reading joins BCP (Bournemouth, Christchurch and Poole), Bristol, Edinburgh, Leicester, Greater London Authority, Manchester, Nottingham, Southend and Sunderland as the only UK local authorities to make the grade.
To score an A, a local authority must disclose publicly and have a city-wide emissions inventory, have set an emissions reduction target and a renewable energy target for the future and have published a climate action plan. It must also complete a climate risk and vulnerability assessment and have a climate adaptation plan to demonstrate how it intends to tackle climate hazards.
According to CDP, 'A' list cities demonstrate their climate leadership through concerted and effective action, just as national governments were asked to do at COP26. They are taking twice as many mitigation and adaptation measures as non-A List cities, and also identify more than twice as many opportunities, such as the development of sustainable transport sectors and clean technology businesses.
Reading, and the other 94 cities on this year's A List, are celebrated for showing that urgent and impactful climate action - from ambitious emissions reduction targets to building resilience against climate change - is achievable at a global level, and in cities with different climate realities and priorities.
The CDP A List rating comes during the Council's November climate campaign to remind everyone what they can do to tackle climate change. It also comes as Reading is making good progress towards net zero. Latest figures show Reading Borough Council made significant cuts in its carbon footprint last year, bringing the total reduction to an impressive 69.8% in just 12 years. Reading borough is also responding well with a 49% cut in the borough's carbon emissions since 2005, the 5th highest reduction out of all 379 local authority areas in the UK.
Councillor Tony Page, Reading Borough Council's Lead Member for Strategic Environment, Planning and Transport, said:
"To be recognised as one of only 10 local authority areas in the UK and one of only 95 worldwide is a tremendous accolade in what is considered to be the gold standard in environmental reporting."
"It is also well deserved recognition for the huge efforts in Reading to strive towards a net zero carbon target by 2030. Those efforts date back as far as 2006 when Reading became an early signatory of the Nottingham Declaration and have continued over the last 15 years working with our partners through the Reading Climate Change Partnership."
"Recent figures demonstrate the significant progress being made in Reading which the data shows has seen the 5th highest reduction in carbon emissions since 2005 out of 379 local authorities in the UK. However those same figures starkly make clear that the rate of progress needs to double if we hope to achieve our ambitious net zero target in just over 8 years' time."
"There remains much work to do. Climate action needs to go further and faster in order to deliver the aspirations of COP26."
The full 2021 CDP 'A' list of cities can be found here https://www.cdp.net/en/cities/cities-scores
More information on Reading's progress can be found here https://media.reading.gov.uk/news/reading-makes-good-progress-towards-net-zero-but-much-more-to-do
Notes to editors
CDP is a global non-profit that runs the world's environmental disclosure system for companies, cities, states and regions. Founded in 2000 and working with more than 590 investors with over $110 trillion in assets, CDP pioneered using capital markets and corporate procurement to motivate companies to disclose their environmental impacts, and to reduce greenhouse gas emissions, safeguard water resources and protect forests.
Over 14,000 organizations around the world disclosed data through CDP in 2021, including more than 13,000 companies worth over 64% of global market capitalization, and over 1,100 cities, states and regions. CDP is a founding member of the Science Based Targets initiative, We Mean Business Coalition, The Investor Agenda and the Net Zero Asset Managers initiative. Visit cdp.net or follow @CDP to find out more.