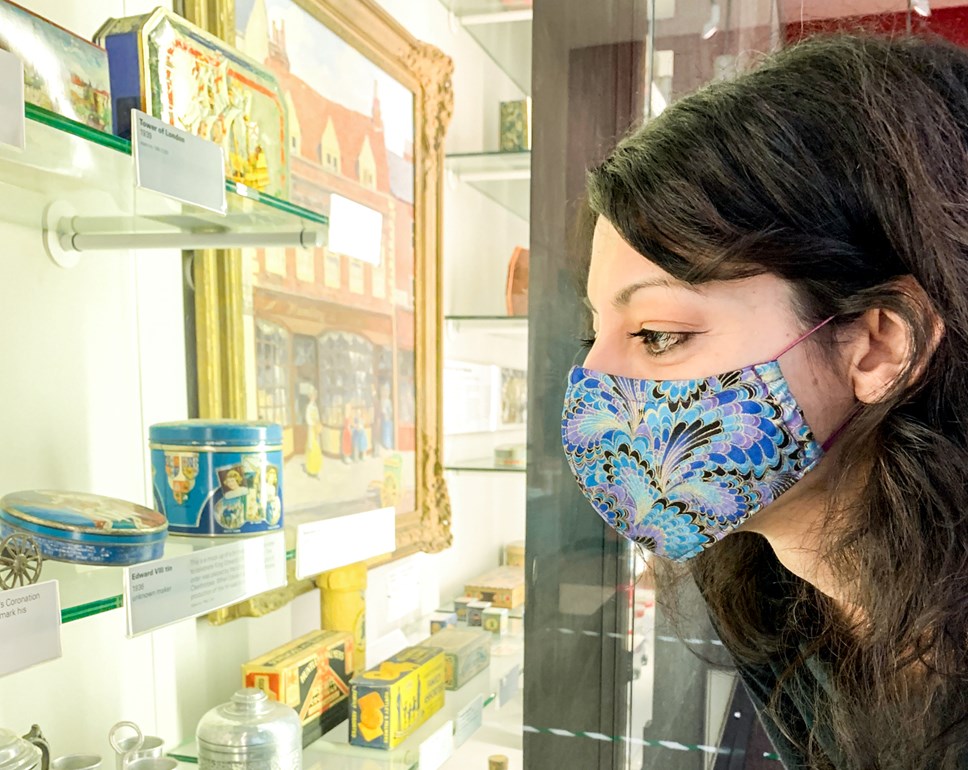 Reading Museums Set to Reopen
Reading Museum and The Museum of English Rural Life (The MERL) set to reopen on Tuesday 18 May.
Visitor welfare and safety are at the forefront of all reopening plans
TWO of Reading's much-loved museums are set to reopen this month.
Museums Partnership Reading is delighted to announce the reopening of Reading Museum and The Museum of English Rural Life (The MERL) on Tuesday 18 May.
Both Reading Council and the University of Reading have been working hard to reopen their respective museums as soon as possible, with visitor welfare at the forefront of all their plans.
In line with the Government's roadmap, both museums are ready to welcome visitors back into their galleries now that indoor attractions are permitted to reopen. The gift shops at both museums have been open since 12 April, and The MERL has also been able to open its café and garden.
Both museums are delighted to be reopening and have used the months of closure to work on new and exciting things to do and see. In the Sir John Madejski Art Gallery at Reading Museum, the long-awaited new exhibition of artwork from the University of Reading Art Collections 'Rubens to Sickert: The Story of Drawing' also opens on 18th May. This Museums Partnership Reading exhibition was originally planned for 2020 and opened online last month. Visitors will also be able to see the wonderful 'Oh Beautiful World! Sculpture' for the first time, carved from some of the useable wood of the trees from Chestnut Walk that tragically succumbed to disease and were replaced last year. The sculpture was inspired by the moment when Oscar Wilde stepped out of Reading Gaol after his imprisonment in 1897, and famously declared: 'Oh, beautiful world!'. Find out more about these exhibitions at www.readingmuseum.org.uk/whats-on
Visitors to The MERL will be able to see a newly displayed wall-hanging from the 1951 Festival of Britain. A wonderful 5x7m depiction of Cheshire replaces the Kent tapestry in the Our Country Lives gallery as part of the Museum's 70th anniversary project '51 Voices'.
With all the safety measures established as part of Visit Britain's 'Good to Go' Industry Standard in 2020 still in place at both museums, visitors can be assured of an enjoyable and safe visit.
Visitors to both museums will need to book timed entry slots in advance via their respective websites. From 18 May, anyone who cannot access bookings online can call, during opening hours 0118 9373400 for Reading Museum and 0118 378 8661 for The MERL.
Reading Museum and shop will be open Tuesday to Saturday 10am – 4pm.
The MERL, including the shop, café and garden will be open Tuesday to Friday, 9am to 5pm and Saturday and Sundays from 10am to 5pm. The Special Collections reading room will be also be open for pre-booked researchers, Tuesday to Friday, 9.30am to 12.30pm and 1.30pm to 4.00pm.
To help welcome all visitors back, staff and volunteers will be on hand to explain the changes that have been put in place and to answer any questions. Visitors will be asked to observe social distancing, wear a face covering (unless exempt), use the hand-sanitiser and to check in via the NHS Test and Trace app. At busier times, it may be necessary to queue so that numbers can be monitored inside. Once in the galleries, there are one-way systems to follow throughout.
Full details of each museum's opening arrangements and safety measures can be found on their websites at:
Reading Town Hall Commercial conferencing and events service and Concert Hall will also reopen from 18 May in line with central government guidance. Find out more at www.readingtownhall.co.uk
Cllr Karen Rowland, Reading's Lead Member for Culture, Heritage and Recreation, said: "I am utterly delighted to see our much-loved Reading Museum and Town Hall reopen. It is great news for residents and visitors to our town that both our Museum and the wonderful Museum of English Rural Life at the University of Reading are finally both able to welcome everyone back on site.
"As ever, the safety of the public and our staff remains our top priority. Our hard-working staff have spent a great deal of time ensuring every preventative measure against the virus has been carefully thought out.
"We must emphasise that whilst the service will reopen soon, it will not represent a return to normality for some time to come, and it will necessitate operating at a reduced level to accommodate safety measures. Visitors to the Museum will need to book in advance online and follow safety guidance during their visit, such as wearing face coverings, following one-way systems and using the hand sanitiser we provide. We also urge people who are unwell to stay at home.
"You can book online and come see the Museum's amazing displays and exhibitions. Where else in the UK can you see a full-size Victorian version of the Bayeux Tapestry in its magnificent entirety? The Museum's new 'Rubens to Sickert: The Study of Drawing' exhibition in the Sir John Madejski Art Gallery is also available to view.
"In the meantime, I cannot recommend too often, the fabulous cultural offerings online. The Museum teams have worked tirelessly behind the scenes to bring you innovative material relevant to current events, such as the fabulous virtual Windrush exhibition. The Museums also have very lively social media channels that are very worthy of following and they have also recently launched online shops."
Kate Arnold-Forster, Director of The Museum of English Rural Life, said: "This is a great moment for our partnership as we look forward to welcoming you back to The MERL and to Reading Museum. This will include opportunities to enjoy inspiring new experiences that have been developed during lockdown, supported through Arts Council funding. As a partnership, we are committed to delivering high-quality opportunities to be inspired by our collections through exciting public programmes. As part of its 70th anniversary celebrations, The MERL will be unveiling one of Michael O'Connell's extraordinary wall hangings, created for the 1951 Festival of Britain, depicting the Cheshire countryside. We are also eager to encourage visitors to see the newly-opened 'Rubens to Sickert' exhibition at Reading Museum, featuring important artworks belonging to the University and Reading Borough Council, in this ground-breaking exhibition that explores the teaching of drawing at Reading Art School."
Ends
Notes to editors
Notes
For safety reasons, some services at The MERL and Reading Town Hall and Museum will return on a phased basis as and when regulations allow. This includes:
Museum school and group visits.
Museum events, activities, tours & talks.
The Victorian Schoolroom at the Abbey Gateway and the Riverside Museum will remain closed.
The Berkshire Archaeology Service continues to operate with staff providing the service remotely. The Coroners' Court, based within the town hall, has been operating one day per week since May 2020. Similarly, the Ceremony Room at the Town Hall reopened earlier in April 2021.