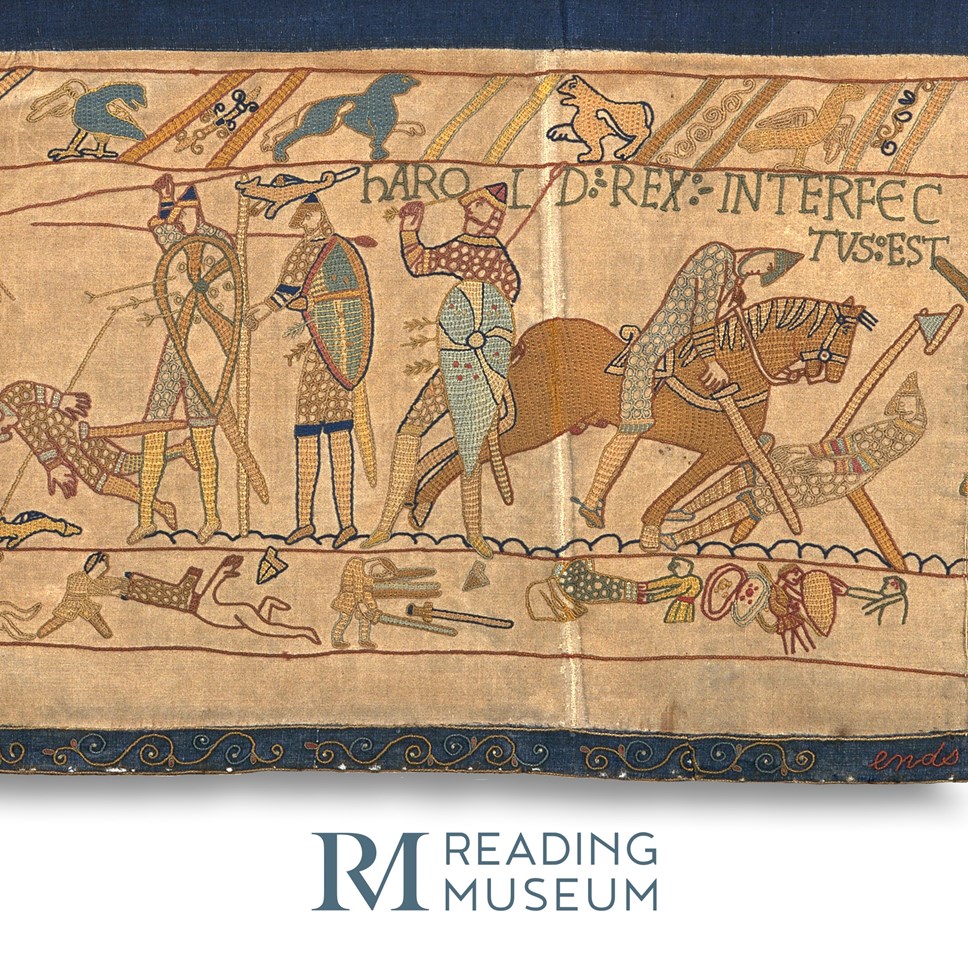 Reading Museum Bayeux Tapestry website transformed for 2021
The online home of Reading's Bayeux Tapestry has been updated for 2021, developed by the museum and website agency Un.titled
The new-look site features high definition images of each of the 32 scenes, allowing users to zoom into the detail of each scene and to scroll through the entire length of the 70m tapestry
The website has been launched ahead of Reading's preparations to celebrate the 900th anniversary of the foundation of Reading Abbey on 18th June 2021
READING Museum's much-loved Bayeux Tapestry website has been given a brand-new look.
The scene-by-scene digitised version of the famous full-size, Victorian replica of the tapestry has been a valued education resource for over 20 years but needed refreshing to bring it up to modern website standards of access and design.
An updated version of its online Bayeux Tapestry is available at www.bayeuxtapestry.org.uk, and the new-look site features high definition images of each of the 32 scenes, allowing users to zoom into the detail of each scene and to scroll through the entire length of the 70m tapestry.
Developed by the Museum team and website agency Un.titled, the website forms part of the Reading Abbey Revealed project, supported by the National Lottery Heritage Fund.
Cllr Karen Rowland, Reading's Lead for Culture, Heritage and Recreation, said:
"Reading's magnificent version of the Bayeux Tapestry reaches people all around the world, and I'm thrilled that we've been able to ensure that the accessibility to our unique piece of history will be available for all for many years to come.
"As a child growing up in the States, I remember well learning about early mediaeval British history by studying the Tapestry. I then carefully embroidered my own duplicate section of it for my final class project that year. The Tapestry is embedded in my fondest memories of my own education as a child.
"The honour Reading has to be home to this stunning, beautifully accurate work should not be under-estimated. Through this enhanced ability to reach out and educate at a national and international level, we will continue to draw further global notoriety to Reading and its Abbey and its role as a prominent site in early medieval England.
"I would encourage people to visit the new website and bring that museum and educational experience we're all missing, directly into your own home. Our schools can also book the new virtual Bayeux Tapestry session developed as part of Museums Partnership Reading - www.readingmuseum.org.uk/explore/schools/bayeux-tapestry-virtual-session."
Reading's faithful Bayeux Tapestry replica is displayed in its entirety in its own purpose-built gallery at Reading Museum. It was made by 35 skilled Victorian women embroiderers in 1885 and depicts the events leading up to and includes the Battle of Hastings in 1066.
The Covid-19 pandemic has made access to the online version even more important while the Reading Museum remains closed due to national restrictions.
In 2020, the tapestry website had almost 1 million visitors from all over the world, including the USA, Australia, Italy, China and Japan.
The website has been launched ahead of Reading's preparations to celebrate the 900th anniversary of the foundation of Reading Abbey on 18th June 2021. Reading Abbey was founded in 1121 by King Henry I, the youngest son of William the Conqueror who defeated Harold at the Battle of Hastings in 1066.
ENDS