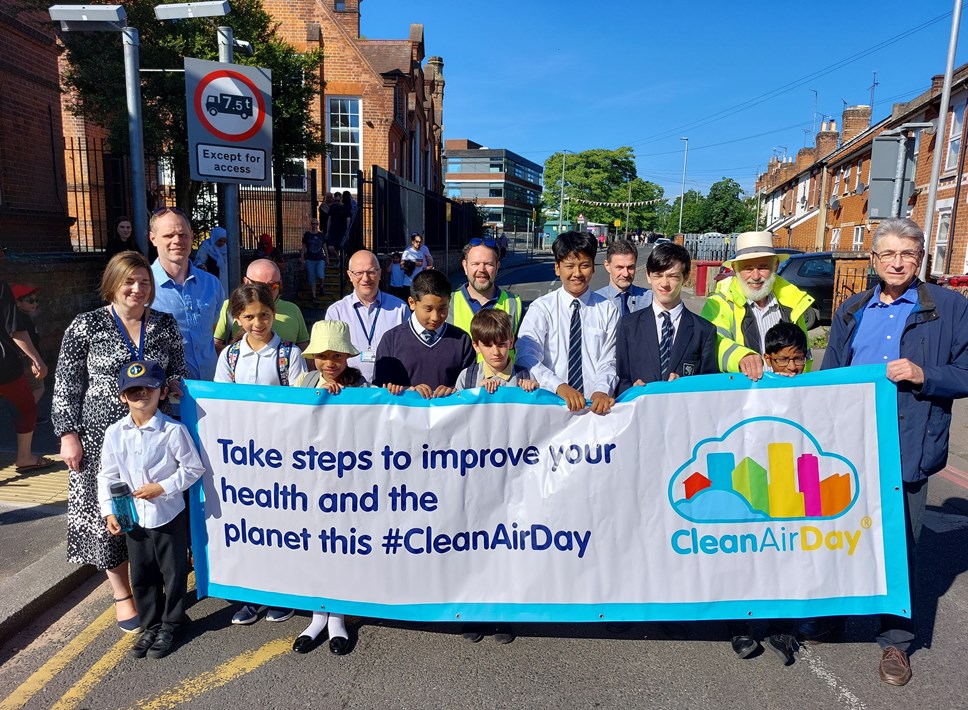 Reading Celebrates Clean Air Day 2022
Reading marks Clean Air Day 2022
Celebration at the Crescent Road School Street in east Reading
CHILDREN, young people and staff from Alfred Sutton Primary School and Maiden Erlegh School, alongside Reading Council representatives, came together this morning to celebrate Clean Air Day, at east Reading's first School Street in Crescent Road.
Clean Air Day is an annual national event that encourages everyone to consider ways to improve their own health, the health of their local community and the health of the planet and for future generations, by making changes, which could include:
Not only will making these changes improve the environment, but the personal benefits of getting more active can also greatly improve your overall health, help manage weight, improve your mental wellbeing, reduce the risk of disease, strengthen bones and muscles, and improve your ability to do everyday activities.
The Council has also run a competition with local schools, to design a 'Clean Air Day' poster to encourage residents to think about what they can do to help improve Reading's air quality. The winner, Jordana, age 10 in year 5 at Geoffrey Field Junior School, wins tickets for this year's panto at the Hexagon and a scooter parking station for her school. The winning entry and runners-up have been used on the Council's social media as part of the local Clean Air Day campaign.
For more information on Clean Air Day, visit: www.actionforcleanair.org.uk/campaigns/clean-air-day
Councillor Tony Page, Reading's Lead Councillor for Climate Strategy and Transport, said:
"Clean Air Day is an opportunity for anyone worried about air quality to do their bit. This ranges from helping to educate drivers about the importance of switching off their engines when stationary, to leaving their car at home and travelling in by cycling, walking or catching the bus.
"Crescent Road School Street, alongside our three other School Streets across Reading, is another excellent example of an initiative helping promote safer walking and cycling. I'm pleased to visit East Reading's first school street today to see first-hand the positive impact it is having locally.
"Air quality in Reading is generally good and our monitoring shows we meet all current UK air quality objectives for particulate matter. In common with many busy towns and cities there are some areas close to congested roads where levels of nitrogen dioxide exceed air quality objectives and where levels of particulates are elevated. In these specific areas Reading faces serious challenges in terms of poor air quality which is having a real impact on the health of residents.
"The Council is fully committed to maintaining and improving air quality across the town as we work towards our ambition of a net-zero carbon Reading by 2030. We continue to build on the progress made to date by consulting on and introducing measures to reduce transport emissions and encourage realistic alternatives to the private car in Reading, particularly for shorter journeys. These include creating more pedestrian and segregated cycle routes (such as the approved scheme along the full length of Shinfield Rd), and new cycle parking including a new bike parking and advice hub in the centre of Reading. Good progress is being made with major sustainable travel investments like the new Green Park Station and the refurbished Reading West Station, for example, both due for completion this year."
Crescent Road's School Street launched at the end of February and operates during the mornings. It is the result of a partnership between Maiden Erlegh School in Reading, UTC Reading and Alfred Sutton Primary School, with support from Reading Council.
School Streets create a safer and healthier environment for everyone, including local residents. The initiative is part of the Council's wider ambitions for encouraging more active travel, such as cycling and walking, and as a result support better physical and mental health, lower carbon generation and improved air quality.
Further information on Reading's School Streets can be found on the Council's dedicated School Streets webpage: www.reading.gov.uk/ReadingSchoolStreets
To download the app for free, go to your mobile app store and search for 'Innovation Valley Rewards', or go to www.innovationvalleyrewards.co.uk