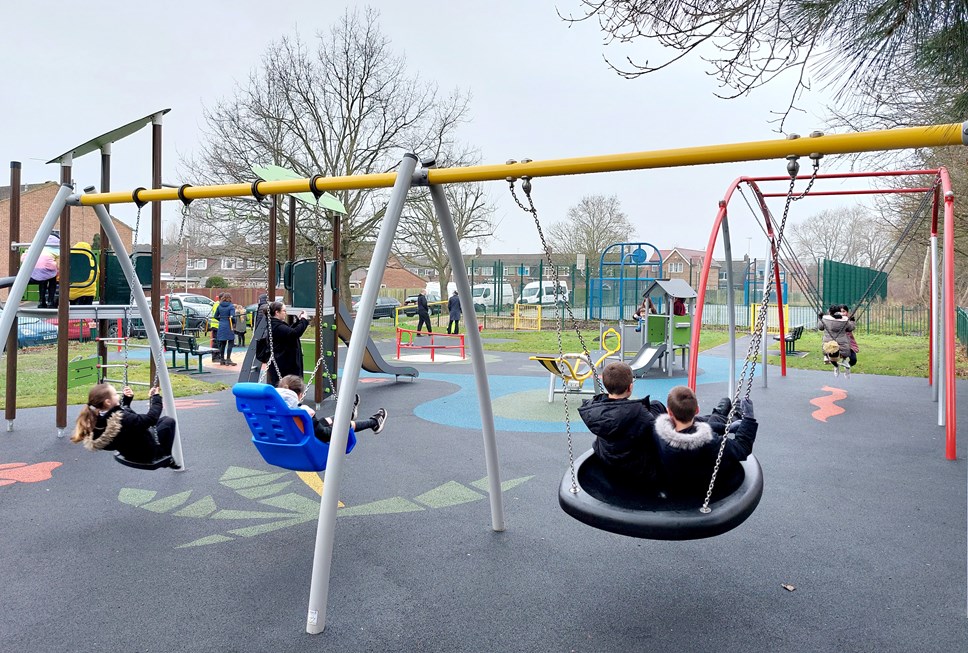 Portman Road play area transformation complete
A £94k investment has been made to refurbish the playground and games area at Portman Road
Children of all ages and abilities can now benefit from play area and follows a number of playground improvements made in 2021 by the Council
WORKS to completely refurbish the children's playground on Portman Road, west Reading, with brand new equipment have been completed.
Following an online public consultation in July 2021 on 4 shortlisted designs, Option 4 by HAGS won with 45% of the public vote.
The new mix of accessible equipment includes two inclusive multi-units and roundabout, a large basket swing, sensory activity panels for quieter play, a sensory path to navigate through the playground, brightly coloured floor graphics and upgraded seating. See here for more photos of the exciting refurbishment.
The selection process also included consultation with the Council's Accessible Play Task and Finish Group alongside a technical and value for money assessment.
The £94k investment means children of all ages and abilities can now benefit from a play area that suits their needs and follows a number of playground improvements made in 2021 by the Council.
A further £37k investment has been made to refurbish Portman Road's multi-use games area (MUGA). The courts have been re-surfaced with new markings for basketball and 5-a-side football. Existing goal markings have been re-sprayed, two additional basketball hoops put up, and improvements made to the path accessing the games area. Council officers also cleared the courts of any over-hanging vegetation.
Cllr Karen Rowland, Reading's Lead Councillor for Culture, Heritage and Recreation said:
"I'm delighted we're with continuing our commitment to provide high-quality, accessible and fun play areas for our younger residents and their families in 2022.
"Well kept open spaces and play areas are key elements for healthy and well-integrated communities and the refreshment of Portman Road means it is now providing for toddlers through to teens.
"I'd like to especially thank the ward councillors who ensured that contributions from Section 106 planning agreements following the redevelopment of the nearby Battle Hospital site were invested back into the wider community for much needed new play provision."
Cllr Graeme Hoskin, Reading's Lead Councillor for Health, Wellbeing & Sport said:
"Good play facilities are really important in support of Reading kids to be fit and active. I'm really pleased that we, as a council, despite major government funding cuts, are able to invest in playgrounds like this as part of our work to ensure Reading is a great place to have a happy and healthy childhood."
ENDS