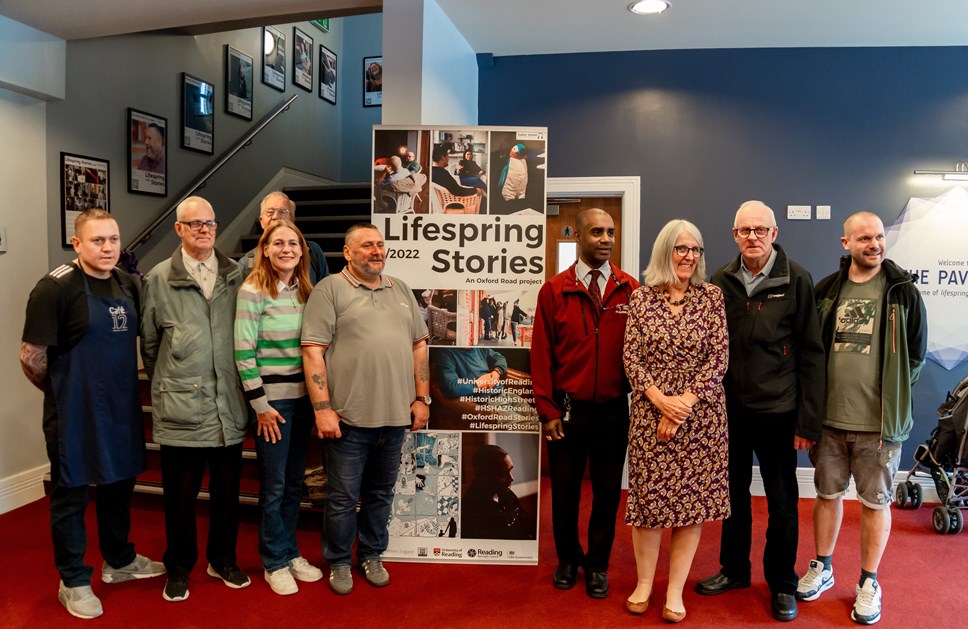 Oxford Road stories brought to life in new exhibition – 'Lifespring Stories'
New permanent exhibition at the Lifespring Church, Oxford Road
The exhibition tells the stories of the people of the Oxford Road
A NEW exhibition at the Lifespring Church at the Pavilion, Oxford Road was opened by the Mayor of Reading, Cllr Rachel Eden, on Friday 23 September.
'Lifespring Stories' uncovers the hidden stories of the people who are the 'life' of the Oxford Road.
Since moving to The Pavilion in 2013, Lifespring church on the Oxford Road in Reading has built itself up as a prominent community outreach hub.
The exhibition celebrates 'Lifespring Stories' through audio and visual media and seeks to answer the question - who are the people of the Oxford Road? The exhibition introduces some of the people who come here, what the Oxford Road and Lifespring means to them and how they came to be here. Where photos of movie stars would have hung in the early days of the building when it was an Art Deco Cinema there are now photos and voices, via QR codes, of the real community of the Lifespring Church.
Reading Council's High Street Heritage Action Zone (HSHAZ) commissioned the project from artists Baker Street Productions Ltd in partnership with community researchers from the Human Geography Department, University of Reading, as part of its ongoing cultural project, funded by Historic England.
Caroline Bishop, Founder and Executive Producer, Baker Street Productions, said: "Lifespring Stories began as a way of documenting the personal impact this community has had on the Oxford Road. What it grew into is, for all of us, an affirming testament to the effects of friendship and empathy. The compassion and generosity of the Lifespring church has made a difference to everyone who has walked up their steps. Some have found a second chance, some friendship, some hope. All have found a community to belong to that is welcoming to everyone. It is important that these people do not go unrecognised. Each one has kindness to offer and stories to tell. These are their stories; of their lives on the Oxford Road and what Lifespring means to them."
Cllr Adele Barnett-Ward, Lead Councillor for Leisure and Culture, said: "Our brilliant High Street Heritage Action programme continues to celebrate Reading's rich diversity and tell the fascinating stories of the Oxford Road.
"This thought-provoking exhibition gives a voice to many people of the Oxford Road and I'm pleased it has found a permanent home at the Pavilion, so many people can come and enjoy all it has to offer. It launched in the same month as 'The Oxford Road Times' - another fantastic addition to the growing portfolio of creative works celebrating Reading's local heritage and raising the profile of the area."
'Lifespring Stories' – a free exhibition, is housed in the foyer of the Lifespring Church, is open to the public 4 days a week, Tuesday – Friday from 10 am to 2 pm – no need to book at The Pavilion, 143-145 Oxford Rd, Reading RG1 7UY.
Ends
Notes to editors
Photos by Gab Gibek rosestarred.com
About High Streets Heritage Action Zones
The High Streets Heritage Action Zones is a £95 million government-funded programme led by Historic England, designed to secure lasting improvements and help breathe new life into our historic high streets for the communities and businesses that use them. Historic England is working with local people and partners to unlock the rich heritage on these high streets, through repair and improvement works as well as arts and cultural programmes, making them more attractive to residents, businesses, tourists and investors.
https://historicengland.org.uk/services-skills/heritage-action-zones/regenerating-historic-high-streets
About HSHAZ Cultural Programme
Reading Council was awarded an £85,000 grant in May 2021 from Historic England as part of the Reading High Streets Heritage Action Zone (HSHAZ) to create and deliver community-led cultural activities within the HSHAZ area high streets over the next three years.
Reading is one of more than 60 towns within the HSHAZ national programme to receive a share of £6 million for their cultural work within the scheme. Grants of up to £120,000 have been awarded to local arts organisations for cultural activity on each high street. Reading's High Streets Heritage Action Zone team, led by Reading Borough Council and other partners, including The Museums Partnership Reading, will run a programme of exciting new cultural activities to complement the wider project over the next 3 years in three historic areas of Reading.
Planned activities include an open call for cultural community projects in the Oxford Road area, continuing the work of a recent pilot project 'Re-imagining the high street through your stories' which concluded with three exciting art projects courtesy of local artists Baker Street Productions, Gemma Anusa and Caroline Streatfield.
With the new funding, work can be continued from the pilot project on Oxford Road; grassroots community groups and cultural organisations will have the opportunity to lead cultural activities as well as having access to a mentoring scheme that aims to support groups to access funding in the future.
Other activities will be focused on the St Mary's Butts/Castle Street and Market Place/London Street heritage areas, with the theme of exploring and telling the hidden histories of these historic high street areas through community co-produced research and resulting in art installations in the local area.
This is part of the four-year-long High Streets Heritage Action Zones' Cultural Programme, led by Historic England, in partnership with Arts Council England and the National Lottery Heritage Fund. The Cultural Programme aims to make our high streets more attractive, engaging and vibrant places for people to live, work and spend time. The Council's wider High Streets Heritage Action Zone programme will run for 3 years until 31 March 2024. The project aims to breathe new life into the radial high street areas of Reading off of the immediate town centre.
About Historic England
We are Historic England the public body that helps people care for, enjoy and celebrate England's spectacular historic environment, from beaches and battlefields to parks and pie shops. We protect, champion and save the places that define who we are and where we've come from as a nation.
We care passionately about the stories these places tell, the ideas they represent and the people who live, work and play among them. Working with communities and specialists we share our passion, knowledge and skills to inspire interest, care and conservation, so everyone can keep enjoying and looking after the history that surrounds us all.
Connect with the project via social media:
You can also follow @HistoricEngland
#HistoricHighStreets