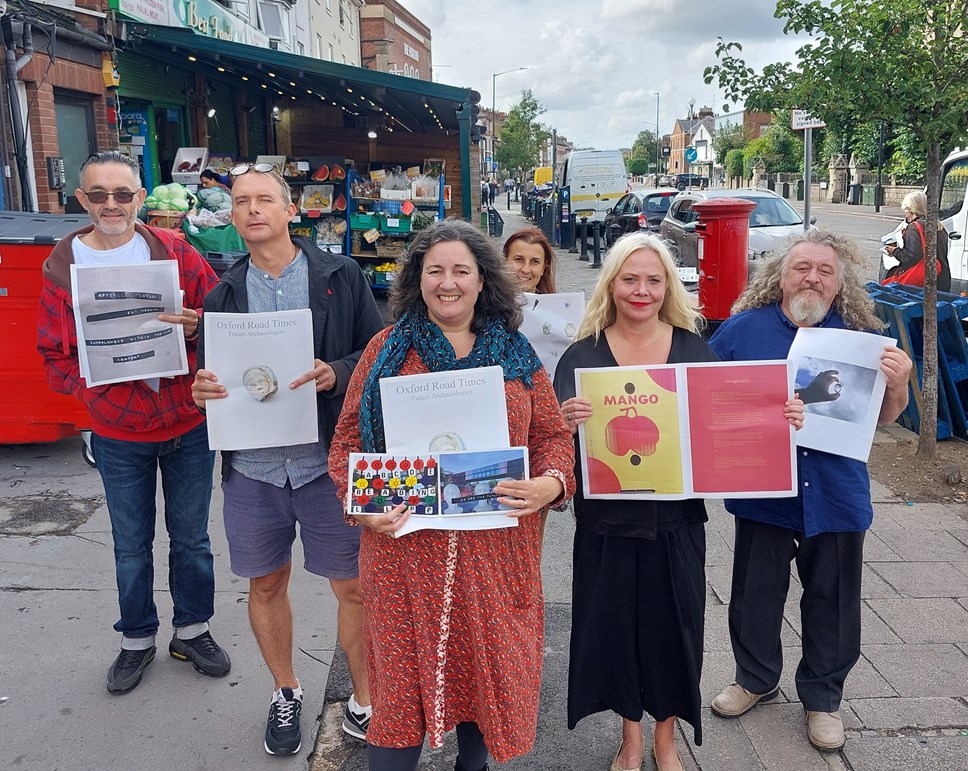 Local artists launch 'The Oxford Road Times', a one-off community newspaper
Community newspaper celebrates the diverse and rich culture of the Oxford Road
The paper documents a range of happenings, events and workshops delivered with various Oxford Road community groups this year
A UNIQUE community newspaper, celebrating the diverse and rich culture of the Oxford Road, will join the growing line-up of artworks celebrating Reading's local heritage this month.
Reading Council's High Street Heritage Action Zone (HSHAZ) commissioned the project from visual artists Lisa-Marie Gibbs and Philip Newcombe, as part of the ongoing cultural project, funded by Historic England.
'The Oxford Road Times' is a one-off, limited-edition, free newspaper, telling the stories, and highlighting the creativity, of the Oxford Road. It will be distributed in newsagents, shops, libraries and outlets along and near the Oxford Road in West Reading.
Within its pages is documentation of a range of happenings, events and workshops that the artists delivered with various community groups in the area during the summer of 2022. Highlights include 'Bearing Witness to Grey' a study of the colours found in between the IDR and West Reading Bridge, and 'Mango rains', seven stories from seven local people delving into different voices and personal histories. It also includes an insert inside the paper: Postcards from the Oxford Road.
For more background on the project visit The Oxford Road Times instagram @oxfordroadtimes
Cllr Adele Barnett-Ward, Lead Councillor for Leisure and Culture, said:
"Our brilliant High Street Heritage Action programme continues to celebrate Reading's rich diversity and tell the fascinating stories of the Oxford Road. 'The Oxford Road Times' is another fantastic addition to the growing portfolio of creative works celebrating Reading's local heritage and raising the profile of the area.

"What I particularly love about 'The Oxford Road Times' is that the project has co-creation at its heart, with local residents getting involved to celebrate the local heritage of the area and the multi-cultural history of Oxford Road. I would like to take this opportunity to thank Historic England – without their generous funding, projects like this could not happen.

"There will be free copies available in shops along the Oxford Road appearing this month: your opportunity to own a unique piece of art and community history"
Artists Lisa-Marie Gibbs and Philip Newcombe said of their creation:
"Our art project has involved a diverse and eclectic range of voices from the local communities and initiatives in the area, some who are often under-represented. It highlights the creativity and the spirit of the diverse and multi-cultural voices of its citizens and aims to engage with the community at large, exploring the idea of 'Future Archeologies'; the things we leave behind for others.

"Scratching on the surface, 'The Oxford Road Times' is a glimpse of what lies underneath. Avoiding the old adage of 'today's news is tomorrow's fish and chip paper', this object contains within it a series of fluid proposals and propositions that are not necessarily definitive or conclusive. There are no full-stops in this project. These are propositions that hold in it future possibilities. A living and breathing archeology."
In June this year, the Council awarded two £9k grants to visual artists Lisa Marie Gibbs and Philip Newcombe, alongside local Reside Dance C.I.C, for their creative projects exploring and celebrating the heritage and diverse communities of the Oxford Road.
Following the successful High Street Heritage Action Zone (HSHAZ) pilot projects in 2021, these latest creative projects join the wider community art produced involving four other local artists, Caroline Streatfield, Baker Street Productions, Gemma Anusa and Arron Lowe's projects which have been launched in 2021 in celebration of the Oxford Road and the rich and diverse heritage of the area.
ENDS
Notes to editors
Notes:
Photo1: A photo still from the filming of 'Salt' a film collaboration with the Oxford Road community to be shown later this year.

Photo 2: A series of drawing interventions that happened out on the Oxford Road.
An invitation to the community to come and draw the 'Spaces in between the future'

Photo 3: This beautiful little object is a maquette for a proposed future public sculpture for the Oxford Road by Jim Pooley.
Photo 4: 'Oxford Road Times' front cover.
About High Streets Heritage Action Zones
The High Streets Heritage Action Zones is a £95 million government-funded programme led by Historic England, designed to secure lasting improvements and help breathe new life into our historic high streets for the communities and businesses that use them. Historic England is working with local people and partners to unlock the rich heritage on these high streets, through repair and improvement works as well as arts and cultural programmes, making them more attractive to residents, businesses, tourists and investors.
https://historicengland.org.uk/services-skills/heritage-action-zones/regenerating-historic-high-streets/
About HSHAZ Cultural Programme
Reading Council was awarded an £85,000 grant in May 2021 from Historic England as part of the Reading High Streets Heritage Action Zone (HSHAZ) to create and deliver community-led cultural activities within the HSHAZ area high streets over the next three years.
Reading is one of more than 60 towns within the HSHAZ national programme to receive a share of £6 million for their cultural work within the scheme. Grants of up to £120,000 have been awarded to local arts organisations for cultural activity on each high street. Reading's High Streets Heritage Action Zone team, led by Reading Borough Council and other partners, including The Museums Partnership Reading, will run a programme of exciting new cultural activities to complement the wider project over the next 3 years in three historic areas of Reading.
Planned activities include an open call for cultural community projects in the Oxford Road area, continuing the work of a recent pilot project 'Re-imagining the high street through your stories' which concluded with three exciting art projects courtesy of local artists Baker Street Productions, Gemma Anusa and Caroline Streatfield.
With the new funding, work can be continued from the pilot project on Oxford Road; grassroots community groups and cultural organisations will have the opportunity to lead cultural activities as well as having access to a mentoring scheme that aims to support groups to access funding in the future.
Other activities will be focused on the St Mary's Butts/Castle Street and Market Place/London Street heritage areas, with the theme of exploring and telling the hidden histories of these historic high street areas through community co-produced research and resulting in art installations in the local area.
This is part of the four-year-long High Streets Heritage Action Zones' Cultural Programme, led by Historic England, in partnership with Arts Council England and the National Lottery Heritage Fund. The Cultural Programme aims to make our high streets more attractive, engaging and vibrant places for people to live, work and spend time. The Council's wider High Streets Heritage Action Zone programme will run for 3 years until 31 March 2024. The project aims to breathe new life into the radial high street areas of Reading off of the immediate town centre.
About Historic England
We are Historic England the public body that helps people care for, enjoy and celebrate England's spectacular historic environment, from beaches and battlefields to parks and pie shops. We protect, champion and save the places that define who we are and where we've come from as a nation.
We care passionately about the stories these places tell, the ideas they represent and the people who live, work and play among them. Working with communities and specialists we share our passion, knowledge and skills to inspire interest, care and conservation, so everyone can keep enjoying and looking after the history that surrounds us all.
Connect with the project via social media:
You can also follow @HistoricEngland
#HistoricHighStreets