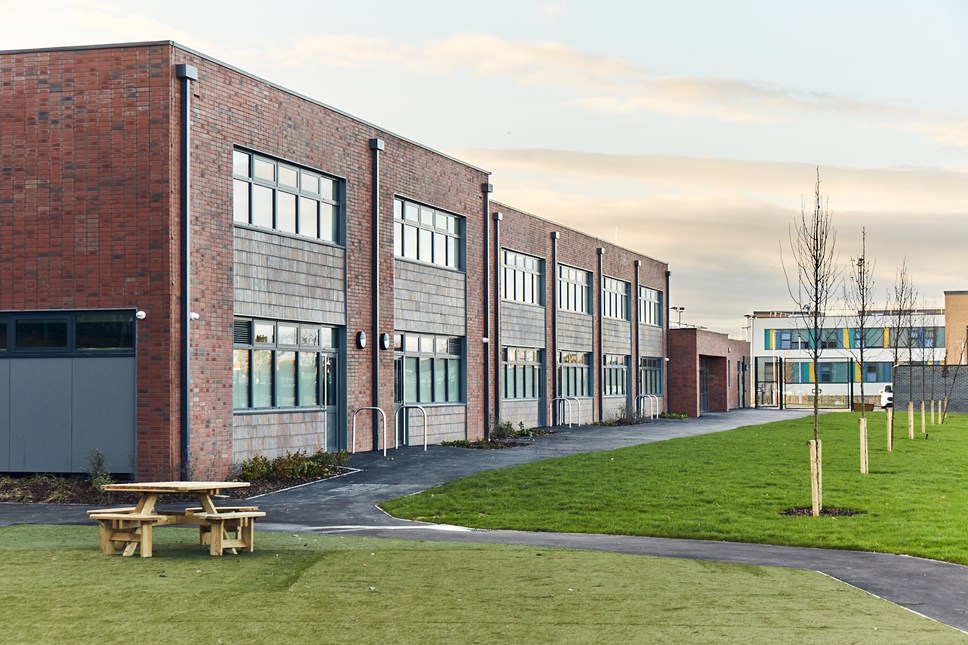 New Hamilton School Highly Commended in National Awards
Hamilton School's new building 'highly commended' in local authority and community buildings national awards
New building on Bulmershe Road was delivered by the Council and replaced Phoenix College
HAMILTON School's new building has received highly commended status at a prestigious national award ceremony for community buildings.
The modern new school building on Bulmershe Road only opened to pupils in February this year, replacing Phoenix College on Christchurch Road, whose buildings were in a poor condition and unsuitable for special needs pupils. Hamilton School is now operated by the Maiden Erlegh Trust.
The new £8 million school – part funded by Reading Borough Council and the Department for Education – has now been highly commended in the Society for Public Architecture, Construction, Engineering and Surveying (SPACES) awards. SPACES' objectives are to promote local authority and community buildings which achieve the highest possible standards in development, design, construction and management. https://thespaces.org.uk/
The 2022 Spaces Yearbook – which includes all the finalists, including Reading's Hamilton School – can be found at http://thespaces.org.uk/spaces-yearbook-2022/
Delivered by Reading Council's Property & Assets Education Development Team, in partnership with Hampshire County Council, the construction of the new Hamilton School involved the conversion and refurbishment of a 1970's concrete- framed office building. The brief was to re-house the school to a purpose-made facility that combines comfort, environmental performance and robustness, in a space which also felt homely and non-institutional.
The project involved a complete strip-out back to structure, recladding and re-roofing and the replacement of all building services. The project was independently scored as BREEEM excellent with high air tightness and low carbon.
Ruth McEwan, Reading Borough Council's Lead Councillor for Education and Public Health, said:
"Children and young people at Hamilton School have very challenging events of trauma or personal situations, and complex needs as a result. It was wonderful to see them move into their brand new home at Bulmershe Road earlier this year, which offers them the possibility to enjoy practical subjects that were just not possible in their old building due to its limitations. Huge congratulations to everybody involved in this project!
"The creation of a new home for Hamilton School sits within the Council's wider special educational needs strategy to support some of Reading's most vulnerable pupils. The strategy will also see proposals being developed for more specialist SEN units, and an overall increase in the number of Early Years SEN places being offered."
Jonathon Peck, Chief Executive Officer, Maiden Erlegh Trust, said:
"Following the relocation and major rebuild of Hamilton School to the Bulmershe Road site, which was completed in February this year, we are delighted that students and staff now have a building they can be proud of with new facilities that have been specifically designed around their needs.
"The fact that Hamilton School was awarded with a special commendation at the national Spaces award event last week is testament to the hard work put in by the design team and staff that worked on the project. Maiden Erlegh Trust is committed to delivering 'opportunity, diversity and success for all' and I would like to thank the huge team of people that worked so hard to get this project over the line."
Brian Grady, Interim Director of Children's Services and Director of Education at Brighter Futures for Children, said:
"This project has made a huge difference to everyone at Hamilton School as it has created a modern, comfortable environment which is much more suitable for pupils to learn and develop.
"The new Hamilton School building is a landmark project in Reading's strategy to provide more quality local school places for children and young people with additional needs and is worthy of the national recognition it is has received."