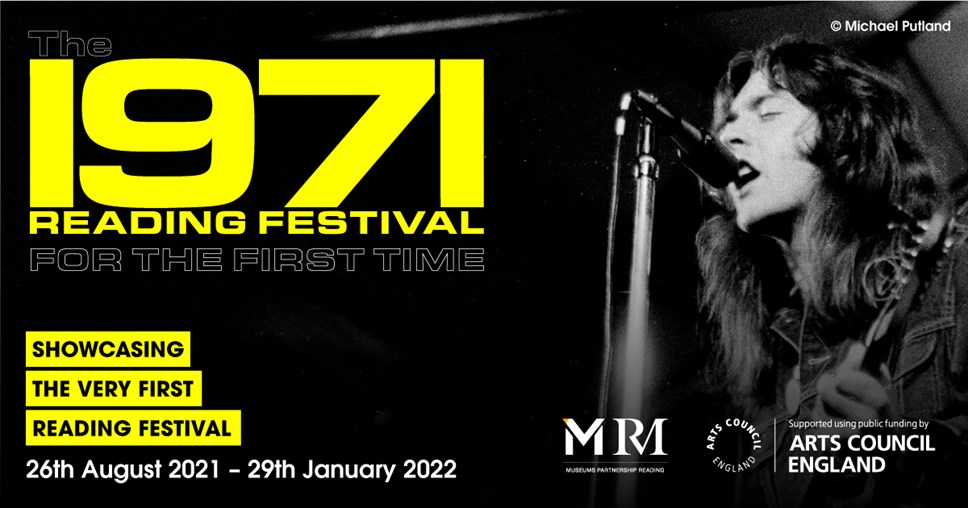 New exhibition at Reading Museum Celebrates Reading Festival's 50th Anniversary
'The 1971 READING FESTIVAL: For the First Time' launches on Thursday 26 August.
The unique exhibition tells the story of the very first Reading Festival through rare and unseen photographs and memorabilia.
Curated by legendary rock photographer Jill Furmanovsky and narrated by Record Collector magazine's Ian Shirley.
Museums Partnership Reading is delighted to announce its latest unique exhibition, 'The 1971 READING FESTIVAL: For the First Time' at Reading Museum marking 50 years since the first Reading Festival.

Fittingly launching on Thursday 26 August, coinciding with the return of this year's Reading Festival, this fascinating exhibition tells the story of the very first festival through rare and unseen photographs, posters, ephemera, and unique items of rock memorabilia.
© Ray Stevenson
Reading Museum has enlisted legendary rock photographer Jill Furmanovsky to curate the story. Jill's career has spanned five decades, and she is responsible for some of the most enduring images in popular music history.
Jill and her team at Rockarchive.com have conducted exhaustive research to bring lost and hidden imagery of the first festival to light, for this not-to-be-missed exhibition.
The show will include previously unseen work by some of the most renowned exponents of the art of music photography, including Michael Putland and Ray Stevenson.
The exhibition is narrated by Record Collector magazine's Ian Shirley. With his specialist knowledge of the history of pop music, Ian has delved into the archives and tracked down musicians and fans to share an enlivening account of the first festival.
© Ray Stevenson
Ian uncovers detail of its arrival in Reading, explores the unfolding of the event (despite the many challenges faced by its organisers) and reflects upon the legacy of the festival on the life and times of Reading in the early 1970s.
Ian, with his encyclopedic knowledge of vinyl, has also curated the music played in the Sir John Madejski gallery to evoke the sounds of the first festival.
The exhibition's development has been complemented with an exciting programme of co-production led by local music charity, The Rock Academy. The Rock Academy has worked with Reading Museum's Youth Panel and a group of young people to curate part of the exhibition looking at several of the most iconic festivals since 1971, taking items from Reading Museum's collections as inspiration.
© Michael Putland
The exhibition is generously supported by Melvin Benn, Director of Festival Republic who has been organising Reading Festival for over 30 years. A visitor to the second Reading Festival in 1972, Benn remembers seeing headline act The Faces, fronted Rod Stewart:
"As a young lad, I was passionate about my music. I still am, but I could never have imagined that one day I would be responsible for staging the Reading Festival and its sister Leeds Festival which we've been running since 1989.
"Over the decades I have developed a great feeling for the memories and sense of togetherness that music brings to people's lives. This continues to inspire me to constantly be in search for new artists and acts to bring to the stage.
"It is lovely to look back on our history and see how we stay true to be a Festival all about presenting the very best music of today, alongside the top breakthrough acts for the future. This is not something that's going to change.
"I look back on these decades at the helm of Reading Festival with a sense of pride and of responsibility. Festival Republic has been at the forefront of the work to help the UK's multi-billion-pound festival industry to recover from this wretched virus, that has disrupted our plans and caused pain in our lives.
"I am sure that, with Reading Museum, Jill Furmanovsky and Ian Shirley working together, this will be a wonderful exhibition to put a smile on visitor's faces and be a brilliant showcase of our shared history. Reading will always be the home and birthplace of this legendary festival and this exhibition will do nothing but renew the determination to make it a smash hit every August bank holiday."
Cllr David Stevens, Mayor of Reading, said: "It is fascinating to see Reading Festival's real history within Reading, with intrinsic links to our deeper past. It came to be in Reading as a result of the desire to celebrate the 850th anniversary of Reading Abbey, and as we reflect this year upon the legacy of 900 years of the abbey in our town, we have great pleasure and interest in looking back on fifty years of this incredible cultural and musical jamboree staged on our riverbanks.
"I am sure the exhibition will be of great interest to music fans of all ages. By giving a broader understanding of the social and historical context of Reading Festival, it will be of great appeal to the Museum's wider audience too. As we emerge from the difficult challenges that the last 18 months has presented for Reading's cultural life, we are sure this exhibition will be a great celebration of the festival, one of our town's treasured cultural assets."
Barbara Pendleton, wife of Harold Pendleton (who established the precursor of Reading Festival) and closest collaborator in the production of the early Reading Festivals, said: "I am very proud of the Reading Festival. It is amazing to have been involved in the start of something that has had such a big influence on music and the town of Reading itself. Harold and I were privileged to have worked with so many great stars over the years. We made a tremendous number of friends and of course loved meeting and putting on the shows for the wonderful young people who came along. I wish this exhibition every success and I hope it draws a good crowd to come and see it."
'The 1971 READING FESTIVAL: For the First Time' is free to view and runs from Thursday 26 August 2021 – Saturday 29 January 2022 in the Sir John Madejski Gallery, Reading Museum www.readingmuseum.org.uk
The exhibition is part of Museums Partnership Reading, a collaborative, wide ranging programme of activities by Reading Museum and The Museum of English Rural Life at the University of Reading, and supported by the Arts Council England's National Portfolio Organisation programme. 'The 1971 Reading Festival: For the first time' is generously supported by Festival Republic.
Notes to editors
Use of images:
Please note these have been granted for a one time only use (to promote this exhibition) and the image files must be deleted once they have been used for this purpose. Each image must be shown with the supporting copyright credit details next to it. The copyright details are in the image file names.
If you require high-resolution files, please contact Clare Guise on clare@rockarchive.com.
Press and Media select invite:
There will be a press and media preview and photo opportunity at Reading Museum, prior to the exhibition opening to the public on Tuesday 24 August between 10.30 and 12pm.
In attendance:
Rt Worshipful Cllr David Stevens, Mayor of Reading; Cllr Karen Rowland, Reading Borough Council's lead Councillor for Culture & Heritage, Vice-Chancellor Professor Robert Van de Noort and Paul Mainds, Chair of the Museums Partnership Reading.
Special guests available for interview include:
Melvin Benn, Director of Festival Republic and Ian Shirley (Record Collector Magazine).
Please contact Victoria.nickless@reading.gov.uk for further details and confirmation of final arrangements for this select press preview event (Please note numbers are limited).
Museums Partnership Reading
Reading Museum (Reading Borough Council) and The Museum of English Rural Life (University of Reading) work together as Museums Partnership Reading (MPR). MPR is funded by Arts Council England's (ACE) National Portfolio Organisation scheme, to improve opportunities for diverse local communities to engage in cultural experiences and heritage through public programmes, including exhibitions, high-quality learning services for young people, new online experiences, and investment in volunteering.
Exhibition title: The 1971 READING FESTIVAL: For the first time.
The exhibition takes its title from Rory Gallagher's 1971 song, For the Last Time. By all accounts, Gallagher was one of the greatest stars of the first Reading Festival. Through the generous support of the family of this hugely influential musical artist, we are honoured to announce that items of Rory's musical equipment and from his personal archive will be presented for the very first time in a UK public museum.
History of the Reading Festival
With original inspiration taken from the Newport Jazz Festivals in America; and a heritage dating back to the late 1950s, Reading Festival lays claim to be the UK's longest-running popular music festival.
The earliest UK outdoor jazz music festivals were staged from 1958 on the lawn at Beaulieu Abbey, organised by UK National Jazz Federation secretary Harold Pendleton. Pendleton then developed the idea and, in 1961, launched the first annual National Jazz Festival at Richmond Athletic Ground.
This August Bank Holiday event would evolve during the 1960s, moving with the times to include Rhythm & Blues and Rock 'n' Roll artists and switching open-air venues from Richmond to Windsor and then on to Sudbury in Kent. By the time the Festival reached Plumpton racecourse in August 1969, Pendleton's three-day musical extravaganza had gained a reputation for hosting the biggest names in the music world. These early years saw the likes of Tubby Hayes, Johnny Dankworth, The Rolling Stones, The Who and Fleetwood Mac appear as main headline acts.
By 1971, Harold Pendleton was in search for the ideal permanent venue for his festival, but Reading was not a location he had considered. Apart from occasional visits to the Town Hall for concerts by his close friend the Jazz trumpeter Chris Barber, Harold knew little of the town.
In fact, the Festival moved to Reading only as a matter of chance when Pendleton was approached by organisers of the Reading Festival of Arts; a month-long programme of events being planned for June 1971 to mark two significant anniversaries in Reading's history: The 850th year since the foundation of Reading Abbey in 1121 and 1100 years since 871AD, the earliest literary reference to Reading in descriptions of Viking raids in Bishop Asser's Life of King Alfred.
Just as the Reading Abbey had once placed Reading on an international stage and increased its prosperity, Reading Festival would make the town a well-known name across the globe. Generations of young people have made the pilgrimage over the years; as a rite of passage - making memories dancing and singing their hearts out to their favourite bands and artists.
Fifty Years on from Pendleton's first festival in 1971, and 33 years since Mean Fiddler and Festival Republic took over in 1989, Reading now looks back at 900 years since the Foundation of the Abbey and, consequently, the 50th anniversary of what was effectively the first Reading Festival.
The Festival's history has not been without trials and tribulations, and by the late 1980s, Harold Pendleton knew it had lost it way and was struggling to keep pace with the current trends. It was during this time that the event's organisation changed hands and by 1989 working with Vince Power and Mean Fiddler, Melvin Benn began to take the reins as the Festival's promoter. By overhauling the musical line-up, switching to new indie and grunge acts and by updating its commercial approach, the festival was soon on a more sustainable footing.
In 1999 Benn's Festival Republic organisation innovated further with a new sister Festival, staged simultaneously at Leeds each August Bank Holiday. Festival Republic also hugely expanded the range of entertainment on offer at their Festivals, consistently attracting larger sell-out crowds. Today, Reading Festival brings over 110,000 revellers to town each year, with a global television audience in the millions.
Having been behind 32 of the 48 events that have taken place at the famous Richfield Avenue site since 1971, the greater part of Reading Festival's history lies with the Festival Republic organisation. The biggest names in rock music have been attracted to perform at the festival with legendary bands like Metallica, Guns 'n' Roses and Nirvana gracing the stage with landmark performances. In recent years Reading's line-ups have included a series of international superstars with the likes of Kendrick Lamar, Eminem, Billy Eilis and Dua Lipa taking top billing. Today's festival is hardly recognisable compared to the very early days, and it is testament to the organisers determination that the Festival has not become history but instead thrives as the biggest weekend on the UK festival calendar.
Reading 2021 will be the biggest and most ambitious August Bank Holiday Festival yet staged, with 6 headliners and 2 main stages. Headliners include Stormzy, Post Malone, Liam Gallagher, Biffy Clyro, Disclosure and Catfish and the Bottlemen.
As always Reading Festival will take place over August Bank Holiday weekend at Richfield Avenue - 29th-31st of August 2021. The simultaneous Leeds Festival will be staged at Branhams Park. Both events have successfully sold out.