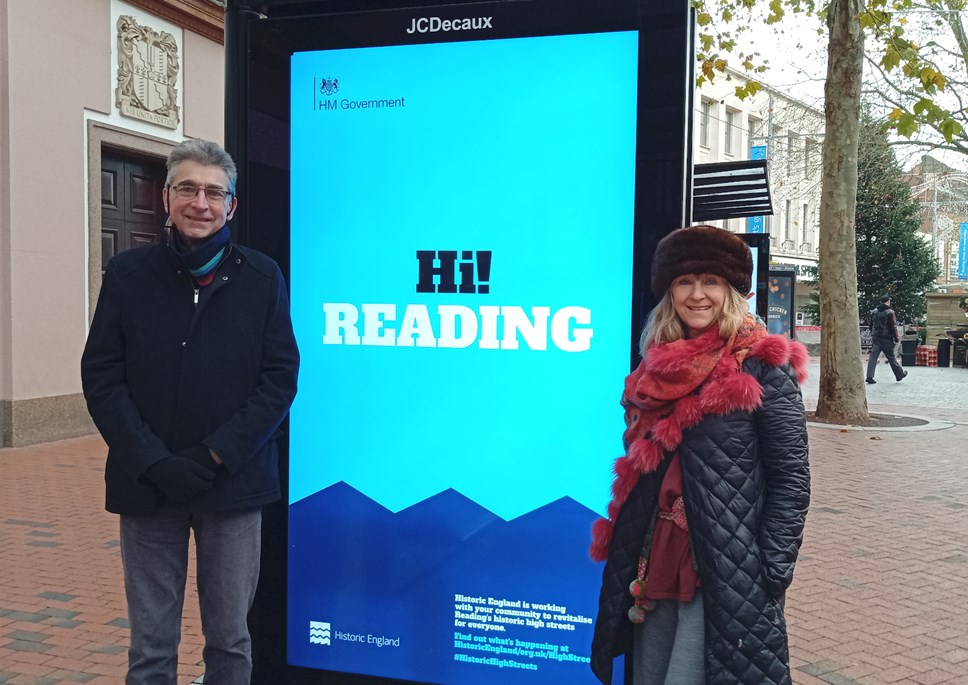 'Hi Reading!' Signs Herald Reading's £1.6 Million High Street Heritage Investment
Reading one of 68 areas of England to receive a share of a £95 million government High Street Heritage Action Zone fund.
Reading will deliver a £1.6 million programme over the next 3.5 years.
A £1.6M project to invest in Reading's High Street Heritage has received a high profile boost this month with 'Hi Reading!' signs on display throughout the town.
The High Street Heritage Action Zone (HSHAZ) scheme is a regeneration initiative lead by Historic England, working with local councils and the community to create economic growth and improve the appearance and quality of life in historic high streets.
Reading is one of 68 areas of England to receive a share of a £95 million High Street Heritage Action Zone (HSHAZ) fund having secured High Street Heritage Action Zone (HSHAZ) status for three conservation areas in the centre of the town.
As a result, Reading will receive up to £806,500 from Historic England and will match-fund £808,500 to deliver a £1.6 million programme over the next 3.5 years.
The programme will focus positively on the attributes of the streets' heritage to future-proof their environment and businesses, making them more attractive, enjoyable and vibrant destinations for people to shop, relax and spend time in.
Reading's HSHAZ programme is focused on high streets in three Conservation Areas: Castle Hill/Russell Street/Oxford Road; St Mary's Butts/Castle Street and Market Place/London Street. The major project aims to deliver across three key themes:
Physical improvements to buildings: including repairs, reinstating lost features, supporting the conversion of historic buildings for new uses and improvement of shared spaces.
Community engagement: giving local communities a key role in deciding what works they want to see happening on their high street and what sort of place they want it to be.
Cultural programme: activities and events celebrating the history of the high street and its importance to local communities.
Since the official launch of the scheme in September, alongside partners, the project team has started cultural pilot activities along the Oxford Road. Residents in the area have been asked to share their stories to inspire the artists who will create artwork on their street in the new year. Everybody who shares their memories will be entered in a prize draw for the chance to win vouchers for local shops and businesses. Find out more at www.reading.gov.uk/planning/reading-high-streets-heritage-action-zone/#getinvolved
The conservation strand is exciting and progressing well, with the team working with specialists and owners on street level inspections and feasibility studies of selected shop fronts and buildings to evaluate their conditions and their needs for basic repair and restoration.
If people would like to be involved with this exciting three-year programme please look out for advertising for volunteers roles in the new year.
Funds such as the HSHAZ can also easily attract other opportunities alongside them. The Council is currently submitting a bid for an extra £100K funding for a cultural programme lead. If the bid is successful in February/March 2021, there will be open calls advertised to select artists and organisations to develop and run a variety of cultural activities.
Cllr Rowland, Reading's Lead for Culture, Heritage and Recreation, said: "If you've spotted Historic England's striking blue 'Hi Reading' signs around the town, you may be wondering what this project is all about and what benefits it will offer the town.
"We have been incredibly fortunate to benefit from the generous £806,500 funding from Historic England – one of only 68 areas in the country. Match funded to £1.6 million, this will be a significant boost to much deserving streets in and around our town centre. Although we applied to the scheme last year under very different circumstances, we now know the impact of coronavirus is far-reaching and has already had major effects on high streets, including local businesses and their communities. This programme can play an important role in the recovery of our these high street areas and post Covid-19, we are fortunate that the programme is here at just the right time to be able to support these areas in the upcoming years.
"The concept of the HSHAZ is to future-proof our high street areas by highlighting the heritage that is already there. We want to protect and enhance these historic areas – as well as celebrate their uniqueness. Each area that will see improvements has its own unique flavour and each has its own stories to tell. For example, the Oxford Road which began as a medieval road out of Reading Town Centre, has a vibrant history that manifests itself today in its multi-cultural, colourful streetscape. People don't always grasp the specialness of the area but it is hoped that through this programme people will more readily note and come to understand the Oxford Road's incredible heritage."
A report summarising the HSHAZ project will be considered at a meeting of the Council's Housing, Neighbourhoods and Leisure Committee (HNLC) today (Tuesday 15 December). View the full report at https://democracy.reading.gov.uk/ieListDocuments.aspx?CId=140&MId=3463
Find out more about the Reading HSHAZ at www.reading.gov.uk/HSHAZ
Ends
Notes to editors
Notes
About High Streets Heritage Action Zones
The High Streets Heritage Action Zones is a £95 million government-funded programme led by Historic England, designed to secure lasting improvements and help breathe new life into our historic high streets for the communities and businesses that use them. Historic England is working with local people and partners to unlock the rich heritage on these high streets, through repair and improvement works as well as arts and cultural programmes, making them more attractive to residents, businesses, tourists and investors. https://historicengland.org.uk/services-skills/heritage-action-zones/regenerating-historic-high-streets/
About Historic England
We are Historic England the public body that helps people care for, enjoy and celebrate England's spectacular historic environment, from beaches and battlefields to parks and pie shops. We protect, champion and save the places that define who we are and where we've come from as a nation. We care passionately about the stories these places tell, the ideas they represent and the people who live, work and play among them. Working with communities and specialists we share our passion, knowledge and skills to inspire interest, care and conservation, so everyone can keep enjoying and looking after the history that surrounds us all. https://historicengland.org.uk/