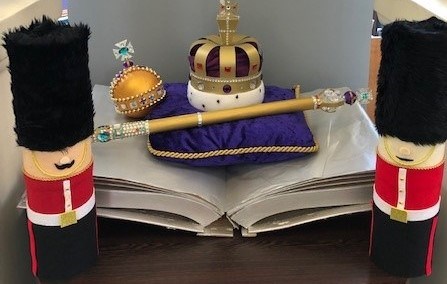 Fun-packed Jubilee themed half-term for families this summer
Free and low-cost activities on offer this summer half-term across Reading
Theatres, crafts, arts and activities to keep the kids entertained
Jubilee events and activities galore
FAMILIES are in for a treat this summer half-term, with creative and Jubilee themed activities galore on offer across Reading, many of which are free or low cost.
Reading Children's Festival runs until Sunday 5 June. From sport and music workshops to fun days with art and craft sessions, take your pick from the many exciting events taking place at venues across Reading.
In celebration of the Queen's Platinum Jubilee, take part in the royal-themed augmented reality (AR) Jubilee Beacon Trail. Running until 5 June: www.jubileebeacontrail.com
Reading Libraries are offering a whole host of free Jubilee-themed craft sessions across local branches, including:
a Jubilee Stamp making sessions on Friday 27 May at Battle Library and a
Platinum Planting session at Central Library on 30 May between 10.30am and 11.30am
On Tuesday 31 May, Battle, Tilehurst, Southcote, Palmer, Caversham and Whitely Libraries all have Jubilee craft activities on offer. www.reading.gov.uk/libraries
Why not rediscover the Library Service's free Rhymetime sessions – great fun and perfect for encouraging your child's development.
Between 28 May and 4 June, Reading Museum is also offering three exciting low-cost workshops running during the half-term to celebrate the Platinum Jubilee as well as the 200th anniversary of Huntley & Palmers' biscuits. To book and view prices visit: www.readingmuseum.org.uk/holiday-fun-reading-museum
For a royal experience in the build-up to the Queen's Platinum Jubilee, the new portrait of Her Royal Highness the Duchess of Cambridge will also be on display at the museum as part of the Duchess's 40th birthday celebrations. The stunning portrait will be on display until Saturday 4 June.
South Street Arts Centre is launching a brand-new annual festival for families and young people featuring several nationally acclaimed theatre companies. The Head in the Clouds Festival runs between 27 May and 4 June 2022, with a wide range of exciting new work will be presented, from musical comedy for new parents and their babies, to a family-friendly cabaret party. Find out more, view prices and book visit: https://whatsonreading.com/themes/head-clouds-festival
Check out the What's On Reading website – a one-stop-shop for listings and bookings for the town's arts, culture and heritage events: https://whatsonreading.com
For fabulous free family fun, come to Reading Water Fest, Saturday 4 June, 11 am – 5 pm in the Forbury Gardens, Abbey Ruins and along the Kennet, to enjoy live entertainment, children's activities and refreshments and lots more! www.reading.gov.uk/waterfest and bring a picnic on Sunday 5 June for the free Trinity Concert Band Jubilee Children's Concert, Sunday 5 June 3 pm – 4.30 pm in the Forbury Gardens.
Opening on Thursday 26 May, Berkshire Record Office presents 'Happy and Glorious' – a free exhibition celebrating the Queen's Platinum Jubilee and her longstanding connection with Berkshire. https://whatsonreading.com/venues/berkshire-record-office/whats-on/happy-and-glorious
Summer half-term holiday booking is available for The Hill Primary School at Peppard Rd, Emmer Green. The Hill Holiday Play club is available from Monday 30 May to Wednesday 1 June. Bookings can be made direct on Kids Club accounts. To make a booking please do so via Kids Club HQ https://readingplay.kidsclubhq.co.uk/#/auth For any queries email reading.play@reading.gov.uk
The programme of SEND short breaks for the summer half-term in Reading include Multi-Sport Camp; Chance to Dance Stars CIC Dance and Multi-Activity Programme and Make/Sense Theatre Summer Half-Term Workshops, all part-funded by Brighter Futures for Children. Find details and availability on the SEND Short Breaks (all ability activities & overnight breaks) | Reading Services Guide
Visit the Family Information Service for Activities in Reading during May / June Half Term 2022 including SEND Short Breaks | Reading Services Guide this includes activities for all age groups and abilities.
There are lots of fun activities taking place in Reading's children's centres, run by Brighter Futures for Children, over the half-term break. Favourites include Diddi Dance, Stay and Play and Bumps and Babes. There is also a special Jubilee Celebration at Southcote and Whitley Children's Centres on 1 June where children can create their own crown and decorate bunting. You can find the full timetable on the BFfC website at: https://brighterfuturesforchildren.org/for-parents-carers/under-5/childrens-centres and on the Reading Children's Centre Facebook page
For families looking to get out and about, there are many beautiful parks and gardens in Reading with play areas and space to play games. Christchurch Meadows Paddling Pool will be open from Saturday 28 May. www.reading.gov.uk/parks
Cllr Adele Barnett-Ward, Reading's Lead Councillor for Leisure and Culture, said: "The cost of entertaining the children at half-term can quickly mount up so I am delighted we have such a wide range of free and low-cost activities on offer at Reading Museum and Reading Libraries, as well as the special programme of Jubilee events over the long bank holiday weekend. There is something for everyone, regardless of budget.
"We also have some brilliant theatre shows for children from Reading Arts with their exciting new 'Head in the Clouds' festival and thanks to our partners BFfC, there are some great opportunities for children and young people with SEND with a programme of short breaks.
"Reading is set for a half-term packed with fun, excitement, and right-royal celebration!"
Ends