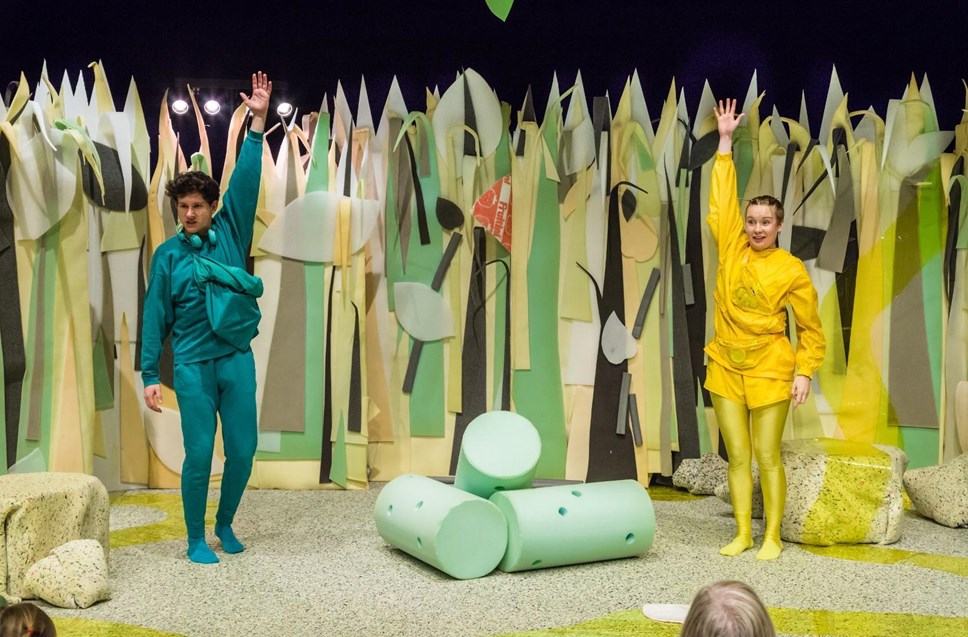 Eggstra-special holiday activities on offer this Easter
Free and low-cost activities on offer this Easter across Reading
Theatres, crafts, arts and activities to keep the kids entertained, offerings for children of all needs and abilities
YOUNG and old can look forward to a bumper treat over the two-week Easter break, with plenty of exciting creative activities on offer across Reading.
There are lots of things to do at Reading Museum, with 'Eggy Bingo' and 'Berty the Badger' trails on offer. Suitable for all ages, book online at www.readingmuseum.org.uk/holiday-fun-reading-museum
The museum also stocks a range of unique arts and crafts packs in its shop for children to enjoy making at home.
For a royal experience in the build-up to the Queen's Platinum Jubilee, the new portrait of Her Royal Highness the Duchess of Cambridge will also be on display at the museum as part of the Duchess's 40th birthday celebrations. The stunning portrait has been lent to the museum by the National Portrait Gallery and will be on display in the Welcome Gallery from Thursday 7 April until Saturday 4 June.
Above: Catherine, Duchess of Cambridge, by Paolo Roversi (platinum palladium print, 2021, NPG x201520)
Visitors to Reading Museum can also catch the latest football-themed exhibition in the Sir John Madejski Gallery. Through a unique gathering of ephemera, images, and mementos, 'COLLECTED: 150 Years of Reading FC' tells the story of Reading Football Club's incredible journey, from a group of young townsmen playing on Kings Meadow to the heights of the national game.
Reading Museum is also offering its popular Bayeux Tapestry tours from April. Find out more and book at: www.readingmuseum.org.uk/whats-on/bayeux-tapestry-tours
Reading Arts has several great shows on offer, including 'Slime' by the Herd Theatre over at South Street - a squishy, squelchy show about the lives of slug and caterpillar. For children aged 2-5 years and their families. Wednesday 13 April, 11am and 2pm.
Over at the Hexagon, catch Fireman Sam Live – with 'Sam saves the Circus' on Saturday 16 April. Join Sam, Penny, Elvis, Station Officer Steele and Norman in an all-singing, all-dancing, action-packed show.
For children age 7 and over, on Friday 8 and Saturday 9 April South Street is offering Morgan & West: Unbelievable Science, presenting captivating chemistry, phenomenal physics, and bonkers biology fun for all the family science extravaganza!
For more shows check out the What's On Reading website at https://whatsonreading.com – the one-stop-shop for listings and bookings for Reading's arts, culture and heritage events.
For completely free activities, don't forget to drop by your local library branch to explore the children's libraries available in each of our seven libraries or check out the wide range of free online ebooks and audiobooks and if the weather is fine, take advantage of one of Reading's many free parks and open spaces, such the Forbury Gardens and Abbey Ruins, Caversham Court Gardens or Prospect Park.
Easter holiday club booking is available at The Hill Primary School at Peppard Road, Emmer Green, between 11 and 22 April. Bookings can be made direct on Kids Club accounts. Contact reading.play@reading.gov.uk for more information.
Any children eligible for Pupil Premium free school meals can also access free activities through the Holiday Activities & Food Programme (HAF). Brighter Futures for Children (BFfC) coordinates the HAF programme over the school holidays. For more information, visit: https://brighterfuturesforchildren.org/for-parents-carers/schools/haf
The programme of SEND short breaks for the Easter holidays in Reading include Reading FC Community Trust Multi-Sport Camp for 8-16-year-olds and Play Camp for 5-7-year-olds; Chance to Dance Stars CIC Dance and Multi-Activity Programme for 5-18-year olds and Make/Sense Theatre Easter Holiday Workshops, all part-funded by Brighter Futures for Children. Find details and availability on the SEND Local Offer website.
Reading Family Information Service has created an Easter holiday activities page on their website. There is information about holiday clubs, theatre performances, activities and much more on the Easter 2022 webpage.
There are also lots of activities for families at Reading's Children's Centres and the full programme can be found at: https://brighterfuturesforchildren.org/for-parents-carers/under-5/childrens-centres
Donna Pentelow, Reading's Assistant Director of Culture, said: "If you're looking for something to keep the kids entertained this Easter, I'd thoroughly recommend checking out all the great activities we have on offer at some of the brilliant venues across Reading - many of which are free or very low cost!
"There is a great Easter-themed trail available for kids at Reading Museum and our latest football-themed exhibition is a must see to learn about the fascinating history of our town's club. Thanks to the National Portrait Gallery, we're delighted to present one of the new portraits of Her Royal Highness the Duchess of Cambridge in Reading Museum's Welcome Gallery and I'm really pleased this April we are once again running our popular Bayeux Tapestry tours.
"We are also thrilled to be able to offer some brilliant theatre shows for children from Reading Arts and thanks to our partners BFfC, there are some great opportunities for children and young people with SEND with a programme of Easter short breaks.
"This Easter break, there's something to suit everyone!"