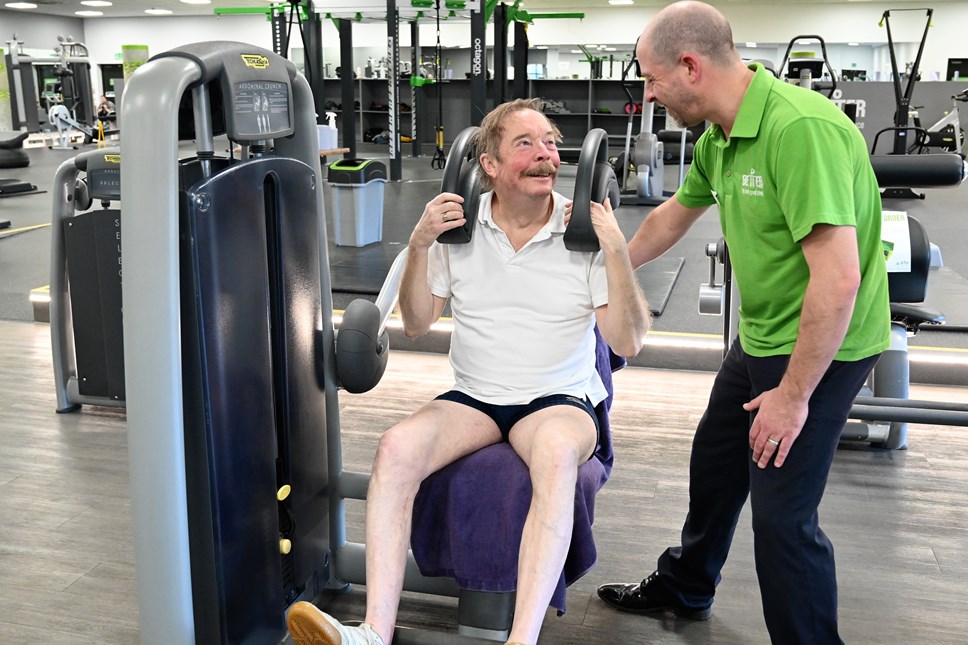 Drive to improve health and wellbeing across Reading
£450k investment in targeted activities to reduce health inequalities
Physical activity referral scheme supports people back into keeping physically active
A DRIVE for better health and wellbeing across Reading is underway this year.
As the frames and foundations for the new leisure facilities at Palmer Park and Rivermead take shape, alongside improvements to facilities at South Reading and Meadway leisure centres, Reading Council is also investing £450k of public health funding in targeted activities, delivered by its leisure partners GLL, to help reduce health inequalities.
A physical activity referral scheme is on offer, with weight management courses, cardiac and cancer rehabilitation, alongside supporting other health initiatives in the borough such as walking groups.
The 'Healthwise' scheme aims to support Reading residents with medical conditions preventing them from becoming physically inactive – such as high blood pressure, diabetes, asthma, circulatory diseases or depression and anxiety. The capacity of the GP referral scheme is currently being increased.
The scheme offers a range of activities to suit all abilities and includes gym-based supervised sessions, group exercise options such as 'Easyline' and water-based exercise sessions.
Reading resident Paul Robinson is someone who has recently benefited from our investment in targeted health services.
Paul, age 70, from west Reading, was referred to GLL's 'Healthwise' scheme in September 2021 by the Royal Berkshire Hospital's Cardiac Rehabilitation team. Duncan, GLL's Healthwise co-ordinator, and his team, met with Paul to work out how best they could support him and what exercise he would benefit from. The one to one support lasted 12 weeks via supervised gym sessions.
Paul said: "After my journey through the bypass, post-operation and post-cardiac rehab exercises, it was recommended that I came to the gym to carry on with the exercises and keep my heart working properly. I saw Duncan, who took me through several suitable exercises."
Paul is now training independently twice a week and says it has done him "…the world of good. I'm told I have some colour in my cheeks now, which apparently I didn't have!"
Watch what Paul had to say here:
Cllr Graeme Hoskin, Reading's Lead Councillor for Health, Wellbeing and Sport, said: "Despite the major government funding cuts Reading Council has suffered over the past decade I'm delighted we are progressing our exciting £40m investment in new leisure facilities which are coming along a-pace. We're doing this because we're passionate about improving health and wellbeing across Reading, with the aim of a 40% increase in participation levels. As well as significant leisure discounts for young, older, and disabled people; we have invested in targeted work to reach those in most need and work towards reducing health inequalities.
"With all the challenges of the ongoing pandemic, it is more important than ever we inspire and support the communities we serve to lead healthier, more active lives. We know that regular activity can reduce the risk of major illnesses, such as heart disease, stroke, diabetes and cancer – as well as play a big role in reducing stress and anxiety.
"There is a great deal of support and activities on offer. If you think you would benefit from support into getting active again, speak to your GP or health provider for a referral. That small step can go a long way to improving your quality of life and overall health."
Craig Woodward, GLL's Partnership Manager for Reading said: "As a not-for-profit social enterprise, GLL are much more than a gym operator – working closely in partnership with Reading Council we are at the heart of community health and wellbeing.
"By engaging people who would not normally come to a gym, leisure centre or pool and finding the right type of exercise for them, we can make a measurable improvement to people's quality of life – socially, mentally and physically.
"We are very proud of the difference we make and are looking forward to getting more people, more active more often as Reading's new first-class leisure facilities open."
People who are interested in Healthwise can speak to their GP, practice nurse or Social prescribing link worker, who can refer them.
For more information email Healthwise.Reading@GLL.ORG
or visit www.better.org.uk/healthwise
Ends
Notes to editors
Following the signing of the partnership contract in July 2021, GLL now operates all of Reading's four leisure centres on the Council's behalf, including: Meadway Leisure Centre, South Reading Leisure Centre, Palmer Park Sports Stadium and Rivermead Leisure Centre.