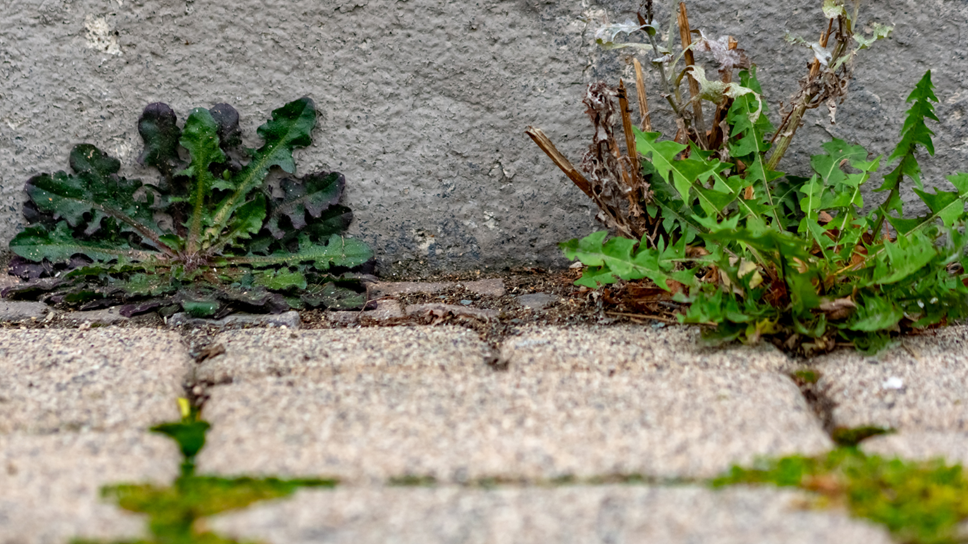 Council trials weed control alternatives
Trials starting today in south Reading along Northumberland Avenue
Several alternative ways to control vegetation on roads and pavements
Methods include the use of vinegar and steam
READING COUNCIL today launched a year-long trial of weed control alternatives, in a bid to reduce the use of the chemical herbicide glyphosate.
The trial, which starts on Monday 9 May, will take place in south Reading along five different stretches of Northumberland Avenue, including two parks: Rabson's Recreation Ground and Cintra Park.
The alternatives being explored include:
acetic acid (vinegar),
fatty acid (pelargonic acid which occurs naturally in plants and animals and is found in many foods),
weed removal by hand,
thermal methods including steam and hot water,
leaving an area without any form of control.
Part of the stretch will be treated with glyphosate as a control to compare how effective the other treatments are.
The Council has written to residents in the area to keep them informed of these plans as well as displaying posters with information on the trial.
People can find out more at www.reading.gov.uk/weedcontrol and feedback on the alternative methods we are exploring.
Like many other councils, the Council uses glyphosate in a limited and controlled fashion to tackle particularly challenging weeds and vegetation issues. This is used largely along roadways, and to a lesser degree in some public spaces and park areas where few other options exist.
Following public concern around the use of this chemical and questions over its potential effects on health and the environment, the Council has pledged to investigate a range of alternatives to assess the performance, practicality and cost of introducing other methods.
The Council has already trialled a new approach to grass cutting over the past two seasons as part of its successful 'Rewilding' scheme. Rewilding seeks to restore, reclaim and protect natural habitats and native species on highway verges and in parks to address the climate emergency, by enhancing biodiversity and green links across the town.
Cllr Adele Barnett-Ward, Reading's Lead Councillor for Neighbourhoods, said: "We declared a climate emergency and as a result, we are reviewing many of our policies and procedures in order to reduce our impact on the environment. This trial fits in with our vital priorities, such as our Biodiversity Action Plan and with our successful 'Rewilding' scheme, which is working well across many local verges and parks.
"I'm excited we are beginning the exploration of alternatives to glyphosate, and I will be avidly following the results of these trials. Unfortunately, no one method can completely replace glyphosate – for example, we can't use the steam and hot water method in areas of on-street parking. However, we are committed to reducing our use of this chemical to the absolute minimum wherever possible.
"We also need to acknowledge the cost of introducing alternative weed control will be significantly more expensive – and may mean our yearly budget of £60k per year jumps to over £260k."
The Council is encouraging residents to feedback on what they think of the alternative methods being explored, by email to parks@reading.gov.uk or via our social media channels @ReadingCouncil Twitter, Facebook or Instagram.
Cllr Barnett-Ward added: "It is worth noting that we use glyphosate in an incredibly safe and controlled manner. It is greatly diluted in a carrier solution and applied using a droplet method. We are completely confident this method of application poses no threat to residents, pets or wildlife.
"We will be very interested to hear what residents think of the different methods. The vinegar, for example, has a short-lived strong smell which some people may find unpleasant. People also need to be aware that the amount of weed cover in the road may be more than in previous years, but this is to be expected if we are to reduce the amount of glyphosate we use. The concern is that increased weed cover frequently creates a perception of neglect and environmental degradation in the built environment. It is a balance to be struck, however, as pernicious weeds can also damage infrastructure such as walls and pathways and leads ultimately to more costly repairs for the Council and also landowners without management.
"We've provided further information on our trial at www.reading.gov.uk/weedcontrol and we want people to feedback to us their thoughts on the use of alternative methods."
Ends
Notes to editors
Notes
The use of glyphosate is currently licensed for use in the UK until December 2025. However, it is not clear whether further approval for its use as a herbicide will be granted after this date.
Where will the trial take place?
The trial will take place along the following areas of Northumberland Avenue:
Cintra Park – steam and hot water
Christchurch Gardens to Hexham Road – pelargonic acid
Hexham Road to Buckland Road – steam and hot water
Buckland Road to Honiton Road – hand removal
Honiton to Hartland – glyphosate
Rabson's Recreation Ground – steam and hot water
Hartland Road to Whitley Wood – acetic acid