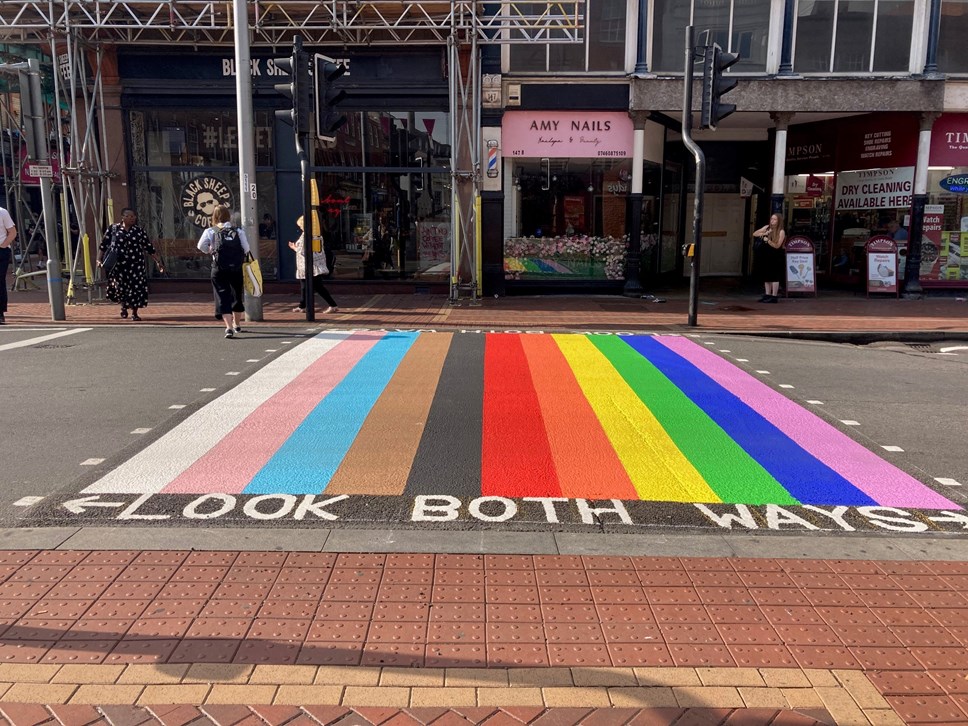 Council Repaints Rainbow Crossing In Pride Month
THE COUNCIL has repainted Reading's iconic rainbow crossing in Friar Street to help mark Pride month celebrations in the town.
Council staff have been out over the last two nights refreshing and updating the colourful crossing to now display the Progress Pride flag colours, following discussions with the Council's own LGBT+ staff group. The newly repainted crossing, featuring the Progress Pride flag colours for the first time, can be seen from this morning.
Reading's rainbow crossing was first installed in Reading in 2019 to celebrate and support Reading Pride, and has been a popular and permanent fixture in the town ever since.
The renewal of the crossing, with the more inclusive colours of the Progress Pride flag, helps to mark Pride month which runs internationally throughout June.
Reading's own annual celebration of the local LGBT+ community takes place this year on Saturday 2 September.
Cllr Karen Rowland, Lead Member for Environmental Services and Community Safety, said:
"Our Rainbow Crossing is a real point of Pride for Reading, and I'm delighted that we're able to reinforce our support for the entire LGBTQ+ community by displaying and promoting the colours of the Progress Pride flag. Situated near the train station, most people that come into or out of Reading's town centre are likely to walk at least once over the iconic crosswalk, and thus be reminded that Reading is a town that embraces diversity and is inclusive of the wide range of lifestyles and choices in every aspect of our society. We have every right to be proud of this crossing as a town, and each time it is repainted, it should further embed those open values that we stand on in each resident that calls Reading home."