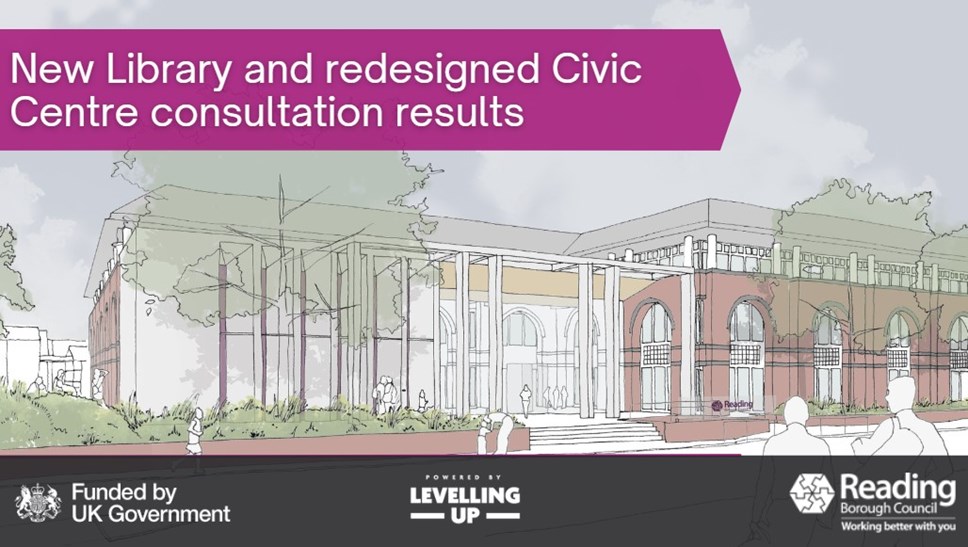 Consultation Response on New Central Library and Civic Centre Redesign
Majority of respondents supported a new modern Central Library move to Civic Offices
New location could attract more people to use the library
MORE than a thousand residents have responded to a consultation on Council plans to build a modern new Central Library and new Civic Reception.
Out of a total of 1,135 responses to a recent public consultation, 75 percent of people supported plans for a brand-new town centre library, believing the move would have a positive impact.
Of those who currently do not use the library, 50 percent said they would be interested in using a new library in a new location.
A total of 60 percent of respondents were in favour using the Civic Offices as a new location for Reading Central Library.
As part of Reading Borough Council's successful Levelling Up fund bid, £8.6 million has been earmarked for a modern new Central Library, which would see it move from its current Kings Road location to the new Civic Offices location on Bridge Street.
Under proposals, the large forecourt at the Civic Offices could be transformed into an additional indoor space with a reconfigured ground and first floor converted into a bright modern library.
The new space at the Civic Offices would also be a hub for community engagement, offering support for existing and new users, alongside a professional welcome for business visitors.
The Council's Central Library and Civic Customer Reception consultation ran this summer and asked residents what they would like to see in a new library and reception at the council offices.
Of the 1,135 responses received, 180 were from children with 896 from residents. Conversations also took place with 59 residents through six focus groups.
Responses show there was broad agreement with the principal aims of the move which include increasing library use and improving customer satisfaction.
Six children who filled in the consultation, have been selected to receive either a Smiggle or book voucher. The winners were encouraged to write or draw pictures of what they wanted to see at the new library.
Those who responded were in favour of the availability of face-to-face council services at the Civic Offices Reception, particularly where this supports elderly, disabled, and digitally excluded residents. Some respondents suggested phone and online services be improved.
The consultation also showed of the current provision at the Civic Centre, 63 percent of respondents felt safe, and 50 percent said it was accessible and professional.
Consultation results will now be taken into consideration and used to develop detailed proposals. A planning application could be submitted as early as this month.
Councillor Jason Brock, Reading Borough Council Leader, said:
"We really appreciate everyone who took the time to feedback their thoughts on our exciting plans for a modern new central library and redesigned Civic Offices, and what you would like to see in the space.

"The large number of people who responded, the majority of which were in favour of plans, shows just how much public interest there is in this project.

"Bringing the library to the Civic Offices will create a fantastic bright, modern new space for people and will encourage more people to use the many valuable services provided by the library and at our Civic Offices.

"Officers are now in the process of working through consultation responses and suggestions which will shape how we move forward into the planning stages."
The transformation and relocation of the Central Library has been made possible through a successful bid from the government's Levelling Up fund with £19.1 million awarded to revitalise Reading's cultural offer. In addition to the new central Library, there will be multi-million pound investment in Reading's much-loved and popular Hexagon Theatre, creating an attractive, flexible, and exciting new space for performances and community use.
The consultation results are here - Civic Library consultation - Reading Borough Council.