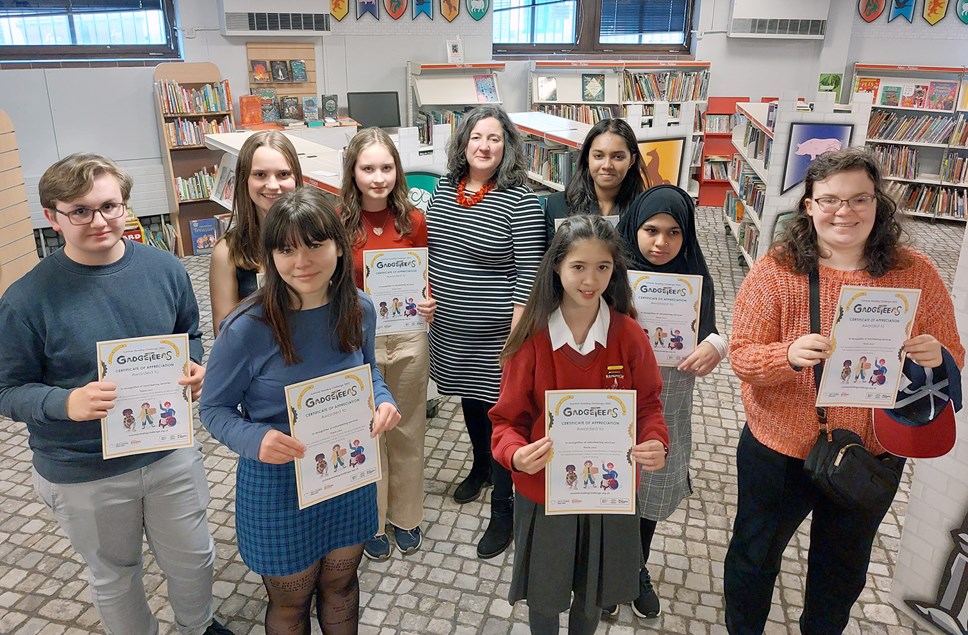 Children's reading given a huge boost this year with successful Summer Reading Challenge
1,529 children took part in the Summer Reading Challenge 2022
Over 33 young people volunteered with Reading Library service to support the challenge
Young volunteers clocked up a whopping 568 hours and 25 minutes over the summer
READING'S Summer Reading Challenge was a resounding success this year, with over 1,520 children between the ages of 4 – 13 taking part and 33 young people gaining valuable work experience supporting the challenge.
Cllr Adele Barnett-Ward, Reading's Lead Councillor for Leisure and Culture thanked a group of young volunteers who helped support Reading Libraries' Summer Reading Challenge this year, at a special presentation ceremony on Tuesday 11 October.
The library recruited 33 volunteers aged 14-18 and provided them with training, guidance and support. The young volunteers clocked up over 568 hours between them over the summer holidays, helping local children to enjoy the 2022 'Gadgeteers' Themed Summer Reading Challenge.
The free annual reading challenge aims to get more children reading over the summer period – a time when children's literacy skills traditionally dip. Children are challenged to borrow and read at least six books over the holidays and are rewarded for each book read. Various linked activities and events took place over the summer across Reading libraries.
The teenage volunteers worked across all local library branches, encouraging children with their reading and helping to run events and craft activities. They talked with, and listened to, children about the books they had been reading and suggested other things they may like to read, as well as helping children register for the reading challenge and handing out reading rewards.
The experience was a great opportunity to develop new skills and experience for the future as well as gain work experience for CVs and in helping with accreditation for Duke of Edinburgh or Arts Award.
Aarushi, age 16, who volunteered at Central Library, said: "I really enjoyed interacting with different people, learning about their experiences, and also seeing the joy the children got when they finished their books. The progress they made and the enthusiasm they had about reading, was really what stuck out to me."
Avid reader, Alice, age 17, who volunteered in Tilehurst, said she'd wanted to volunteer as she took part in the reading challenge when she was younger. She enjoyed encouraging and inspiring children to read more and said the whole experience has helped her "Gain confidence in speaking to people that I don't know."
Jake, age 16, who also volunteered at Tilehurst, and wants to become a teacher, said he'd "Gained loads of experience - things that will help me in later life."
On Tuesday, Cllr Barnett-Ward presented a group of volunteers with a Reading Agency Certificate and thanked them for their time. She said: "I'm delighted this year's science and innovation-themed Summer Reading Challenge was another great success, providing a good incentive to get children into their local library and keep their reading up over the summer holiday.
"We are very grateful to all our fabulous young volunteers, who contributed to the success of the reading challenge. This year they have clocked up over 568 hours of volunteer hours over the course of the summer – the most the library service has ever had!
"Every one of them has made an extremely valuable contribution to the Summer Reading Challenge and has helped encourage local children to develop a love of reading, which is so important. I am delighted to be able to thank some of them individually and give them the recognition they deserve for their hard work this summer. They will have each gained some great experience through this project which will be valuable to them in the future and might inspire them to pursue a career in the library service."
The success of this year's Summer Reading Challenge is part of the library service's ongoing recovery post-pandemic, which includes library issues now having returned to pre-pandemic levels and Rhymetimes available across all branches once more.
Find out more about everything the Reading Libraries has to offer here: www.reading.gov.uk/libraries
Ends
Notes to editors
About The Reading Agency
The Reading Agency is a national charity that tackles life's big challenges through the proven power of reading. We work closely with partners to develop and deliver programmes for people of all ages and backgrounds. The Reading Agency is funded by Arts Council England.
About The Summer Reading Challenge

The Summer Reading Challenge is run by the Reading Agency for children across the UK and is delivered in partnership with public libraries. It aims to foster a lifelong love of reading and tackle the drop-off in reading that happens over the school summer holidays. Children are challenged to read as many books as they can over the summer and encouraged to enjoy reading for pleasure. Each year has a different theme – 2021 was 'Wild World Heroes', 2020 was 'Silly Squad' and 2019 was 'Space Chase'.