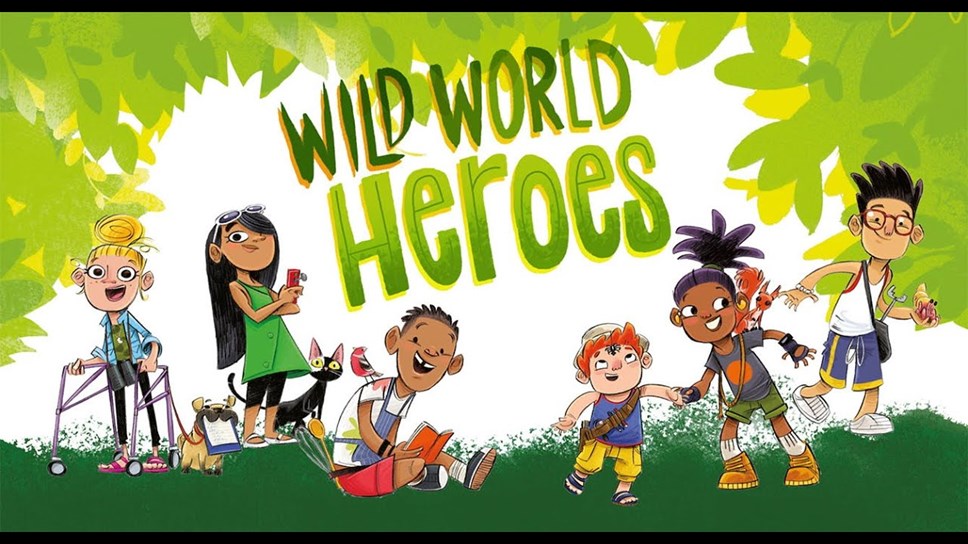 Children Invited to Join 'Wild World Heroes' at Reading Libraries this Summer
Reading's Summer Reading Challenge available from this week
Environmental-themed challenge chosen for 2021
Children aged 4-11 encouraged to sign up to read at least 6 books over the summer
READING Library service's much-loved yearly Summer Reading Challenge is available in all Reading Libraries from this week.
The library service is calling for children aged 4 to 11 to sign up to read six books this summer as part of the 'Wild World Heroes' environmental-themed Summer Reading Challenge 2021.
The challenge launched in Reading Libraries on Saturday 10 July. Children can also join in the fun online, here on the official challenge website: https://summerreadingchallenge.org.uk/
The free reading challenge aims to get more children reading over the summer period – a time when children's literacy skills traditionally dip. Following the closure of libraries and the disruption to school attendance during the pandemic, the challenge offers a fun way for children to re-engage with their local library and to catch up on their reading skills.
Children are challenged to borrow and read at least six books over the holidays and are rewarded for each book read. Successful children will also be presented with a special certificate and a medal.
This year's reading challenge theme promotes how there are lots of things everyone can do to make their town even better for the people and animals that live there. Delivered in partnership with the World Wildlife Fund (WWF), the challenge aims to encourage children across the country to engage in fun reading activity focused on environmental issues.
Through taking part in the challenge, children will be able to join six fictional characters - 'wild heroes' - to help solve some of these threats, learning about the importance of the environment while helping to restore nature levels in the neighbourhood of 'Wilderville'.
To take part in the library challenge and receive a collector folder and stickers, families can drop in to pick up a starter pack at their local library branch at Southcote, Whitley, Palmer Park and Battle, which are all now offering browsing without an appointment. From Tuesday 13 July browsing will be available at Caversham Branch and at Tilehurst from Monday 19 July. Only Central Library will still require an appointment to order and collect books.
Anyone who is not a member can join the library instantly at www.reading.gov.uk/ libraries and also borrow books online. The latest details and full opening times can always be found at: www.reading.gov.uk/libraryrestart
The challenge ends on Saturday 4th September.
Councillor Karen Rowland, Lead Councillor for Culture, Heritage and Recreation, said: "Pack your bags, we're headed for Wilderville! I'm very excited that Wild World Heroes is this year's Summer Reading Challenge theme and its focus on the environment. Children, rightfully so, are extremely interested in the environment and the climate emergency. By joining the challenge, children can discover how they can make a difference to their local area and to the wider environment. This is such an important topic which I'm sure will engage, motivate and inspire children across Reading.
"We know children's reading can 'dip' during the long summer holidays if they don't have regular access to books and encouragement to read for pleasure – and this can be a problem for schools to put right in the new term. This is a great, free way for youngsters to keep on reading. I remember fondly summer reading programmes from when I was a child and they instilled in me a love of reading that I still have to this day.
"This year, more than ever, after such a difficult and unsettling time for children, engaging in this programme can really support and encourage vital reading catch-up activities. In previous years the challenge has seen thousands of children in Reading taking part and I'm eager to see as many youngsters as possible join in with this year's environmental challenge and to finally be able to once again make use of their local library this summer.
"Children can join in online at www.reading.gov.uk/leisure/libraries/summer-reading-challenge/ and at our local libraries offering browsing, staff can help children find books to borrow, and provide them with fun reading activities to get them started. The latest details and full opening times can always be found at: www.reading.gov.uk/libraryrestart"
ENDS
Notes to editors
Notes to Editors
About The Reading Agency
The Reading Agency is a national charity that tackles life's big challenges through the proven power of reading. We work closely with partners to develop and deliver programmes for people of all ages and backgrounds. The Reading Agency is funded by Arts Council England.
About The Summer Reading Challenge
The Summer Reading Challenge is run by the Reading Agency for children across the UK and is delivered in partnership with public libraries. It has been running for the past 22 years and aims to foster a lifelong love of reading and tackle the drop off in reading that happens over the school summer holidays. Children are challenged to read as many books as they can over the summer and encouraged to enjoy reading for pleasure. Each year has a different theme – 2020 was 'Silly Squad' and 2019 was 'Space Chase'.
https://summerreadingchallenge.org.uk/
About WWF
WWF (the Worldwide Fund for Nature) is one of the world's largest independent conservation organisations, active in nearly 100 countries. Our supporters – more than five million of them – are helping us to restore nature and to tackle the main causes of nature's decline, particularly the food system and climate change. We're fighting to ensure a world with thriving habitats and species, and to change hearts and minds so it becomes unacceptable to overuse our planet's resources.
WWF. For your world.
For wildlife, for people, for nature.
Find out more about our work, past and present at wwf.org.uk
About Arts Council England
Arts Council England is the national development agency for creativity and culture. We have set out our strategic vision in Let's Create that by 2030 we want England to be a country in which the creativity of each of us is valued and given the chance to flourish and where everyone of us has access to a remarkable range of high-quality cultural experiences. We invest public money from Government and The National Lottery to help support the sector and to deliver this vision. www.artscouncil.org.uk

Following the Covid-19 crisis, the Arts Council developed a £160 million Emergency Response Package, with nearly 90% coming from the National Lottery, for organisations and individuals needing support. We are also one of the bodies administering the Government's unprecedented £1.57 billion Culture Recovery Funds. Find out more at www.artscouncil.org.uk/covid19