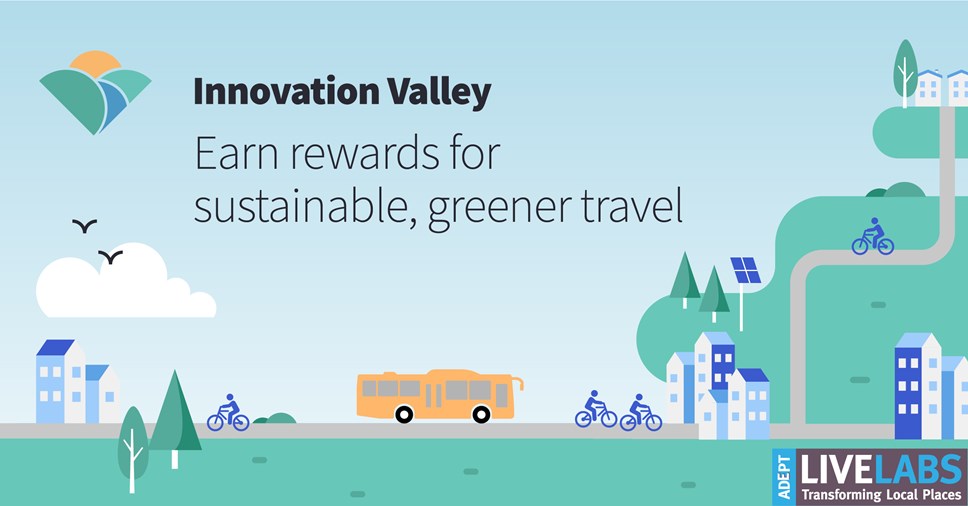 Berkshire residents encouraged to download new health and travel app
New app allows residents to earn points to turn into shopping rewards when they are active
App is part of the Live Labs programme to help local authorities plan improvements to air quality, health and travel
Other initiatives being trialled in Reading include air quality sensors, energy management systems and specialist cameras to spot potholes and predict future road surface deterioration.
BERKSHIRE residents are being invited to download a new app which encourages them to take healthy actions to benefit both their wellbeing and the environment, and allows them to gain rewards that can be spent with retailers.
The 'Innovation Valley' app, which launched this week, is being made available for free across the county. It has been created through the Thames Valley Berkshire Live Lab, part of the national £22.9m ADEPT Smart Places programme funded by the Department for Transport to help local authorities plan improvements to air quality, public health, roads and energy infrastructure.
App users will be encouraged to log when they are taking positive, healthy actions such as walking, running or cycling, to earn reward points. Points earned can then be used to gain discounts from a range of national and local shopping brands.
Produced by Better Points – which was introduced to the Thames Valley Berkshire Live Lab by project technology partner O2 – the app encourages behaviour change and may in future include other project data gathered, such as air quality, to allow better travel choices to be made by users.
Councils across Berkshire are working together on the ADEPT Live Labs project to make changes to infrastructure and travel thanks to a £4.95m investment in technology trials. The funding is allowing a range of activities in addition to the app to trial technical advancements around potholes, traffic congestion, air quality, energy and health to help shape the future.
Reading Borough Council is leading on the project, working alongside the local authorities for Wokingham, Bracknell Forest, Slough, the Royal Borough of Windsor and Maidenhead and West Berkshire.
In a model set to help local authorities plan smarter towns, the trials combine movement data collected from anonymised, aggregated O2 mobile connections with anonymised information from other sources, including air quality sensors and cameras mounted on refuse trucks. This can help local authorities understand more about crowd movement trends and profiles, and ultimately shape future town planning.
Initiatives already under way in Berkshire are:
4 specialist cameras have been installed in waste collection vehicles in Reading to identify potholes and predict future road surface deterioration, and a further 20 cameras have been installed across Berkshire.
30 air quality sensors have been installed in Reading, Wokingham and West Berkshire to provide better local knowledge around air pollution and trial traffic signal and traveller information strategies to improve air quality, with the University of Reading evaluating the data and benefits alongside Stantec.
Energy management systems have been installed in some council buildings across the county, monitoring and managing power to help councils move towards their environmental targets and keep bills as low as possible for taxpayers.
A county-wide electric vehicle future demand study, looking at the infrastructure that will be needed to accommodate electric vehicles going forward.
A county-wide health and transport study to look at obesity in adults and children, and respiratory illness.
Open transport data across Berkshire for third parties to use.
The local authorities across Berkshire will be able to access all the information provided by the trials through dashboards for air quality and exposure, road surface quality and pothole prediction, public health and transport, and energy management, along with an enhanced traffic management system providing more control and prediction. This could all be used to help improve the resident experience of travel and transport around the county, and improve highways management including traffic light phasing and road surface quality.
The range of trials are being run in conjunction with partners O2, Siemens, Smarter Grid Solutions, Stantec, Shoothill and the University of Reading.
Tony Page, Reading's Lead Member for Strategic Environment, Planning and Transport, said:
"This is a really exciting project, as collaborating with other local authorities to test a whole range of innovative technological initiatives could have a major impact on the services we are able to provide and our ability to keep traffic flowing as efficiently as possible in the future. By pooling our resources and sharing information, we are able to observe the future of traffic and transport today and make plans that will benefit residents across the whole county".
Giles Perkins, Live Labs Programme Director said:
"We are pleased to see this exciting development in the Thames Valley Live Lab, engaging local communities with the transport network to deliver improved outcomes for all. Understanding the impacts we all have upon our environment will become an imperative as we navigate climate change and we're pleased to see Thames Valley embrace such thinking as part of the Live Lab."
ADEPT represents local authority, county, unitary and metropolitan Directors. The ADEPT SMART Places Live Labs programme is also supported by project partners SNC-Lavalin's Atkins business, EY, Kier, O2, Ringway and WSP. Nine local authorities are working on projects to introduce digital innovation across SMART mobility, transport, highways, maintenance, data, energy and communications. Live Labs is part of ADEPT's SMART Places programme to support the use of digital technology in place-based services.
To download the app for free, go to your mobile app store and search for 'Innovation Valley Rewards', or go to www.innovationvalleyrewards.co.uk
Notes to editors
1 Data insights from O2 Motion never allow identification or mapping of individuals and operate within strict privacy guidelines.
About the ADEPT Smart Places Live Labs programme
The ADEPT SMART Places Programme is a five-year project examining and developing innovation to enable the adoption of innovative and digital technology across the local highway network. The initial research report 'Digital Innovation: The route to the highways systems of the future' was published in October 2017. In January 2019, ADEPT secured £22.9 million funding from the Department for Transport for Phase 3 of the programme, which sees the development of eight individual Live Labs projects led by local authorities across England with university and private sector partners. The Live Labs are piloting innovation across SMART communications, transport, highways maintenance, energy, materials and mobility. The ADEPT SMART Places programme has been developed with partners: SNC-Lavalin's Atkins business, EY, Kier, 02, Ringway and WSP.
For more information about ADEPT Live Labs visit: https://www.adeptnet.org.uk/livelabs
About ADEPT
The Association of Directors of Environment, Economy, Planning and Transport (ADEPT) represents 'Directors of Place' from county, unitary and metropolitan authorities across England. Operating at the strategic tier of local government, members are responsible for delivering public services that primarily relate to the physical environment and the economy, but which have a significant impact on all aspects of the nation's well-being. ADEPT represents members' interests by proactively engaging central Government on emerging policy and issues, promoting initiatives aimed at influencing Government policy and through the development of best practices and responding to Government initiatives and consultations. Our wider membership includes Local Enterprise Partnerships, Combined Authorities, Sub-national Transport Bodies and Corporate Partners drawn from the private sector. For more information on ADEPT visit: www.adeptnet.org.uk