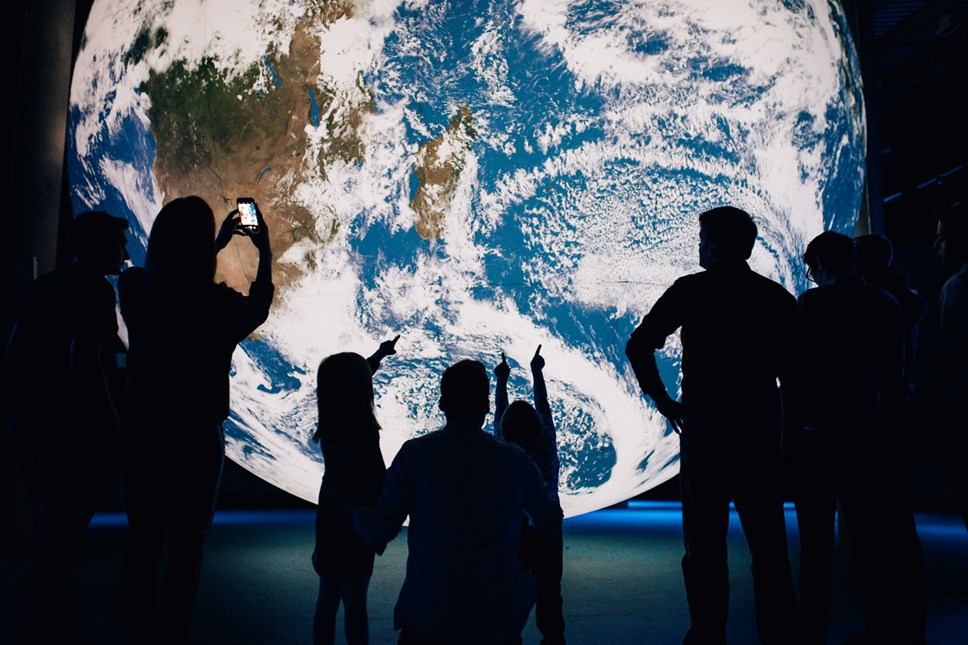 World Famous Earth Artwork, Created From NASA Imagery, Comes to Reading this Summer
VISITORS to Reading Town Hall will get a unique opportunity to view planet Earth as it appears from space when the world famous Gaia globe comes to town in June.
Luke Jerram's replica artwork of planet Earth – which has visited Singapore, Australia and a host of European cities – comes to Reading from Saturday 10 June to Sunday 18 June.
The seven-metre diameter installation is 1.8 million times smaller than the real Earth. A specially made surround sound composition by BAFTA award-winning composer Dan Jones will be played alongside the striking sculpture, giving visitors a complete immersive and thought-provoking experience.
Visitors will be able to experience Gaia during public opening hours but booking is essential at whatsonreading.com/gaia and supplemented by interactive events taking place in the Concert Hall alongside the giant illuminated globe.
Gaia is a visual representation of the fragility and beauty of the Earth. The piece is coming to the town as a call to action for Reading in taking steps to make our town Net Zero by 2030. Alongside the installation visitors will be offered the opportunity to sign up to 'small changes with big impact' pledges and become part of a community of 'game changers' to help protect our planet. Details of how to sign up will be available on readingcan.org.uk/pledge
The installation forms part of Reading Climate Festival. It aims to inspire people to think about climate action and will be accompanied by an exciting public engagement programme, where the artwork will provide a jaw-dropping backdrop to a full schedule of events including family activities, inspiring talks, concerts and even a gong bath yoga session. The evolving schedule of events can be found and booked here whatsonreading.com/gaia
Reading Climate Festival runs from Saturday 10 June to Wednesday 21 June, with in-person and online events and activities planned across Reading, to inspire and encourage positive action on climate change, supporting Reading's commitment to being a Net Zero, climate resilient town by 2030. The full schedule of the Climate Festival events can be found at readingcan.org.uk/festival where new events will continue to be added over the coming months.
Gaia has been brought to the town by Reading Borough Council, Reading Climate Change Partnership (RCCP), Reading Business Improvement District (part of REDA) and University of Reading, who were joined at the launch event at Reading Town Hall today by the Reading Buses' climate stripes gas-powered bus and University of Reading's Professor Ed Hawkins – creator of the climate warming stripes.
Councillor Tony Page, Reading Borough Council's Lead Member for Climate Strategy and Transport, said: "We're privileged and delighted to be bringing Gaia to Reading this summer.
"Gaia is an immersive experience, and the installation will be a reminder of how beautiful and fragile plant earth is. I hope the installation and the accompanying programme of thought-provoking activities will allow visitors to reflect and provide a renewed sense of responsibility for taking care of the environment.
"I'd encourage residents to experience the installation, make their climate change commitment and play their part in building a cleaner greener town. Think Global Act Local."
Tracey Rawling Church, co-chair of Reading Climate Change Partnership, said: "Reading Climate Festival started small in 2020 as a way of inspiring and encouraging action on climate change and has raised its ambition year by year. We're absolutely thrilled that Gaia will be the centrepiece of this year's festival and excited about the opportunities it will bring to involve more people in the conversation about the climate and biodiversity crisis and what we can do about it."
Alexa Volker, Manager of Reading's Business Improvement District, said: "Hosting Gaia as the flagship event of this year's Reading Climate Festival will provide a sharp reminder of the part we can all play in shaping a better future. Many of Reading's businesses and communities are already active in driving a sustainable future for all who live, work and do business here, in line with Reading's 2050 Vision for a smart and green future for the town - but Gaia will remind us we can all do more.
"Visitors to Reading will be wowed by the stunning backdrop of planet earth and we hope they also appreciate the many businesses here that are playing their part in making Reading a great, green place in which to work, live and visit."
Professor Ed Hawkins, climate scientist from the University of Reading and creator of the famous climate warming stripes, said: "With excess heat building up across the planet at a rate unprecedented in the history of humanity, we hope this artwork will inspire people to think about what we can all do to help protect the future of the planet.
"Since 2018, the warming stripes have helped to start many conversations about climate change and with Gaia arriving as part of the Climate Festival this June, the Reading community certainly won't be short of inspiration."
Notes to editors
Photo details Reading Town Hall, L-R
Tracey Rawling Church co-chair of Reading Climate Change Partnership
Alexa Volker Manager of Reading's Business Improvement District
Nigel Horton-Baker Chief Executive, Reading's Economy & Destination Agency (REDA)
Donna Pentelow Assistant Director of Culture, Reading Borough Council
Cllr Adele Barnett-Ward Lead Cllr for Leisure and Culture
Professor Ed Hawkins climate scientist University of Reading
Cllr Tony Page Lead Cllr for Climate Strategy and Transport
Abbey Ward; Cllr Mohammed Ayub and Cllr Karen Roland