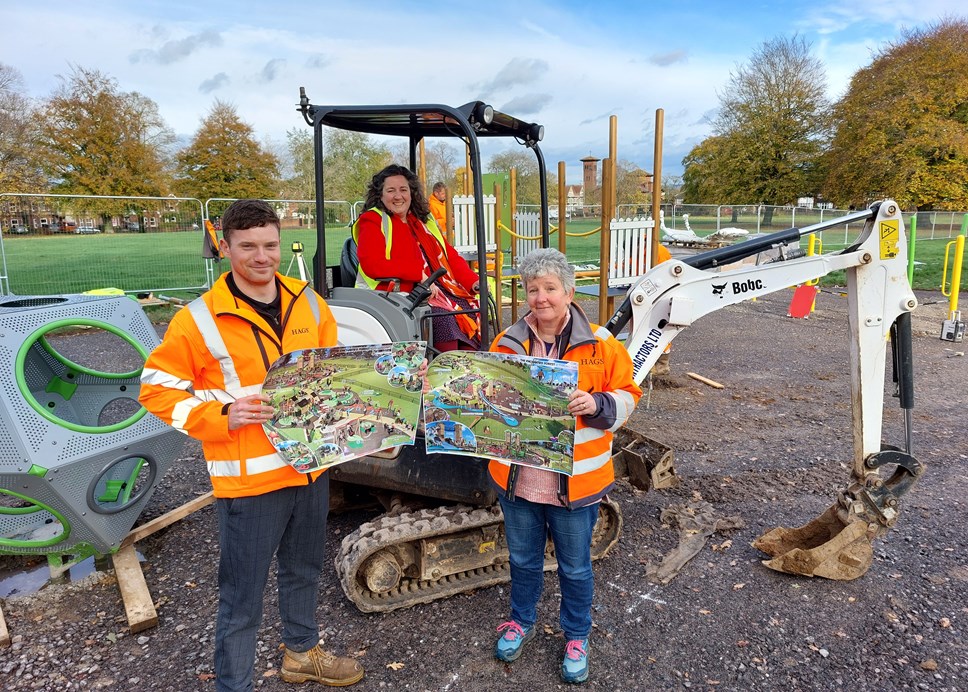 Work starts on new flagship play area at Prospect Park
£530,000 investment to provide exciting new equipment
New play area set to open in the summer 2023
WORK has started this month the new half-a-million-pound playground in Prospect Park.
Work is underway to create an exciting play area that will allow children to be challenged physically, as well as letting their creativity flourish. The new play area will provide a range of facilities to cater for children of all ages and abilities by offering a variety of challenge levels.
The location and surfaces of the new play area have been chosen to ensure the best accessibility for families using pushchairs or mobility aids.
View a video of the work so far:
View more photos of the new play area construction site: https://flic.kr/s/aHBqjAfrwA
Once complete, the play area will include:
Themed zones, including quiet play areas and activity panels.
Roundabouts, swings and a zipwire.
Two large climbing towers with a tunnel slide and access ramp incorporated into the unit.
Ground-level roundabout, braille panels, lower-level inclusive play net, accessible see-saw, tactile panels, ground-level games, and a large accessible springer.
It has been designed to allow much better access to and around the area and will be as inclusive as possible – aiming to challenge, excite and inspire as well as encourage children of all abilities to play together.
As part of the work there are plans to create a pedestrian access path from the car park to the play area, with a new pedestrian crossing.
The new playground forms part of the Council's overall £1 million investment in new playgrounds and playground equipment across Reading for children and families to enjoy
Cllr Adele Barnett-Ward, Reading's Lead Councillor for Leisure and Culture, said: "I am excited to see work get underway to create this wonderful new play area, which offers a fantastic range of great play equipment with something for children of all ages and abilities.
"Between the new play area and The Ranger Station, opposite, we are investing over £1m in Prospect Park: it is one of the town's destination parks so it is vital that the facilities are accessible to all children. The aim is to complete the play area in time to provide free family fun for next year's school summer holidays."
Tom Charman, project manager, HAGS, said: "The delivery of the HAGS play area at Prospect Park is going very well. We are continuing to progress with the installation of the new play equipment working in partnership with Reading BC to deliver this unique play space, and we very much looking forward to opening it up to the Reading community soon!"
The aim is for the play area will be open for the summer holidays in 2023.
Once the new play area is open the second phase will be to remove the existing play area and reinstate the area back to informal grass parkland.
This project is just one aspect of the enhancement and investment being made within Prospect Park, including a £500k multi-use activity centre in part of the pavilion building, which sits directly opposite the new play area. The mini-golf and Sky Tykes low ropes activity opened at the centre opened over the summer, with the other facilities – including a café - opening next year.
Cllr Barnett-Ward added: "The existing play area is still open and will remain so until the new playground is ready. Families are already enjoying our newly-opened Reading-themed mini-golf and low ropes course at our family-friendly adventure hub, The Ranger Station."
Find out more about the Ranger Station, mini-golf and low ropes activities here: www.reading.gov.uk/leisure/active-reading
ENDS