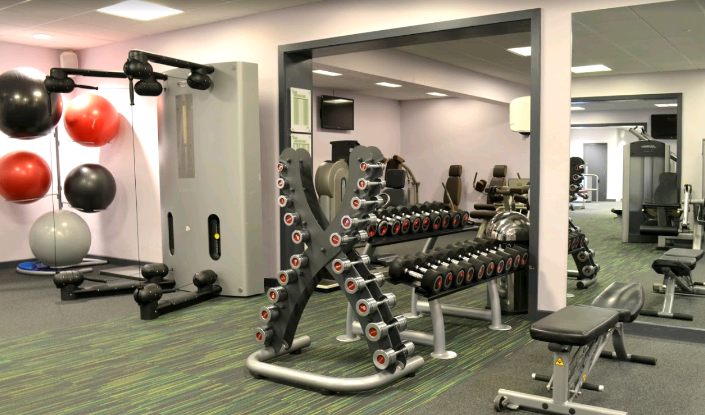 Work starts next week on major improvements at South Reading Leisure Centre
Improvements at South Reading Leisure Centre include refurbishment of the gym and changing rooms
The work is expected to take 3 months
WORK starts next week on improvements for users of South Reading Leisure Centre, as part of the Council's £40M investment in modern leisure facilities for the town.
Hot on the heels of works starting on modern new swimming pools and facilities at both Rivermead and Palmer Park, work at South Reading, run by GLL on behalf of the Council, begins on Monday 1 November and is expected to last for 3 months.
Users of the centre can look forward to:
New Gym area
New gym equipment
Gym changing room refurbishments
Class studio redecoration and improvements
New air conditioning
A new reception
To allow for the development works to be carried out safely and securely, unfortunately, the gym at South Reading will need to close for the duration of the work. Gym users will be able to access alternative fitness facilities at Rivermead, Palmer Park or Meadway leisure centres during this period. Download the free Better App to your smartphone and add these centres to the 'My Clubs' section, or visit www.better.org.uk
Disruption to users of the sports hall and the swimming pool will be kept to a minimum, with both facilities available throughout the duration of the work, however, improvements to the wetside swimming pool changing rooms at this location will take place over the October half term. The pool will still be in use and alternative showers and changing facilities are available.
Improvement works are also planned at Meadway in west Reading, starting in the new year.
Cllr Graeme Hoskin, Reading Borough Council's Lead Councillor for Sport, said:
"I'm delighted that alongside the work on the new leisure facilities at Rivermead and Palmer Park, improvements are starting to happen at our other centres.
"It is exciting times to see these improvements and the building of our new pools and leisure centre progressing. This continues to provide residents with tangible evidence of our commitment to delivering the new facilities.
"Despite the unprecedented challenges of the past year, the Council and our leisure partners, GLL, remain fully committed to delivering the modern leisure facilities a town of our size and status deserves. By spring 2023, Reading will boast a 25m 8-lane competition pool with dedicated diving provision at Rivermead and by winter 2022 a brand new 25m 6-lane community pool at Palmer Park, linked to existing sports facilities – combining the benefits of a sizable pool, velodrome and athletics stadium all in one accessible location – delivering a fairly unique facility in the region and putting Reading firmly on the map as a top sports destination.
"As well as the improved facilities across all leisure sites being delivered over the next two years, there will also be a drive to increase activity, health and wellbeing across the borough, with weight management courses, cardiac and cancer rehabilitation and targeted work in the community to reach those in most need and work towards reducing health inequalities."
Paul Shearman, GLL's Partnership Manager for Reading said: "The improvement work at South Reading Leisure Centre is great news for local people.
"The benefits these updated facilities will offer the local community are invaluable. The pandemic has highlighted the importance of keeping physically active and maintaining a healthy weight.
"Reading's new and upgraded leisure provision will offer an inviting and welcoming environment, for all local residents to enjoy, in addition to enabling us to provide dedicated courses and activities that encourage better health and wellbeing."
Work started on the Rivermead site on 31 August. The new Rivermead facilities will include a 25m 8-lane competition pool alongside a combined teaching and diving pool, due to open in spring 2023.
At Palmer Park, in addition to the refurbishment of the existing stadium building, there will be a new 25 metre, 6-lane community pool. The new community pool and facilities will open to the public in late 2022.
For regular updates on the leisure project visit www.better.org.uk/new-reading-leisure or follow the Council on social media @ReadingCouncil Twitter, Facebook and Instagram or GLL at @Better_Reading
Ends
Notes to editors
New Leisure Project
For more information on the leisure investment project visit www.better.org.uk/new-reading-leisure
GLL
Following an operational transfer on 1 July 2021, GLL now operates all of Reading's four leisure centres on the Council's behalf, including: Meadway Leisure Centre, South Reading Leisure Centre, Palmer Park Sports Stadium and Rivermead Leisure Centre.
GLL has introduced membership and customer schemes, allowing access to every single Council sports facility across the borough, with a free 'Reading Resident's Card' giving up to 30% discount from activity charges, and up to 50% discount for concessions.
GLL, who operate under the brand 'Better', is a non-profit charitable Social Enterprise organisation that runs over 250 sport and leisure facilities on behalf of local authorities across the UK. The leisure provider has already partnered the Council in the delivery of Rivermead Leisure Complex for the past 15 years. www.better.org.uk