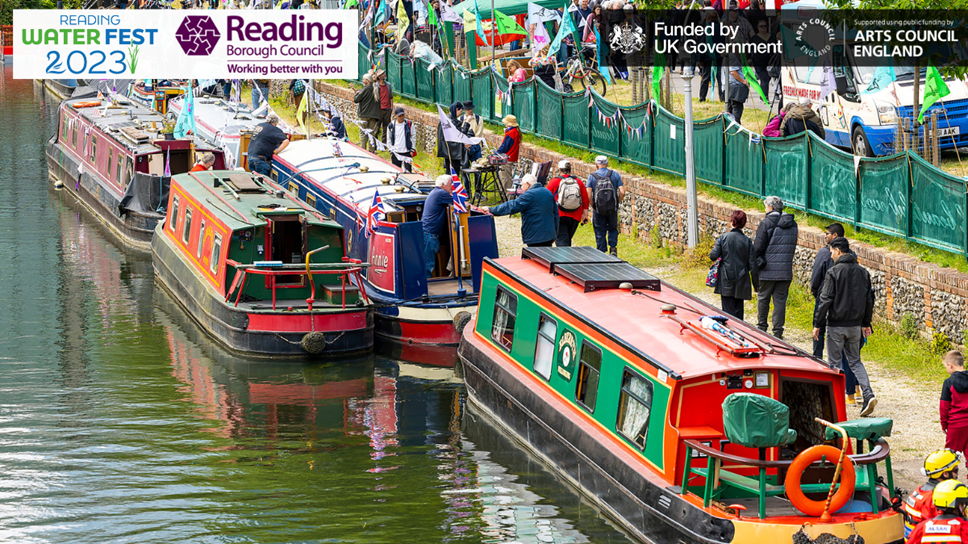 Water Fest 2023 makes a splash with bumper programme of events and activities
Water Fest returns for its 34th year on 10 June 2023, in partnership with the Kennet and Avon Canal Trust
Enhanced programme of events made possible thanks to funding boost from Arts Council England and National Lottery Players
THE COUNTDOWN is on for the return of Reading Borough Council's much-loved Water Fest on Saturday 10 June.
Back again for its 34th year, Water Fest celebrates and shows off the Kennet and Avon Canal in all its glory, as well as the many historic spots that can be found along the towpath.
This accessible one-day event, brought to you by Reading Borough Council in partnership with the Kennet and Avon Canal Trust, takes place on Saturday 10 June between 11am and 5pm, within the Forbury Gardens, Abbey Ruins and along the River Kennet, celebrating the Abbey's rich 900-year history and its environmental and heritage connections with Reading's waterways.
This year, visitors can look forward to an enhanced programme of events, made possible by a generous £26,886 funding boost thanks to National Lottery players and Arts Council England – which will help support community activities.
11 local groups and organisations will be hosting creative workshops, talks, musical and poetry performances, and raising awareness and inspiring action in response to the climate emergency.
Highlights include:
Reading Climate Festival will take over part of the festival site with stalls, information and talks regarding climate action – featuring many of Reading's local climate change organisations. Inspiring climate action through creative activity.
Jelly is hosting four artist residency workshops, each giving an insight into the artists'creative process and the idea of recycling, reusing and capturing everyday life as a memory and gift for future generations
Reading's Global Festival – celebrating the diverse make up of Reading's music scene across 3 stages at Water Fest
Circo Rum Ba Ba's immersive theatre production 'The Whale' uses puppets, comedy, and music to explore the tale of sea creatures and their battle to survive in an ocean full of rubbish. Help to save the turtle and the Whale from a deluge of plastic and travel from the Indian ocean to a coral reef.
Becoming Mums' Mothers are Queens workshops engages new mums at risk of or struggling with post-natal depression. Using reclaimed fabric to create bunting inspired by Reading's diversity and global connections.
Performances on a narrowboat from the Waterways poet laureate Roy McFarlene
Nature Nurture's Earth Action Challenge - workshops around climate change and the environment aimed at children and young people. Educating and raising awareness of environmental issues and what actions we can take.
Find out more about this year's exciting programme at: https://issuu.com/readingcouncil/docs/rbc-waterfest-brochure-2023_final_version
Cllr Adele Barnett-Ward, Reading's Lead Councillor for Leisure and Culture, said:
"We are very lucky to benefit from this generous boost of funding from Arts Council England. There is so much to look forward to at Water Fest 2023, this exciting event will put the planet at its heart, celebrating our beautiful waterways, and inspiring everyday action and changes we can all take to protect them."
Hazel Edwards, South East Area Director, Arts Council England, said:
"It's wonderful to see Reading Borough Council using the power of creativity to talk about sustainability and climate change through Water Fest 2023. Featuring a wide range of free activities, including artist workshops by Jelly – who joined our National Portfolio in April this year, it will offer Reading's communities a wonderful opportunity to explore climate change in their own way, at their own pace, and in creative ways. We're pleased to have been able to award Reading Borough Council nearly £27k to support Water Fest 2023 – all thanks to National Lottery players."
Find out more: www.reading.gov.uk/leisure/things-to-do/events/water-fest/ www.whatsonreading.com
ENDS
Notes to editors
Notes:
The Kennet and Avon Canal Trust restored the canal, and it was fully reopened by the Queen in 1990. This year is the 70th anniversary of the establishment of the Kennet and Avon Canal Association, which became the Kennet and Avon Canal Trust a year later.
Arts Council England is the national development agency for creativity and culture. We have set out our strategic vision in Let's Create that by 2030 we want England to be a country in which the creativity of each of us is valued and given the chance to flourish and where everyone of us has access to a remarkable range of high-quality cultural experiences. From 2023 to 2026 we will invest over £440 million of public money from Government and an estimated £93 million from The National Lottery each year to help support the sector and to deliver this vision. www.artscouncil.org.uk.
Water Fest 2023 has been supported using public funding by the National Lottery through Arts Council England.