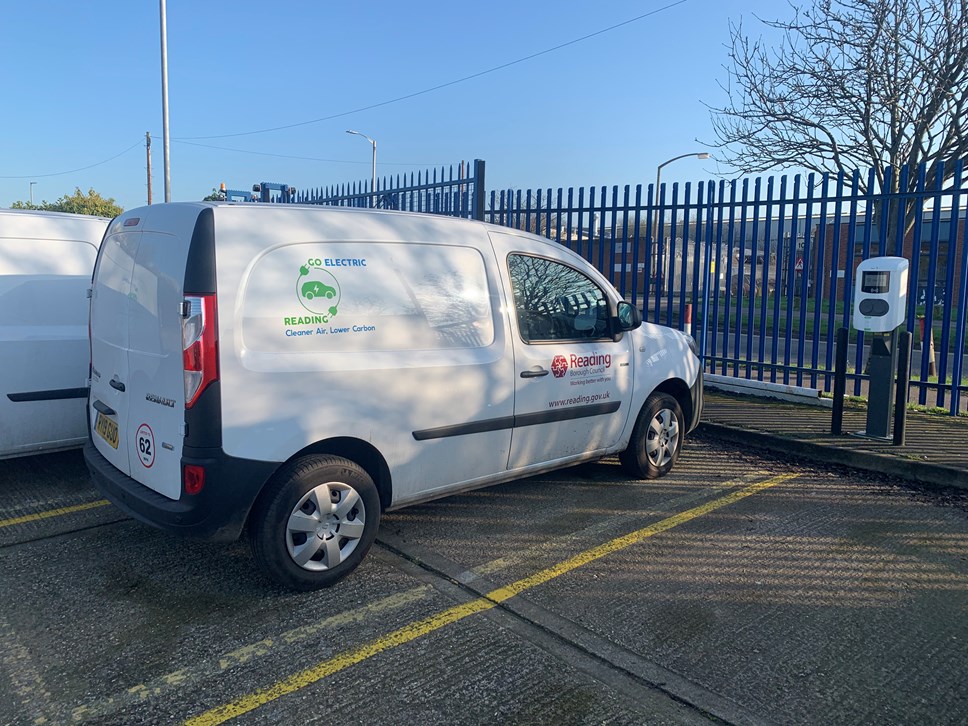 Views sought on Electric Vehicle Charging Infrastructure Strategy
A new draft Electric Vehicle Charging Infrastructure, or EVCI, Strategy aims to provide more charging opportunities for residents
The right infrastructure could lead to more residents swopping to cleaner electric vehicles
New strategy will be a vital strand in creating a healthier Reading for everyone
Ambitious plans to create an infrastructure of charging points for electric vehicles in Reading to encourage more EV use, reduce emissions and create a healthier borough, are now available to comment on.
The Council's draft Electric Vehicle Charging Infrastructure, or EVCI, Strategy has been published at https://consult.reading.gov.uk/dens/evcistrategy and residents and businesses can respond.
An estimated 20 per cent of all carbon emissions in Reading are the result of vehicle use. Encouraging residents to consider swopping to electric vehicles would reduce emissions and improve the poor air quality which blights parts of Reading. It also contributes to Reading achieving its net zero carbon ambition by 2030.
The draft EVCI Strategy will play a key role in the success of the council's wider Reading Transport Strategy 2040, which looks to build on the town's success to date creating sustainable and realistic alternatives to private cars as the town continues to grow. This Transport Strategy will also be consulted on in the coming weeks.
The draft EVCI Strategy includes overarching goals such as providing EV charging points in areas where there is no off-road parking for public use to charge different vehicles and working with businesses to provide fast chargers. There are also plans to work with neighbouring boroughs to create a county-wide network of charging facilities where people need them. The strategy also explores the short-, medium- and long-term potential of working with private sector partners to convert space at petrol stations and car parks into areas for EV charging.
The strategy also looks at how the council can build upon the positive steps already taken to have a fully electric fleet by 2030 by adding to the seven electric small vans, six electric refuse trucks, two electric pool cars, and an electric litter collection vehicle.
The strategy can only be actioned with the right grid capacity, and this consultation provides the right time to engage with the relevant companies which provide infrastructure regarding how future demands can be met.
John Ennis, Reading's lead councillor for climate strategy and transport, said:
"There are innovative proposals within the Reading Transport Strategy to build on our success to date by providing realistic alternatives to the private car, including increasing cycling, walking and bus use.

"We are realistic however and accept the use of private cars isn't going to stop overnight and there are journeys where, for a variety of reasons, cars will continue to be used. As a Council our role is to provide the right conditions to encourage more residents to consider taking up the option of an electric car.

"This involves creating charging facilities in our densely populated Victorian terraced streets, working with our neighbouring authorities to make sure other charging points are in the right place, as well as working with private partners to enable more to be installed.

"Our new EVCI Strategy outlines how we intend to create the infrastructure to encourage more residents to consider electric vehicles as a realistic option.

"As we work with residents and the companies which provide the additional infrastructure needed, the government also needs to work with suppliers to address the critical issue of capacity of electricity supply.

"Prioritising residents' health is at the heart of our transport strategies, promoting active travel and increasing the use of electric vehicles in Reading is just one way we can achieve it.

"I would urge residents to take some time to read the strategy and feedback their thoughts."
Read the full draft strategy here -- https://democracy.reading.gov.uk/documents/s27658/08%20EVCI%20Strategy%20-%20SEPT%20Committee%2029%20June%202023.pdf.
ENDS