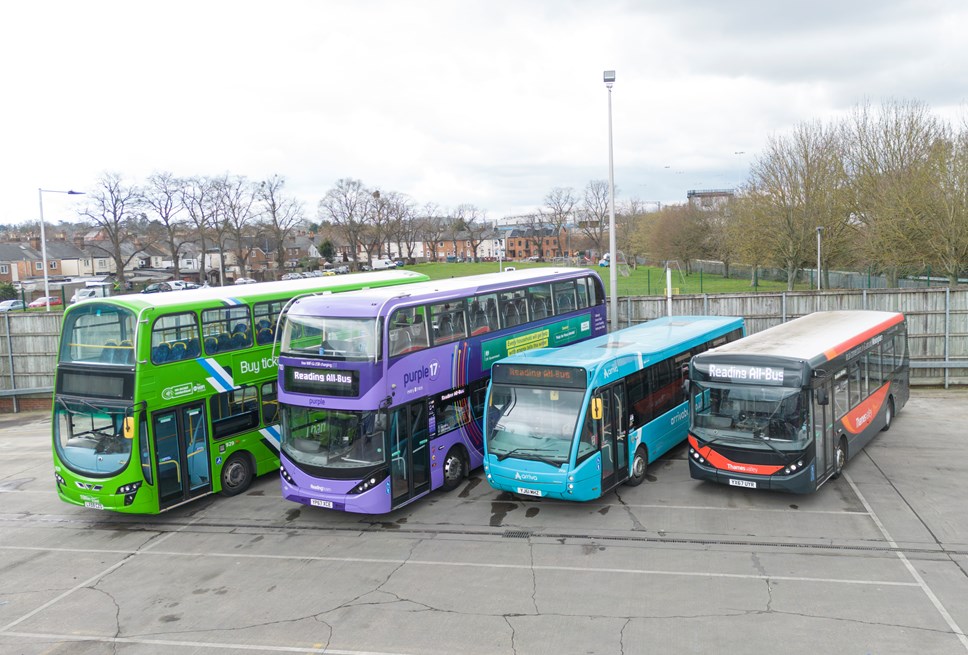 'Tap on Tap off' buses around greater Reading for convenient and cheaper journeys
Tap payment card or device to register getting on and off any bus in greater Reading from 1 November
Cheapest on the day adult ticket will be charged
Introductory multi-trip adult ticket price of £3 a day
CATCHING the bus is about to get even easier with the introduction of 'Tap on Tap off' technology on buses across Reading – and there is an introductory offer of just £3 a day.
Passengers just need to scan their preferred payment card or device when they get on a bus and then scan the same payment method when they get off.
Whether a single journey at £2 or less, or multiple journeys per day, passengers will automatically only pay the cheapest on the day adult ticket price.
Reading Buses, Arriva, Thames Travel and Thames Valley Buses will all be equipped with the new technology, which goes live on Wednesday 1 November.
'Tap on Tap off' is a convenient way to pay for the bus without cash or for those who do not have access to the different bus companies' apps to purchase tickets.
To mark the start of 'Tap on Tap off' in Reading, the Council has worked with the main bus companies to further subsidise the Reading All-Bus multi-trip adult ticket to a maximum cap of £3 a day, no matter how many journeys are taken in the greater Reading area using the new technology.
It means, for example, passengers can 'Tap on and Tap off' on an Arriva or Thames Travel bus to get into the town centre, then a Reading Buses bus to travel on to the Royal Berkshire Hospital and make the return journey later that day, all for just £3.
The introductory offer is valid from 1 November until Sunday 31 December 2023.
Passengers can still purchase the Reading All-Bus ticket via the app for £3.40 or on the bus by cash for £3.50.
The Council's subsidy of this introductory offer is one part of its successful Bus Service Improvement Plan bid for £26 million worth of Department for Transport funding.
The investment also forms part of the Council's ongoing commitment to promote the use of public transport in the borough to reduce the number of private vehicles on the road and improve air quality, as outlined in its new draft Reading Transport Strategy 2040 which is out for consultation now. You can take a look at the ambitious vision for the future of travel in the borough and have your say until December 11 here Reading Transport Strategy 2040 - Reading Borough Council.
Cllr John Ennis, Lead Councillor for Climate Strategy and Transport, said:
"Getting the bus is more convenient than ever with 'Tap on Tap off' technology, which many people will be familiar with from travelling around London.

"It is also an excellent affordable way to travel to work, the town centre, the hospital or to see friends, especially at a time when the cost of living continues to be so high.

"Other options are still available, including paying by cash, but if you want hassle free payment system this might be just the ticket.

"With the introductory offer of just £3 for multiple trips each day it might be the time to try the bus and see if it works for you."
Robert Williams, Chief Executive Officer at Reading Buses, said: "Tap on Tap off will be available on all Reading Buses services, helping to ensure customers get the best value for money, as well as making journeys faster by speeding up boarding times. We are especially delighted to be able to launch our investment in this technology alongside a significant discount for the first two months in partnership with the Council and HM Government."
Chris Burley, Commercial Director for Arriva, said: "Arriva is really pleased to be an integral part of the bus network in Reading and as part of this partnership.
"Our goal is very simple: we're working together for the benefit of the whole community as we care passionately about wanting people to choose bus travel because it's value for money and better for the environment.
"Tap on Tap off means customers can travel by bus in and around Reading in a way that's more cost-effective and more convenient. We're proud to be part of this project."
Luke Marion, Managing Director of Thames Travel, said: "We've found Tap on, Tap off to be popular with customers across our network, and the technology makes boarding buses quicker and easier. The roll-out of this technology to all buses in Reading will make travelling in and around Reading faster and more convenient for all. With the day ticket capped at £3 it will be even better value too - even if you use more than one operator."
There is no need to pre-register cards or payment methods before using them to travel, with contactless Mastercard, Visa cards and Apple/Google Pay-enabled mobile devices accepted. Prepaid and American Express cards are not accepted currently.
There are cheaper tickets available on bus apps and 'Tap on Tap off' is not available to children or student fares. The £3 cap will not work on stops outside the Reading Buses Simply Reading boundary where a higher fare may be charged.
The introductory offer of a £3 adult multi-trip adult ticket will be valid until 31 December 2023, when the price will be £3.40.