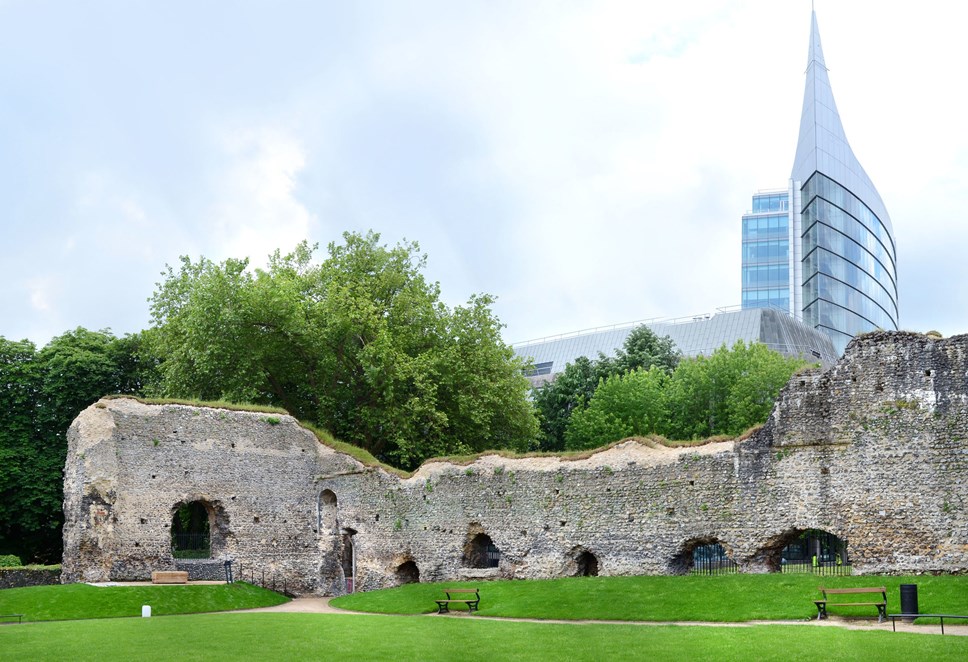 Successful Reading Abbey Revealed looks to protect the future of the Abbey Quarter
Reading Abbey Revealed Project seeks to continue work with conservation specialists to ensure site is protected and preserved for the foreseeable future
Evaluation report going before the Council's Housing, Neighbourhoods and Leisure Committee on Wednesday 29 June
READING COUNCIL'S successful £3.15 million conservation project Reading Abbey Revealed is recommending the next steps to protect and preserve Reading's oldest gem, the Abbey Ruins, for generations to come.
Now in the fourth year since the successful reopening of the abbey after a ten-year closure, the Reading Abbey Revealed project is reflecting on its success and making recommendations to protect this site of national significance for years to come.
The award-winning project, which was initiated eight years ago in 2014, attracted £1.7 million of funding from The National Lottery Heritage Fund, match funded by £1.38million from the Council. It ambitiously sought to restore, reopen and protect the ruins of Reading Abbey, which was founded by King Henry I of England in 1121 and was one of Europe's largest royal monasteries.
To date the project has:
Carried out major restoration and conservation work on the Grade I listed Scheduled Ancient Monument Abbey Ruins and Abbey Gateway.
Created a new historic Abbey Quarter which draws together and interprets the former grounds of Reading Abbey as a single unified heritage site with comprehensive wayfinding and interpretation panels, and new displays at Reading Museum.
Celebrated the reopening of the Abbey in 2018 with over 18,000 visitors in one day.
Grown awareness of, and pride in, the importance of Reading's history - at the Abbey's 900th Anniversary in 2021, 74% of people surveyed agreed that the event had helped to increase their pride in Reading.
Showcased the significance of the Abbey Quarter locally, regionally and nationally, with recognition through several prestigious national awards.
Community engagement, encouraging wider participation in the Abbey and providing volunteering and training opportunities, has been a major part of the project:
Over 45,000 people have attended events in the Abbey Quarter in the four years since it reopened.
Over 130 individual volunteers have been engaged in supporting the project with research, tours, acting as costumed interpreters, sewing costumes, helping at events, schools sessions, outreach and gardening.
More than 4,300 school and university students have benefitted from school sessions related to the Abbey, with almost 220 Victorian Schoolroom sessions in the newly restored Abbey Gateway and a wealth of resources provided for local schools.
Cllr Adele Barnett-Ward, Reading's Lead Councillor for Leisure and Culture, said: Cllr Adele Barnett-Ward, Reading's Lead Councillor for Leisure and Culture, said:
"This is a project of national importance and we are immensely proud of the benefits it brings to Reading. As a champion of community engagement, I am particularly pleased by of the level of community, volunteer and educational participation the project has generated, and I hope to see this continue for years to come.

"Reading's Abbey is now at the heart of culture and heritage in our town. Thanks to our vision, the Abbey Quarter is now a thriving landmark and an important destination for residents and visitors to Reading. The project celebrates the historic importance of the site as Reading's royal abbey and burial place of King Henry I without stuffiness: the ruins host lively events and are a place to relax as well as learn.

"Bringing Reading Abbey back to life was a collaboration between many partners and I want to take this opportunity to thank everyone involved in making this award-winning project a success, including the Reading Abbey Revealed project team, our volunteers, our partners and our contractors CRL Restoration and HCC Property Services, with of course special to thanks to the generosity of the National Lottery players and the National Lottery Heritage Fund."
Looking to the future, the legacy of the project now seeks to continue work with conservation specialists to ensure the site is protected and preserved for the foreseeable future.
Cllr Barnett-Ward, added:
"As we look to secure the future of the Abbey Quarter, the jewel of our town's heritage crown, we still have much to plan ahead for to ensure the sustainability and protection of this important site. The guardianship of our 900 year old Abbey is a privilege and responsibility that we have shown we can deliver on."
An evaluation report going before the Council's Housing, Neighbourhoods and Leisure Committee on Wednesday 29 June, sets out the achievements and the recommendations for the Abbey Revealed Project. View the full report here: https://democracy.reading.gov.uk/documents/s22622/9%20Reading%20Abbey%20Revealed.pdf
ENDS
Notes to editors
Reading's Abbey Gateway reopened in April 2018, following restoration work as part of the £3.15 million Abbey Quarter project. Thanks to National Lottery players and a £1.7million grant from The National Lottery Heritage Fund, the gateway benefitted from vital internal refurbishment and roof repairs and is now home to Reading Museum's popular Victorian Schoolroom experience. The Abbey Gateway is also open for special events, such as history tours, during the summer months.
About The National Lottery Heritage Fund
Using money raised by the National Lottery, we Inspire, lead and resource the UK's heritage to create positive and lasting change for people and communities, now and in the future. www.heritagefund.org.uk.
Follow @HeritageFundUK on Twitter, Facebook and Instagram and use #NationalLotteryHeritageFund
Since The National Lottery began in 1994, National Lottery players have raised over £43 billion for projects and more than 635,000 grants have been awarded across the UK.