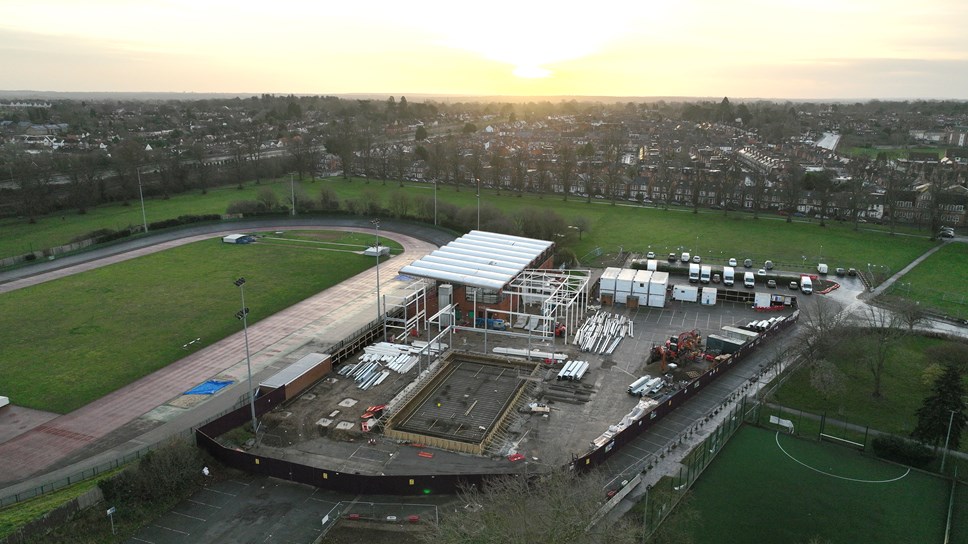 Stunning drone footage of community swimming pool taking shape
Footage of the Palmer Park construction site captured on New Year's Day 2022
The outline of the new pool and steel frame of the entrance and information hub is now visible
The new community pool and facilities will open to the public in late 2022
PROGRESS on the major work to construct a modern 25 metre, 6-lane community pool at Palmer Park has been captured in drone footage on New Year's Day.
The stunning footage captured during the morning sunrise, shows the latest progress on the Palmer Park construction site, with the outline of the new pool and the steel frame of the new entrance, reception and information hub clearly visible.
Watch the drone footage here: https://youtu.be/BxVbgURgcck
View photos from the site here: https://flic.kr/s/aHsmWBtQx2
Construction of the new pool is the next key milestone in the Council's £40M investment in modern leisure facilities for the town, including delivering brand new pools, a modern leisure centre and improvements to existing leisure facilities, by spring 2023.
The new community pool and facilities will open to the public in late 2022. At Palmer Park, in addition to the refurbishment of the existing stadium building, there will be:
A new 25 metre, 6-lane community pool;
A 100-station gym;
An activity zone for children with party rooms;
And a new café and information hub.
Above: Artist's impression of the new development
Following the construction of the pool frame, the next major event will be the installation of the new pool roof and the replacement of the existing stadium roof. This work will take place from the end of April 2022.
The roof replacement work will necessitate the unavoidable closure of the gym and indoor sports facilities for around 6 months, until autumn 2022.
The outside stadium, including the track, athletics and velodrome will continue to be in use. Temporary toilet facilities will be provided for the duration of the closure for use by stadium users and members of the public.
All gym users will be able to access alternative fitness facilities at other GLL run Reading leisure centres during this period.
Cllr Graeme Hoskin, Reading Borough Council's Lead Councillor for Sport, said:
"Seeing the progress at the Palmer Park site on New Year's Day, as the sun rises over the park, is fantastic and really heralds the new era for leisure in Reading.
"The footage helps keep the exciting end goal in sight - by late 2022 east Reading will boast a brand new 25m 6-lane community pool at Palmer Park, linked to existing sports facilities – combining the benefits of a sizable pool, velodrome and athletics stadium all in one accessible location – delivering a fairly unique facility in the region and putting Reading firmly on the map as a top sports destination."
Work started on the Rivermead site on 31 August. The new Rivermead facilities will include a 25m 8-lane competition pool alongside a combined teaching and diving pool, due to open in spring 2023.
Work is also underway to improve the facilities at South Reading Leisure Centre, with improvement works also planned at Meadway in west Reading, starting soon.
For regular updates on the leisure project visit www.better.org.uk/new-reading-leisure or follow the Council on social media @ReadingCouncil Twitter, Facebook and Instagram or GLL at @Better_Reading
Ends
Notes
Drone footage commissioned from Tony Mc Ginn,
FlySkyDrones flyskydrones@hotmail.com