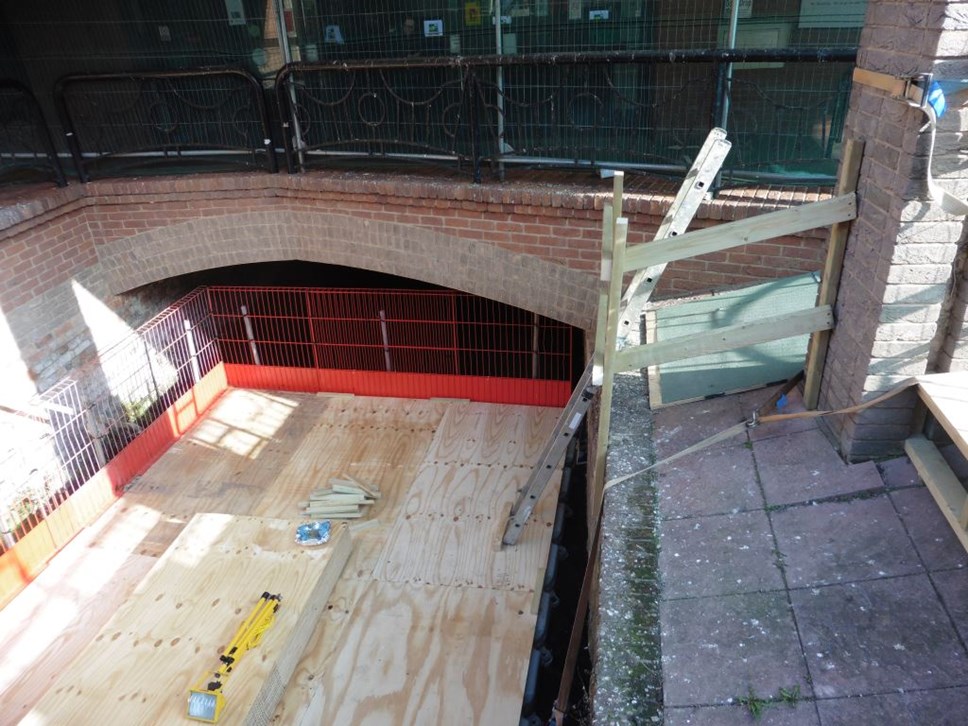 Stretch of King's Road to be closed from Monday to allow essential underground repairs to take place
KING'S ROAD will be closed from Duke Street to Abbey Square for a month from Monday 20 February to allow for essential works to take place to an underground tunnel (historical surface water culvert), which allows the Holy Brook to pass underneath Reading's road system.
13.5 metres of strengthening is required to ensure that The King's Road culvert, which carries the King's Road carriageway and footways over the Holybrook, will increase its load carrying capacity and last for another 100 years. The strengthening is necessary to cope with greater volumes of traffic, but also the ever-increasing number of electric cars on the road, which weigh much more than their diesel or petrol equivalents due to their heavy battery packs.
An investment of £230,000 by Reading Borough Council is enabling the work to take place to safeguard future traffic movement, and is the fourth and final phase of strengthening under the King's Road which, by its conclusion, will have seen a total spend of £650,000 over the past three years, along with strengthening of the Abbey Square culvert in 2019.
The four-week closure of King's Road between Duke Street and Abbey Square will mean the following traffic measures, with diversion signs in place:
Inbound vehicle access to King Street, Minster Street and Gun Street will be via Forbury Road, Blagrave Street, Valpy Street, The Forbury, Market Place and High Street, with existing bus lane restrictions on these roads suspended during this time
Outbound vehicle access from King Street will be via Minster Street and Gun Street, with existing restrictions suspended during the King's Road closure
Abbey Square is already closed to traffic to and from King's Road until 13 June with the one-way restriction on Abbey Square suspended to allow all vehicles to enter and exit via Abbey Street.
With the culverts underneath Reading estimated to be more than 100 years old, the steel deck beams have corroded with age and need replacing to support the road surfaces above.
Councillor Tony Page, Reading Borough Council's Lead Member for Climate Strategy & Transport, said:
"This next phase brings to a close a series of complex but essential repairs to ensure we are able to futureproof the King's Road area of Reading against increases in traffic. Around £650,000 will have been spent by the end of the project in the summer to ensure there is sufficient capacity in the structure to carry traffic above for decades to come."
Holy Brook is a channel of the River Kennet that flows through Reading. It is thought that while some parts of the channel are natural, other parts were created in medieval times by the monks of Reading Abbey to supply water mills and fish ponds.
The channel is nearly 10km in length, of which approximately 600 metres are culverted. In the centre of Reading, the Holy Brook is culverted for several stretches, only showing itself intermittently. The channel can be seen where it flows under one of the entrances to the Oracle shopping centre, where it has given its name to the 'Holy Brook Mall'. Once it has passed under the Central Library, the Holy Brook re-emerges at a point where it once formed the southern boundary of Reading Abbey. Here the brook provided the driving force for the Abbey Mill.