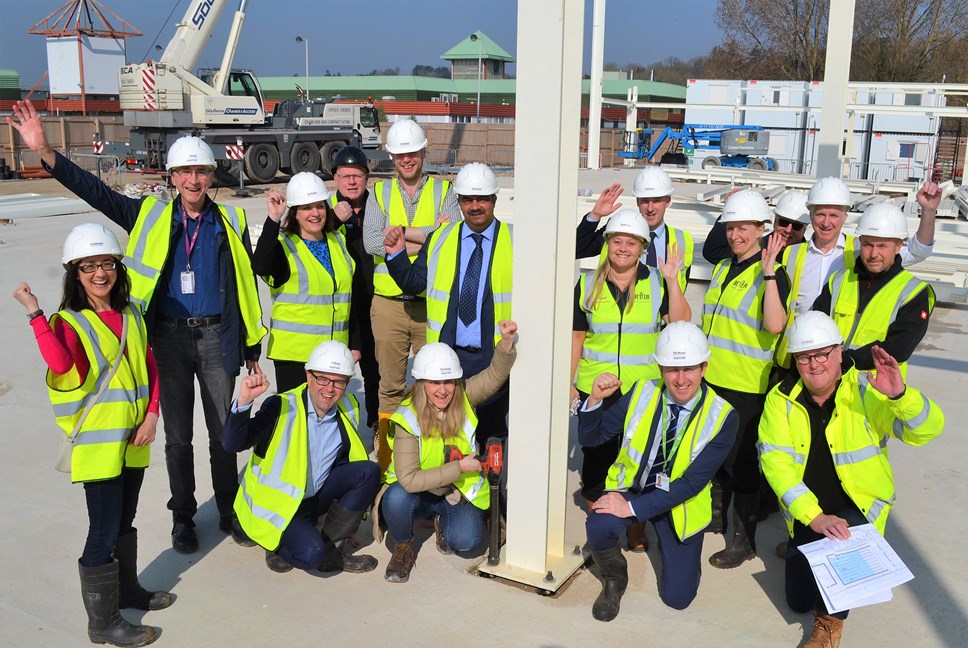 Steel frame of flagship new Rivermead goes up
The steel frame of the new centre is taking shape
The development will include a 25m 8-lane competition pool and diving pool
Facilities open by spring 2023
MAJOR work to construct Reading's flagship new leisure centre at Rivermead is gathering momentum, with the steel frame of the building now taking shape.
Construction of the frame of the new leisure centre is the next key event in the Council's £40 million investment in modern leisure facilities for the town, including delivering brand new pools, a modern leisure centre and improvements to existing leisure facilities, by spring 2023.
Progress on the site has been captured in recent drone footage and photographs. The stunning aerial footage captured on 19 March, shows the latest progress on the Rivermead construction site, with the outline of the new pools, with parts of the steel frame of the new centre visible.
View more photos of the progress here: https://flic.kr/s/aHsmWQe6BZ
The new Rivermead facilities will include:
25m 8 lane competition pool, with moveable pool floor
A combined teaching and diving pool with a moveable floor
25m 5 lane club/swim lesson pool
Splash pad for younger users
A café, information hub, and soft play
A 6-court sports hall with 250 spectator seats
A 120-station gym with 3 studios
A new outside play area
Cllr Graeme Hoskin, Reading Borough Council's Lead Councillor for Sport, said:
"It is exciting times to see the building work at Rivermead progressing at pace now. I'm delighted to see the start of the new centre's steel frame alongside the outline of the pools, both really beginning to take shape. This well and truly provides residents with tangible evidence of our commitment to delivering the new facilities.
"By spring 2023, Reading will boast a 25m 8-lane competition pool with dedicated diving provision at Rivermead. And over at Palmer Park, where work is also progressing well, there will be a brand new 25m 6-lane community pool, linked to existing sports facilities, which will open in late 2022.
"I'm also really pleased that alongside the work on the new leisure facilities at Rivermead and Palmer Park, improvements have been completed at South Reading Leisure Centre and have started at Meadway Sports Centre in Tilehurst.
"As a Council, taking action on the climate emergency is a top priority for us. The new centre at Rivermead is being constructed to BREEAM Excellent environmental standards and with renewables wherever possible. Measures to reduce carbon emissions and improve environmental efficiency will hopefully make Reading's leisure facilities as sustainable as possible.
"As well as the improved facilities across all leisure sites being delivered over the next year, we have also begun a drive to increase activity, health and wellbeing across the borough, with weight management courses, cardiac and cancer rehabilitation and targeted work in the community to reach those in most need and work towards reducing health inequalities."
Craig Woodward, GLL's Partnership Manager for Reading said: "This is an exciting major step on the road to delivering state-of-the-art leisure facilities to the people of Reading.
"The benefits that the new Rivermead leisure centre and pool will offer the local community are huge. The pandemic has highlighted the importance of keeping physically active and maintaining a healthy weight.
"Reading's new and upgraded leisure provision will offer an inviting and welcoming environment, for all local residents to enjoy, in addition to enabling us to provide dedicated courses and activities that encourage better health and wellbeing."
Gert-Jan Peeters, director of Pellikaan UK, said: "We are pleased that the construction at Rivermead is progressing at speed. The development of the work, in liaison with Reading Borough Council and operator GLL, is going very well and we are confident that the centre will be a welcome addition for the local community."
The existing leisure centre will remain open until the new centre is complete to ensure no gap in people's leisure service.
The work at this site is taking place in 2 phases, with the construction of the new leisure centre and the external public spaces completed before the demolition of the existing facility in Phase 2, which will make way for the remaining external areas, new sections of car park and a new play area.
Work is progressing well at Palmer Park, where in addition to the refurbishment of the existing stadium building, there will be a modern new 25 metre, 6-lane community pool, a 100-station gym with three studios, an activity zone for children with party rooms as well as a new café and information hub.
The new community pool and facilities will open to the public in late 2022.
Improvements to the facilities at Meadway Leisure Centre started this month, with work already complete at South Reading Leisure Centre in February 2022.
For regular updates on the leisure project visit www.better.org.uk/new-reading-leisure or follow the Council on social media @ReadingCouncil Twitter, Facebook and Instagram or GLL at @Better_Reading
Ends