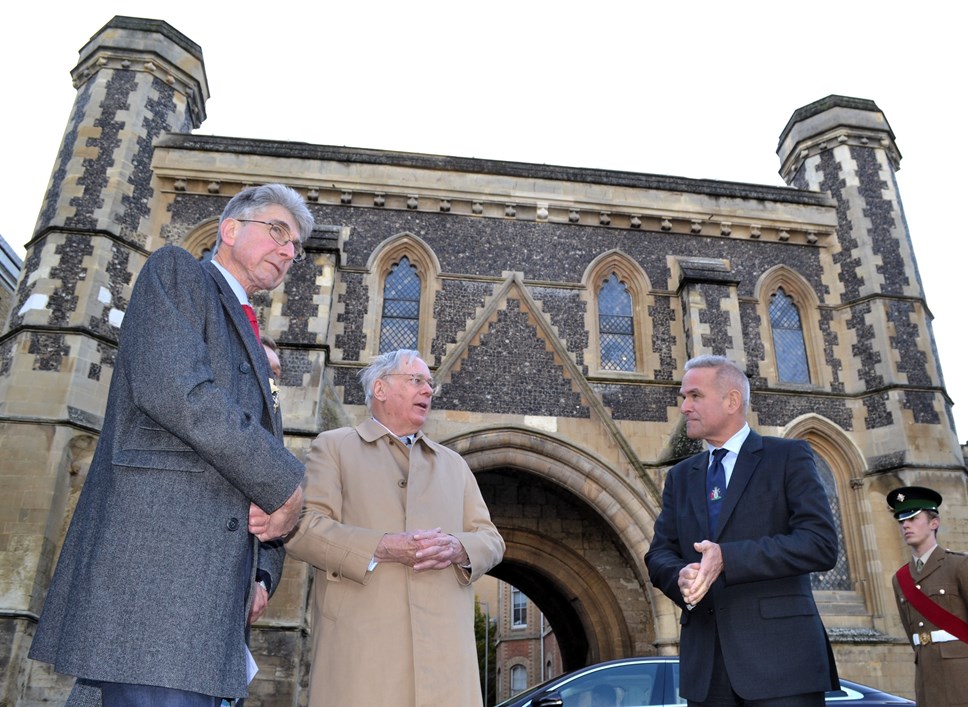 Royal Visit for Reading's Abbey Gateway and Ruins
HRH The Duke of Gloucester visits Reading's oldest gem
Reading Abbey, once one of Europe's largest royal monasteries founded by King Henry I in 1121
Reading Abbey's historic connection with Royalty gained yet another chapter with a visit by His Royal Highness, The Duke of Gloucester.
The Duke of Gloucester paid a visit to the town's historic Reading Abbey Quarter where he also toured Reading Museum's ever-popular Victorian Schoolroom experience in the Grade I listed Abbey Gateway. The Museum's schoolroom experience allows children and young people today to better understand how school's were run in the Victorian age, including writing on a slate with a dip pen and ink and dressing in Victorian costumes. The Gateway was once part of the Reading Ladies Boarding School, famously attended by Jane Austen and her sister Cassandra.
The member of the Royal household was accompanied by Mr Andrew Try, Lord Lieutenant of the Royal County of Berkshire. During the visit the royal delegation met the Mayor of Reading, Cllr Tony Page, and staff from Reading Museum. They also spent time in the historic Abbey Ruins including the chapter house which served as the meeting place for the community of monks at the Abbey.
Reading's Abbey Quarter lies at the heart of Reading and brings together many unique historic sites within the former grounds of Reading Abbey, over 900 years of history.
Mayor of Reading, Cllr Tony Page, said: "It was a great honour to welcome HRH Duke of Gloucester to the Abbey Quarter, and showcase over 900 years of our town's rich heritage, and add yet another chapter to our Abbey's well-established link with royalty.
"Reading is a town of historic importance; the burial place of King Henry I and the Abbey Gateway once used by Queen Elizabeth I as part of her royal palace and now the home of our Victorian Schoolroom experience providing a fun education place for schoolchildren to learn about the town's rich history."
HRH The Duke of Gloucester whilst in Reading also visited the Royal Berkshire Archives as part of their 75 years of preserving the unique history and heritage of the county celebrations and recent name change to the Royal Berkshire Archives on 10 August 2023. The Berkshire Record Office was granted permission to adopt the new title - 'The Royal Berkshire Archives' after the unanimous support of all six Berkshire councils who jointly applied for the privilege, and was officially approved by the Cabinet Office. The new name reflects Berkshire's unique status as England's only Royal county. The title acknowledges the historical significance and contribution of the archives to Berkshire and allows it to bear the prestigious 'protected title'.
The Royal visit concluded spending time at CIRDIC, the Reading based drop in centre for homeless people.