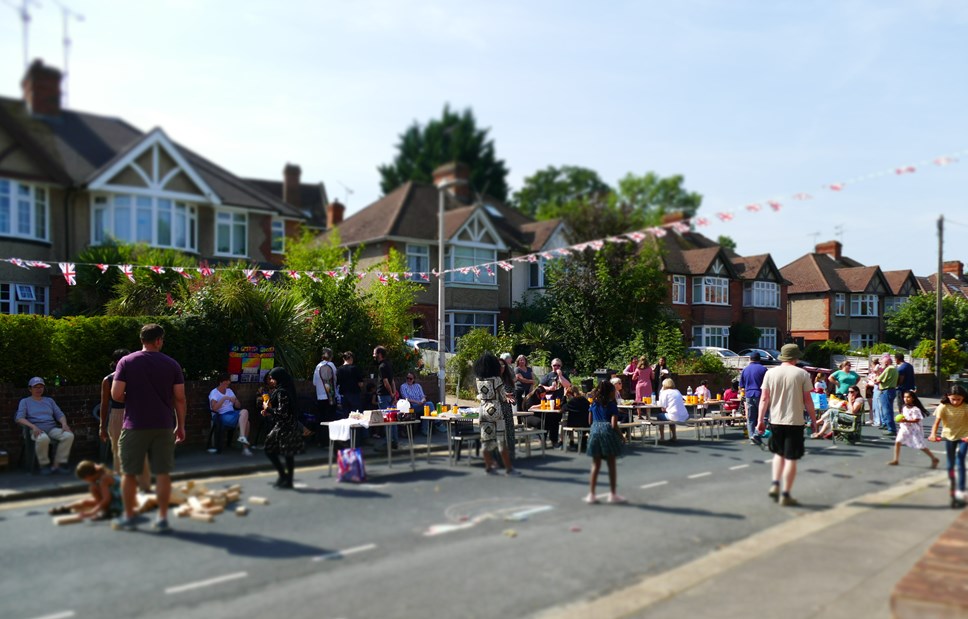 Right Royal Knees Up! Neighbours invited to hold summer street parties for the Platinum Jubilee celebrations
Council is extending the 'no-fee' offer as part of its wider plans to mark the Queen's Platinum Jubilee
Celebrate over the Jubilee weekend, 2 to 5 June 2022
COMMUNITIES across Reading are being invited to stage their Jubilee street parties this summer without having to pay the usual road closure fees.
This year marks the Queen's Platinum Jubilee – when she becomes the first British monarch to reign for 70 years. And to mark this auspicious milestone, residents can now apply to host a street party during the special bank holiday in June - the Jubilee weekend - 2 to 5 June 2022.
Reading Borough Council is extending the 'no-fee' offer as part of its wider plans to mark the Queen's Platinum Jubilee, with details of the full programme released shortly.
Councillor Tony Page, Reading's Lead Councillor for Strategic Environment, Planning and Transport, said:
"This is the first time any British monarch has celebrated a platinum jubilee and we want to make it easy for local residents and communities to organise a street party and celebrate Her Majesty's incredible record of public service.
"The Jubilee Party Weekend is an extra special opportunity for local communities and neighbours to spend some time together. It is important to recognise the many things we all have in common and to come together to celebrate our communities.
"We often only catch a glimpse of our neighbours as we go about our everyday business so this is an opportunity to stop and get to know the people living in our street.
"As in previous years, the Council is keen to help enable these street parties by waiving the usual road closure fees and I would encourage residents to get their applications in as soon as possible."
Anyone who wishes to apply to hold a street party on any of the specified weekends should complete the form available at www.reading.gov.uk/streetparties.
Permission will normally be given, without the usual road-closure fees, subject to it not affecting a main through-route or public transport route.
The deadline for applications is Friday 4 April 2022.
Helpful tips, advice and support for organising a successful event can be found on the Street Party website www.streetparty.org.uk
ENDS