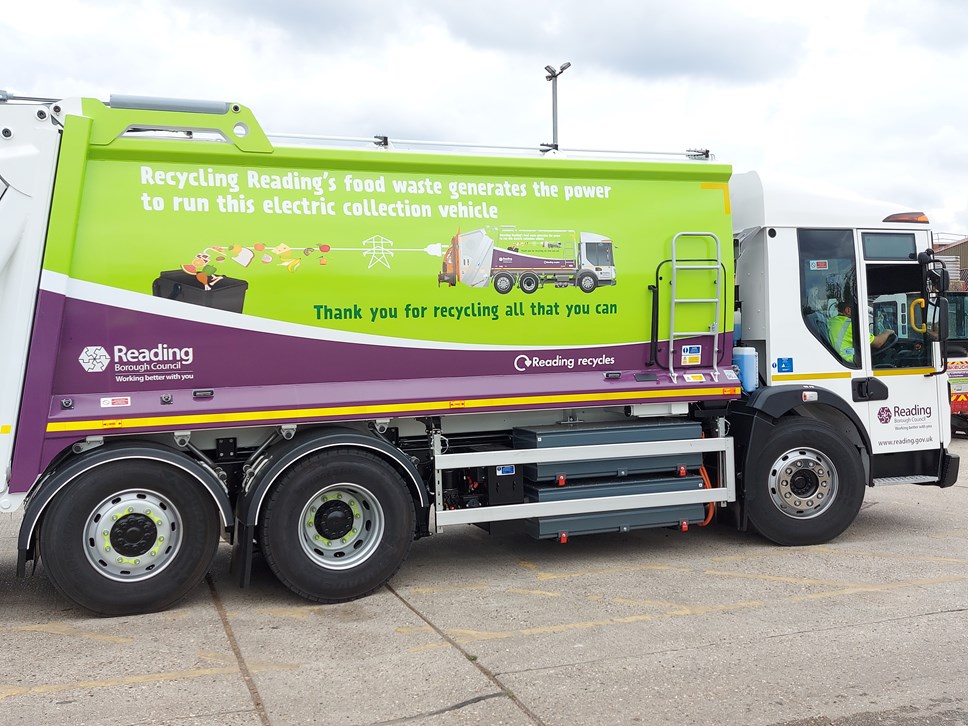 Revealed! The names of Reading's waste trucks you'll see on the streets
Reading introduced Berkshire's first electric bin lorry in 2021 and now has five of them
Residents and school children have now named the five trucks, with the names printed on them
Reading boasts the 4th largest cut in its carbon footprint of all 374 local authority areas in the UK
Five electric bin lorries will be cleaning up Reading emblazoned with new names given to them by residents after a borough-wide competition.
The competition, launched in June, celebrated yet another milestone in the Council's ongoing commitment to tackling the Climate Emergency by letting residents name the Council's first five electric bin lorries, otherwise known as electric refuse collection vehicles (eRCVs).
The naming was shared between residents and schools, with the winners announced as:
Boom Boom (Hannah Niazi, Alfred Sutton Primary School)
Dusty Binfield (Antoine Ifill, The Lodge Day Nursery)
Bincent Van Gone (Edward Day)
John MaWasteSki (Emlyn Jones)
Bin There, Done That (suggested by Erin Gray)
Reading led the way in introducing Berkshire's first electric bin lorry in 2021 and has since built on that by increasing numbers to five fully electric vehicles amongst its fleet, plus a sixth for trade waste. This is another way that the Council continues to look to lead by example in pushing Reading towards its target of being carbon net zero by 2030.
Cllr Karen Rowland, Lead Member for Environmental Services and Community Safety, said:
"I'm thrilled that residents were so excited about naming our electric waste trucks and are engaging and getting behind our goal to protect the environment.

"The switch over to electric vehicles is a key part of our carbon zero ambitions, and we continue to lead by example in moving towards that target. Reading Borough Council was the first local authority in Berkshire to introduce an electric bin lorry and we've now expanded that to five.

"Tackling the climate emergency is a team effort, and in addition to these electric waste trucks, I encourage all residents to play their part too by recycling more as well as engaging with food waste recycling".
The contest follows a successful competition last year to name Reading's food waste trucks, which now sees Ricky Gerwaste, Waster Taster, the Bindalorian, Hungry Hippo, Trashosaurus and Bin Truck McBinFace collecting food waste around the borough.
Reading boasts the 4th largest cut in its carbon footprint of all 374 local authority areas in the UK, and the transition of the Council's fleet from fossil fuel to electric, particularly waste collection vehicles, is a key element of the Council's Carbon Plan 2020-25. The switch from diesel to electric collection vehicles saves 32,200kg of greenhouse gas emissions.