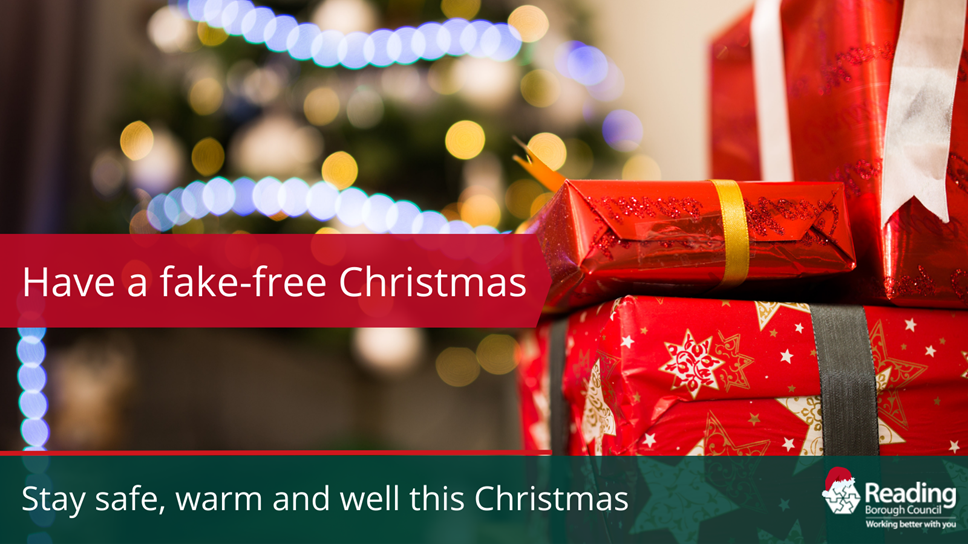 Residents urged to have a fake-free Christmas
Avoid fake goods this Christmas
Steer clear of dangerous toys online
Don't be tempted to borrow money from unscrupulous loan sharks
READING Council is urging residents to have a safe Christmas this year and avoid buying fake or dangerous goods or falling prey to unscrupulous loan sharks.
The Council's Trading Standards team is warning of several pitfalls to avoid this Christmas. The team has received reports of pedlars selling fake perfume and aftershave out of shopping bags. The goods have been confirmed as fake – so the ingredients are unknown and could potentially be unsafe. This time of year many pop-up stalls and pedlars are circulating in the area, often selling fake goods that should be avoided.
Christmas shoppers are also advised to avoid unsafe toys available online. Recent research by the British Toy and Hobby Association (BTHA) revealed that nearly half of the toys purchased from third-party sellers via online marketplaces were unsafe for children. Out of the 255 randomly selected toys inspected and tested, 88% were illegal to sell in the UK, and 48% were unsafe.
Some dishonest manufacturers are using dangerous materials in products popular with children, such as some plastics which can cause serious toxic effects.
Online shoppers are advised to carefully research sellers and ask:
are you buying directly from an online platform or is it a third-party seller?
what do you know about the seller's reputation for selling safe goods?
is the seller based in the UK?
does the seller provide a name and address for you to contact?
For consumer advice or to report unsafe products call the Citizens Advice Consumer Helpline on 0808 223 1133.
Cllr Ruth McEwan, Reading's Lead Councillor for Corporate and Consumer Services, said:
"Please always be vigilant, especially this Christmas. We know the last 18 months have been particularly tough because of the pandemic and many people may be facing a difficult Christmas financially.
"With money tight, it can be incredibly tempting to buy what looks like genuine bargain goods from sellers on the street and online. But the clear message we want to send out is to be on guard – these products may be cheap – but you have no guarantee of their quality. At best you may be disappointed with the quality – at worst they could be dangerous to you and your family. It really isn't worth the risk."
The Council is also supporting the annual national anti-loan shark campaign #AllIWantForChristmas
Research shows that Christmas is the second highest reason that people borrow money from loan sharks. Families are being warned not to turn to predatory loan sharks charging excessive amounts of interest if they are facing financial hardship over Christmas.
People are being advised to watch out for warning signs of loan sharks and report them if they are approached by one and if you really need to borrow money, check the lender is reputable and find out what interest and fees they charge. You can find out whether a money lender is authorised by checking the register on the FCA website at www.fca.org.uk
Cllr McEwan added: "These unscrupulous sharks prey on the most vulnerable in society. No matter how much you are struggling financially, loan sharks are never the answer. I urge people in desperate situations to speak to their local Citizen's Advice Bureau for advice, rather than getting themselves into deep water with a rogue lender. You should also check you are getting all the financial support you are entitled to. Find out more on the Council's website www.reading.gov.uk/housing/benefits-and-assistance/debt-advice
"Remember, you can report these criminals in the strictest confidence and action will be taken."
Loan sharks are increasingly using social media platforms, such as Facebook, Instagram and Snapchat, to advertise their illegal loans and target potential victims. People are urged to be wary of people they don't know sending messages through social media accounts.
Anyone with concerns about illegal money lending can contact the Stop Loan Sharks 24/7 Helpline in confidence on 0300 555 2222.
You can also find additional information and support online at www.stoploansharks.co.uk. Live Chat is available on the website from 9 am to 5 pm, Monday to Friday (excluding bank holidays).
ENDS
Notes to editors
Notes
In October 2021, the British Toy and Hobby Association (BTHA) raised concerns about the safety of toys purchased through third-party sellers on online marketplaces such as Amazon and eBay in its Still Toying with Children's Safety report.
The BTHA offer safety tips for purchasing toys on their website https://toysafety.co.uk/about/#consumertoptips
About the Illegal Money Lending Team
The Illegal Money Lending Teams in England, Scotland and Wales work alongside the Financial Conduct Authority (FCA) to investigate those operating within the consumer credit market without the appropriate authorisation. The Illegal Money Lending Teams in England and Wales work in partnership with local Trading Standards Authorities in their related countries. They consist of specialist officers who investigate and prosecute illegal money lending and related activity and LIAISE officers who support victims and raise awareness of the dangers of borrowing from illegal money lenders.