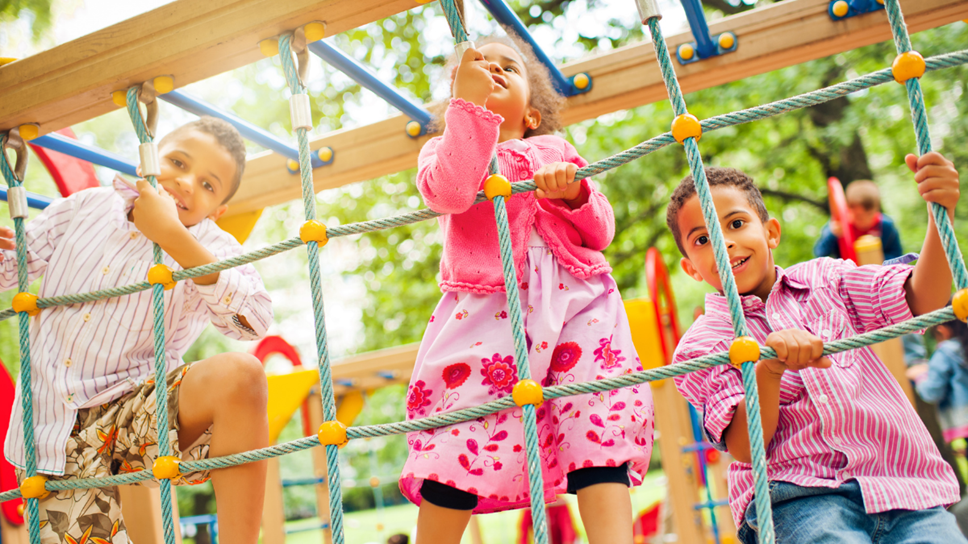 Residents invited to vote on favourite design for new play area at Prospect Park
Relocation and redesign of Prospect Park's play area
Four exciting designs to choose from
AS PART of the Council's major investment across Reading's parks, Prospect Park, as one of the town's flagship parks, has been earmarked for a new playground. The brand new play area is seen as a priority and will provide exciting new features as well as ensuring accessible equipment for children of all abilities.
The play area will see a major investment of £530,000 which will relocate the existing playground closer to car parking and away from the large veteran oaks that we all enjoy.
All design options offer an exciting mix of equipment, including a large junior multi-unit with an access ramp and a tube slide, inclusive roundabouts, swings, seesaws, spinners, zip wires, sensory areas and play panels, alongside a toddler multi-unit.
The new play area will be designed to allow much better access to and around the play area and will be as inclusive as possible – aiming to challenge, excite and inspire as well as encourage children of all abilities to play together.
The Council invited several leading specialist companies to put forward their designs for the refurbishment of the playground, which have all been shortlisted for public consultation.
Residents from all parts of Reading are encouraged to vote on their favourite from a choice of four exciting designs here between Monday 14 March and Friday 22 April 2022: https://consult.reading.gov.uk/dens/prospect-park-play-area/
Cllr Karen Rowland, Reading's Lead Councillor for Culture, Heritage and Recreation, said:
"I'm delighted we are able to invest over half a million pounds in the new play area at Prospect Park. As one of Reading's most important destination parks, improving this site and access to it, has been a high priority for the Council.
"Please take the time to view the four fabulous designs and let us know which one you prefer the most! We'll also be consulting with our Accessible Play Task and Finish Group and asking them to contribute their thoughts to ensure the new play area provides access for children and carers of all abilities.
"As our largest destination park in west Reading, people come from all around to enjoy it. This investment will provide a wonderful enhancement for this well-loved park into the future."
This project is just one aspect of the enhancement and investment being made within Prospect Park, including also a significant investment in creating a new multi-use activity centre in part of the pavilion building, due to open this spring.
Cllr Rowland added:
"Don't forget, our family-friendly adventure hub is due to open at Prospect Park Pavilion very soon and will sit beautifully alongside the new playground. Not only will this benefit the local community, but it will also attract a diverse range of visitors to this well-loved park, enhancing its reputation both locally and regionally.
"You can look forward to a SkyTykes low ropes activity for younger children, 9-course mini-golf and climbing walls, all offering a unique mix of indoor and outdoor facilities for children and families. I personally can't wait for a mini-golf round set amongst some of Reading's landmark heritage buildings!"
Once the consultation is completed the results from the public consultation will form a significant part of the final selection of the winning design, which will also include consultation with the Reading Access and Disabilities Working Group and assessments on value for money and technical competency.
The winning design will be announced at the end of April 2022.
The enhancement of this play area will begin in August 2022 and will form part of the major development at this location alongside the new play activity hub within the Prospect Park Pavilion, due to open during the spring, making this an exciting new destination for activities, entertainment and learning for families and children from across Reading and beyond. It is anticipated work will complete and the new play area will open by the end of September 2022.
For more information on the relocation of the play area, visit: https://www.reading.gov.uk/leisure/proposals-for-a-new-playground-at-prospect-park/
For more information on the Play Activity Centre at Prospect Park, visit: https://www.reading.gov.uk/leisure/proposals-to-transform-play-at-prospect-park/
ENDS
Notes to editors
Relocating Prospect Park Play Area
Prospect Park's current play equipment has reached the end of its life. Additionally, the current safety surface and access points are not suitable for children with mobility issues.
In 2019 a healthy mature oak tree fell in the play area due to the ground underneath being eroded by an underground spring. The remaining mature oak was reduced as a precaution.
We decided to investigate a more suitable location for a new play area as part of Reading Borough Council's playground improvement programme and to seek funding to carry out the improvements.
We carefully assessed a number of locations at Prospect Park and the proposed new location was chosen due to:
Close proximity to the existing pavilion, car park and toilets
Proximity to proposed new Play service facilities;
Ease of access from tarmac paths;
Good ground conditions and no mature trees at risk;
Not impacting on sports and other activities in the park;
Not impacting on the visual sightlines of the Mansion House.