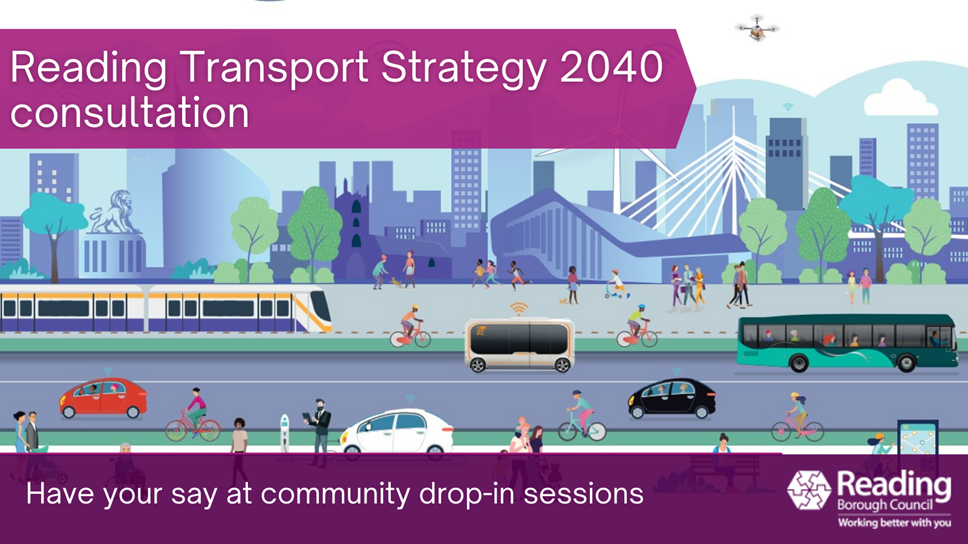 Residents invited to Reading Transport Strategy drop-in sessions
Five drop-in sessions being held across Reading to gather residents' views
Talk to members of Reading's Transport team about the Council's vision for travel
Drop-ins part of the Reading Transport Strategy 2040 consultation
A series of drop-in sessions are being held across Reading to give residents and visitors to the town more opportunities to have their say on the Council's new draft transport strategy.
The draft Reading Transport Strategy sets out an ambitious vision for the future of travel in the borough up to 2040.
The strategy is currently out for consultation and the five drop-in sessions will now allow people to speak in person to members of the Council's Transport team, find out more about the strategy and give their comments.
The Council's vision for travel in Reading includes providing even better bus and rail services and improved walking and cycling facilities to provide more attractive and affordable alternatives to the private car.
The ambition is to reduce congestion, tackle poor air quality which blights parts of Reading and create a healthier town for residents and visitors.
Anyone interested in discussing Reading's Transport Strategy can attend one of the following drop-in sessions:
14 Nov: Battle Library, Oxford Road, 1-7pm
15 Nov: Reading Town Hall, Blagrave Street, 1-6pm
16 Nov: Caversham Library, Church Street, 1-7pm
21 Nov: Whitley Library, Northumberland Avenue, 1-7pm
23 Nov: Palmer Park Library, St Bartholomew's Road, 1-4pm
The draft strategy contains ambitious proposals to rise to the challenges the future brings. These include doubling the number of bus journeys in Reading in 2040 to 28 million, and rail journeys to 20 million, as well as increasing the number of people using park and ride tenfold to a million.
Encouraging more people to walk or cycle part, or all, of their journeys is also a key thread, which has positive health and wellbeing benefits for the individual and decreases emissions from cars. The Council's overall aim is to cut road transport emissions by almost half by 2040.
There is also an emphasis on exploring options to tackle the many thousands of vehicle journeys which have no origin, no destination, and no purpose in Reading, damaging the health and wellbeing of residents.
The strategy also plays a key role in the Council's wider ambition of ensuring every resident can share in the town's success and it is a key element in Reading's net zero carbon by 2030 ambitions.
Cllr John Ennis, Lead Councillor for Climate Strategy and Transport, said:
"Travel and transport are subjects which affect everyone in Reading and we want to hear comments from as many people as possible about our vision for improving the way we get around the borough in the coming years.
"Our draft Reading Transport Strategy contains some ambitious goals to reduce congestion, increase bus use, improve walking and cycling facilities and tackle poor air quality.
"The drop-in sessions will give residents in all parts of the borough a chance to talk to members of the Council's transport team, find out more about our transport strategy and to have their say."
Anyone who is unable to attend one of the drop-in sessions can still have their say online by visiting: www.reading.gov.uk/RTS2040consultation.
You can find more details about the Reading Transport Strategy 2040 at: www.reading.gov.uk/RTS2040.
The deadline for comments is 11 December 2023.