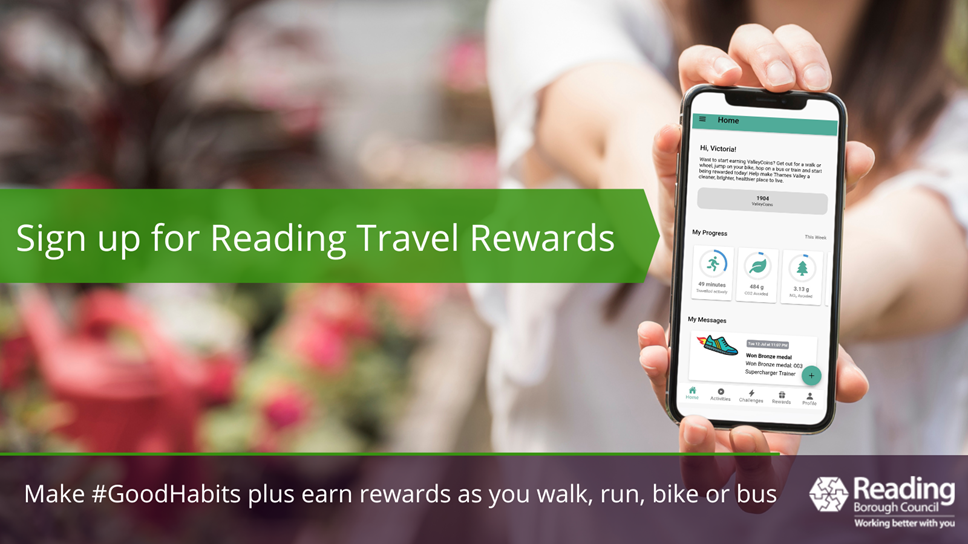 Residents encouraged to sign up for the Reading Travel Rewards Challenge
Earn points for walking, running, cycling, bus or train travel.
Participate in weekly draws to earn even more points.
Points can be redeemed for high street stores, restaurants and supermarket vouchers – or donated to charity.
To start, download the free Innovation Valley Rewards App.
READING residents are encouraged to sign up for the Reading Travel Rewards Challenge this month – and start collecting points towards reward vouchers.
With the Reading Travel Rewards Challenge, users earn points when they ditch the car, and choose to walk, wheel, cycle, scoot or run, or take the bus or train when travelling inside the Reading area.
By choosing to travel actively, users start earning points which can be redeemed for vouchers at high street stores, restaurants and supermarkets – or donated to charity.
The App also tracks how long someone had spent travelling actively that week, routes travelled and the time taken, calories burned and the pollution avoided through limiting Carbon dioxide (CO2) and Nitrogen dioxide (NO2).
There are lots of fun challenges, as well as brilliant prize draws in January - kicking off the new year with the 'Twenty… Twenty… Three!' challenge. More rewards will be added over the coming weeks and months, including a 'Bus Builder' reward in February and a similar boost for cycle travel in March - but to get everyone started, there are three great rewards running for choosing active and sustainable travel choices.
Tony Page, Reading Borough Council's Lead Councillor for Climate Strategy and Transport, said: "I'm delighted we have the opportunity to incentivise and reward local people for their active and sustainable travel choices. January is a great time for everybody to improve their habits and try and make some lasting changes. Download the Innovation Valley Rewards App today to take part in our Reading Travel Rewards Challenge, then ditch the car to play a part in making Reading a cleaner, greener place in which to live. You'll probably feel the difference in your physical and mental health, as well as your pocket!"
To start earning points, download the free Innovation Valley Rewards App:
iPhone: Download from the App Store:
https://apps.apple.com/us/app/innovation-valley-rewards/id1589266940
Android: Download from Google Play Store:
https://play.google.com/store/apps/details?id=com.rewardyourworld.innovationvalleyrewards
The Reading Travel Awards Challenge runs until 31 March 2023. The App is available to users aged 13 and over.
Increasing Active Travel remains a top priority for the Council. Investment in Reading Travel Rewards is part of the Council's wider ambitions for encouraging more active travel, through cycling and walking, and as a result, support better physical and mental health, and improved local air quality, as well as contributing to lower carbon generation and our wider Climate Emergency Strategy. This scheme sits alongside a range of other projects and initiatives aimed at supporting a shift in travel behaviour, including improvements to walking and cycling routes, the introduction of a new bike hub in the town centre, offering free cycle courses and supporting School Streets.
Notes to editors
Notes
About the 'Innovation Valley' App
The 'Innovation Valley' app, which launched in October 2021, is available for free across the county. It has been created through the Thames Valley Berkshire Live Lab, part of the national £22.9m ADEPT Smart Places programme funded by the Department for Transport to help local authorities plan improvements to air quality, public health, roads and energy infrastructure.
App users are encouraged to log when they are taking positive, healthy actions such as walking, running or cycling, to earn reward points. Points earned can then be used to gain discounts from a range of national and local shopping brands.
Produced by Better Points – which was introduced to the Thames Valley Berkshire Live Lab by project technology partner O2 – the app encourages behaviour change.
Reading Borough Council has led on the project, working alongside the local authorities for Wokingham, Bracknell Forest, Slough, the Royal Borough of Windsor and Maidenhead and West Berkshire.
In a model set to help local authorities plan smarter towns, the trials combine movement data collected from anonymised, aggregated O2 mobile connections with anonymised information from other sources, including air quality sensors and cameras mounted on refuse trucks. This can help local authorities understand more about crowd movement trends and profiles, and ultimately shape future town planning.