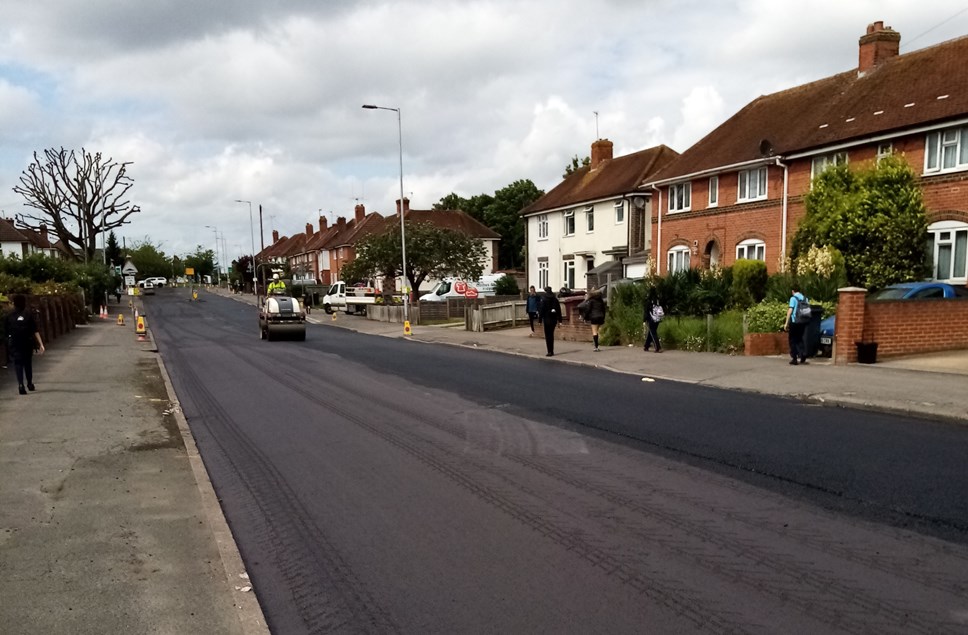 Reading's Roads And Pavements Set For Big Improvements As Council's £9m Investment Continues
Several resurfacing schemes set to resume as part of the Council's £9m investment in road improvements over three years
Hundreds of residential roads to be resurfaced over the next two years, as well as improvements to pavements and major roads
Over 100 trees to be planted from the end of autumn onwards as Reading targets carbon-neutrality
RESIDENTS will see more big improvements to Reading's roads and pavements over the coming months, as year 2 of the Council's substantial 3-year investment in resurfacing continues. The project will also see the planting of over 100 trees from the end of autumn onwards to help Reading towards its goal of being carbon neutral by 2030.
From Monday 6 September, work will begin on The Meadway which will be fully resurfaced over three weeks, in three sections to maintain as much access as possible and keep closures to a minimum. The section between Dee Road and Church End Lane will see night working between 7pm and 1am to avoid disruption to Thames Valley School.
On Thursday 16 September Cressingham Road will be closed from 8am to 5pm on weekdays until 28 September to also be fully resurfaced, as the Council's pledge to improve roads for Reading's residents continues.
These two schemes are part of a £1m investment in concrete road surfacing where a specialist, more hard-wearing and longer lasting material is required. This programme has already recently seen the successful completion of the full length of Southcote Lane and Northumberland Avenue between Honiton Road and Hartland Road.
Aside from these specialist concrete road schemes, Reading Borough Council's commitment to improvements is set to be reinforced later this month when the next phase of the residential roads micro-asphalt programme will begin. Hundreds of roads are due to be resurfaced in the next two years at a cost of £3.25m, with a further £1.25m to be spent in hot rolled asphalt resurfacing of over 20 more strategic routes.
The completion of the Year 1 residential roads programme will also take place next week, on New Lane Hill on Monday 6 and Tuesday 7 September, alongside remedial work on Addington Road on Wednesday 8 and Thursday 9 September. The resurfacing of Elgar Road South is also awaiting scheduling. These were held over from the end of the Year 1 scheme as Gripfibre needs to be laid during warmer weather. It provides a more durable solution for roads which see larger volumes of HGV traffic, and will complete the initial 65 roads on the Council's ambitious scheme to resurface hundreds of roads.
Reading's pavements are also set for a continued series of improvements, with pavements in 15 more roads set to follow the recently resurfaced footways of Ambrook Road and Foxhays Road in receiving comprehensive resurfacing. The £675,000 investment in the second year of the Borough's pavement network between now and March 2022 follows successful delivery of the Year 1 Pavement and Footway programme which saw 17 pavements improved and resurfaced over the winter.
Over 100 new trees to be planted later this year will not only help to reduce Reading's carbon footprint but will also improve canopy cover, biodiversity and also reduce surface water run-off, helping to lower the risk for Reading from the threat of flooding in future.
For all resurfacing work, the roads will need to be closed from 8am – 5pm each day, with advance notice boards displayed at each site from around a week before the start of each improvement, and residents will receive letters in advance informing them of the work.
Cllr Tony Page, Reading Borough Council's Lead Member for Strategic Environment, Planning and Transport, said:
"Our £9m investment in roads and pavements over three years demonstrates the importance of listening to our residents and delivering what they want. We are approaching the middle of three years of surfacing improvements that pedestrians, cyclists and motorists will all benefit from, giving residents an infrastructure to be proud of. Our Highways teams and contractors will be working hard to make this happen across a range of schemes, and residents will be able to enjoy the results soon".