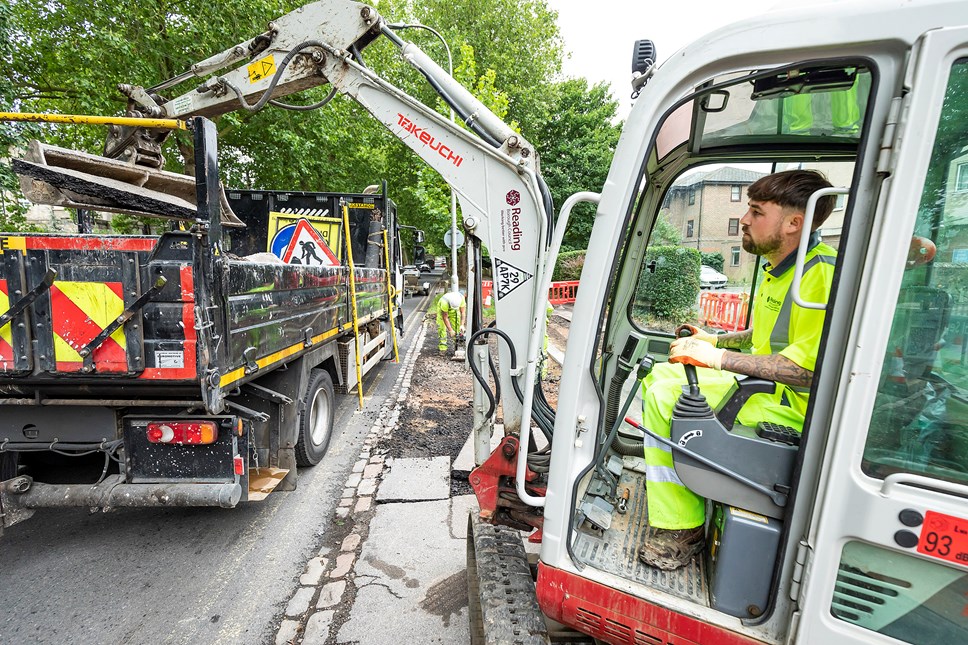 Reading's Pavements Set For Comprehensive Improvements
17 Reading roads to benefit from pavement improvements between now and March 2022
Work forms part of Reading Borough Council's £9m investment over three years in road and pavement resurfacing
Road resurfacing will begin later in the summer, with Northumberland Avenue and Southcote Lane set for early improvements soon
READING'S pavements are set for a series of improvements with residents in 17 roads due to benefit from comprehensive footway resurfacing, beginning this week.
The investment of £675,000 in the second year of the Borough's footway network between now and March 2022 follows successful delivery of the Year 1 Pavement and Footway programme. That began last year and saw 17 pavements improved and resurfaced over the winter, funded by Reading Borough Council's Capital Programme to improve conditions for residents and will include planting additional trees where possible to reduce carbon footprint, improve canopy cover and reduce surface water run-off.
The work forms part of Reading Borough Council's overall investment of £9m in residential roads and pavements across the borough over three years, a huge project driven by the results of a Citizens Panel survey conducted by the Council in November 2018, which showed that over 50% of respondents listed 'better roads and pavements' as top of their lists for improvements.
As well as the footway improvements, the investment includes resurfacing hundreds of roads end to end over three years. 64 residential roads were resurfaced last year, with this year's roads set to be revealed and improved beginning in the summer.
Two roads – Northumberland Avenue between Honiton Road and Hartland Road (28 June – 9 July) and the remaining full length of Southcote Lane (5 – 16 July) – are set for earlier resurfacing dates due to a different specialist material for concrete roads being used on them.
For all resurfacing work, the roads will need to be closed from 8am – 5pm each day, with advance notice boards displayed at each site from around a week before the start of each improvement, and residents will receive letters informing them of the work.
Residents whose pavements are being resurfaced adjacent to their property will be able to apply for a discounted vehicle crossing, or dropped kerb, to be put in place for them whilst the work in their road is carried out. This will save them around 40% on the cost of the work, plus a saving of £76.50 on the vehicle crossing application fee which will not be charged. These must be requested in advance and satisfy the council's Vehicle Crossing Policy.
Cllr Tony Page, Reading Borough Council's Lead Member for Strategic Environment, Planning and Transport, said:
"Street improvements for residents are an important part of a wider infrastructure plan across Reading, and the footway resurfacing along with the road improvements will help everyone travel more easily around the town, especially as we are encouraging more journeys to be taken on foot or by bike to help our focus on the environment. Investing in transport routes to help all residents remains a key priority for Reading Borough Council".
The list of roads in which pavements will be reconstructed this summer, beginning this week:
| | |
| --- | --- |
| 1 | Addington Road |
| 2 | Ambrook Road |
| 3 | Bath Road |
| 4 | Brybur Close |
| 5 | Foxhays Road |
| 6 | Holberton Road |
| 7 | Home Farm Close |
| 8 | Newcastle Road |
| 9 | Norcot Road |
| 10 | Northumberland Avenue |
| 11 | Pitcroft Avenue |
| 12 | Scours Lane |
| 13 | Shirley Avenue |
| 14 | Torrington Road |
| 15 | Wantage Road |
| 16 | Watlington Street |
| 17 | Western Elms Avenue |